Bar Fishing Locations - Lower Fraser River
From Richmond to Hope, British Columbia
These fishing locations are accessible by the driving/walking fisherman, so you don't need a river boat. These locations are not exact and may have log booms (at different times of the year) or other geographical challenges.
Note: Bar information is a collection of my own bar fishing trips paired with a Fraser River Bar Fishing Locations (out of print now) by Hugh Heighton.
Instructions: Click the Red Pins for information on the bar location. Click the + and – buttons to zoom in/out on the map. For a full screen view click the square button in the top right of the map.
Dump Bar
A long stretch of along the dike at the old dump site.
Nelson Road Bar
On the dike off Nelson Road (south of Westminster HWY).
Dyke Road Bar
Fish all along the dike.
The Cadet Bar
A small bar near the Queensborough Bridge and 102 RCSCC FRASER Cadets.
Annacis Island Bar
Off Auldford ave through the trees on the right side.
Rock Pile Bar
Near the culvert off River Rd.
The Tree Bar
A half mile past train trestle, fish from the trees.
Barge Bar
Down Cliveden way, turn right (west) and drive through industrial area to the cul-de-sac.
Fraser Foreshore Park Bar
Picnic and park near, a good place to take the family out.
Sunbury Cedar Bar
Near Sunbury Cedar, fish on the incoming tide.
Tannery Road Bar
Can only be fished during low tide, cast short distance only 20′ to 30′.
Brownsville Bar
Can fish above and below the Skytrain bridge. Best fished during low tide, cast a max of 60′.
Ritchie Bar
Can be fished most of the year.
Gypsum Bar
A small bar that gets its name from the historical gypsum plant that was here.
Dock bar
Fish off the long dock. Also a good place to spin cast for Pink Salmon on odd years.
Leader Bar
Cast a max of 30′ to 40′ feet out. There is a boat launch near this Bar.
Coquitlam River Bar
Strong current so fish close to shore. Fish anywhere from the mouth of the Coquitlam river to the marker.
Mary Hill Bar
A large shore bar along the park area.
Kanaka Creek Bar
Can fish Kanaka Creek as well the Fraser River.
Derby Reach Park Bar
Albion Test Fishery
This is not a bar fishing location. This is a test fishery that produces daily fish count reports. These counts are very helpful for DFO and recreational anglers to get a sense of the fish that are beginning to move up the Fraser. See all the details on the 
Albion Test Fishery page here
(this page also contains a link to the
Daily Test Fishing Summary Report
).
Marine Park Bar
A small bar in front of the fort in Fort Langley.
Nathan Creek Bar
A small bar where access is attained along the dike on Nathan Creek.
The Two-Bit Bar
Near private property so be sure to clean up after done fishing.
The Duncan Bar
Can fish below and above Bradner Rd. Lots of space and easy access!
Ruskin Bar / Stave River
Located at the mouth of the Stave River.
Mission Bridge Bar
South side of the Fraser just off/below the Mission Bridge. Also a great location for Sturgeon fishing.
Nicomen Slough Bar / Dewdney Park Bar
The south western mouth of the Nicomen Slough where it meets the Fraser River. The tidal flow of the Fraser will push fish into the Slough.
Slaughter House Bar
Lots of room to fish here. This is primarily a incoming tidal bar but can be fished anytime during the Fall Salmon run.
Strawberry Island Bar
Nicomen Island Trunk Rd to Thompson Road which runs into Dyke Road. Fish anywhere along dyke road next to the Gravel Bar.
Bowman's Bar
Upper Bowman's bar historically has been a very popular bar because of its large amount of river access for many bar anglers. It's also a short boat ride (downriver) from Island 22 boat launch and has some excellent bar fishing! 
Walters Street Bar
This bar is not accessible in the early springtime because of the runoff. Additionally, is a great shore Sturgeon fishing location.
Deroche / Wing-Dam Bar
Fishing is typically done close to shore because of the very strong current.
Old Orchard
There is a number of fishing locations along Old Orchard Rd to explore. Additionally, this location has a boat launch.
Island 22 Park Bar
Right next (west side) to the Island 22 boat launch. Note: There is a park fee to enter.
Calmity point
Located at the Harrison River & Fraser River Confluence. This section is easily identified with the green clear water meeting with the brown Fraser River. Additionally, there is a large rock point below the confluence. This is a deep and dangerous section of the river with very strong current. This location is not accessible by foot. If you'd like to fish near this area by shore, access the north side of the Fraser directly across from this marker. This is accessible by Hwy 7 to Dyke Rd and another gravel road to the river.
Peg Leg
Peg Leg is a very popular Chilliwack fishing location. With the popularity it can be quite busy at times.
Jesperson Bar
Jesperson bar also known as "Carey Point" as it's off Carey Rd. There is parking just down (south) of marker off Carey Rd.
Gill Road Bar
In the Rosedale area follow Gill Rd to the river bar (south side of the Fraser River).
Rosedale / Agassiz Bar
Rosedale bar also known as "Ferry Island bar" is located immediately below the Hope to Agassiz bridge (on highway #9), accessible via Rosedale Ferry Rd.
Herrling Island Bar
Island accessibility by vehicle may be limited based on water levels and/or spawning channels. Although, if you're willing to put in some leg time you could be rewarded with some great bar fishing and space!
Laidlaw / Jones Creek Bar
This is another popular bar for Salmon. During Salmon openings (especially Sockeye) it's often packed with anglers.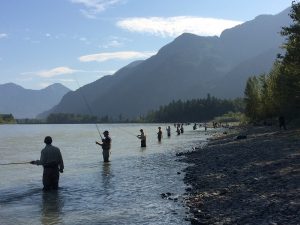 Seabird Island Bar
This bar is approximately a 10-15 minute walk from highway #7. This bar may not be accessible on foot depending on higher water levels.
Hwy #7
This is long bar and can hold dozens (perhaps hundreds) of anglers. Accessible off highway 7 on the north side of the Fraser River.
Pipeline Bar
Located just below Hope Regional Airpark. Access point information not available.
Scales Bar
This is another busy bar (especially during Sockeye openings) near Hope. There is parking off the #7 highway just below (south) the BC Weight Scales.
Bar fishing is a great technique to target Chinook on the Fraser River! For tips on all things pertaining to bar fishing, see the
Bar Rig Setup page here
. This tip covers what a bar rig looks like (diagram), tackle specs, understanding the importance of water clarity, the best Chinook run times and much more.
Recent Fishing Trip Journal on the Fraser River
Sockeye salmon fever has hit the northwest! Typically, this fishery only opens once every four years on the Fraser River. This iterative 4-year cycle has continued to bring in a large return of Sockeye so the Fisheries open it up for us recreational anglers. As part of this, I headed out to the Non-Tidal section of the Fraser River to target these fish this is the journal of my first outing for Sockeye. Read full trip journal
here
.
Additional Tips