Rods
I'm assuming you're on this page to either learn about fishing rods or perhaps review some rod recommendations. I'm looking to achieve both of these with the fishing rod articles here. The fishing rod education sections of these articles outlines the basics (rod styles, actions, power ratings, lengths, etc) to more advanced tips like rod pairings for specific species and scenarios. And on the bottom section of these articles I've included reviews of my favorite rods for various fishing applications.
Anyway, I'm continually adding fishing rod articles to this section of BC Fishing Journal. If you have a fishing rod topic or question that you'd like to see addressed here, please reach out to me on my contact page. Tight Lines! Jesse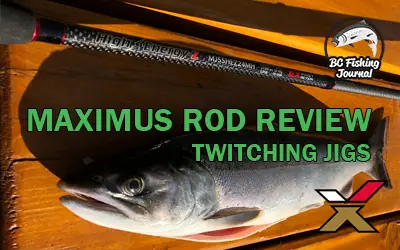 Twitching Jigs Technique and Maximus Jigging Rods Review One of the fast growing fishing techniques for Salmon and Trout is "twitching jigs". In fact, this technique could be used on a vast number of fish regardless of where you are in the world. For me here in the...
read more
My name is Jesse, I've been obsessed about fishing since I was a toddler trying to catch fish with my minnow net in any type of water. These articles are another fishing outlet for me as I have a passion to promote fishing in an educational, fun and respectful format. Feel free to reach out to me with any fishing questions or business inquires, see contact page.