How to Rig Salmon Hoochie Setup
Hoochies are one of my favorite lures to target Salmon and bottom fish when trolling with a down rigger. They are also becoming popular in rivers by a different twitching setup as well as put under a float. For this tip page, we're focusing on the saltwater trolling setup of a hoochie. Hoochies are a deadly setup that mimic a squid moving through the water. It's a lure that can target many species, with it I've caught all species of Salmon, Halibut, multi-species Rockfish, multi-species Cod fish, dogfish, flounder and the list goes on.     
Diagram of a Hoochie Setup
The diagram below outlines a plastic squid setup called a "Hoochie rig". There are many different hoochie plastic styles and with that there are different setups, e.g. more flash, longer lengths, etc. This is the standard setup for this rig.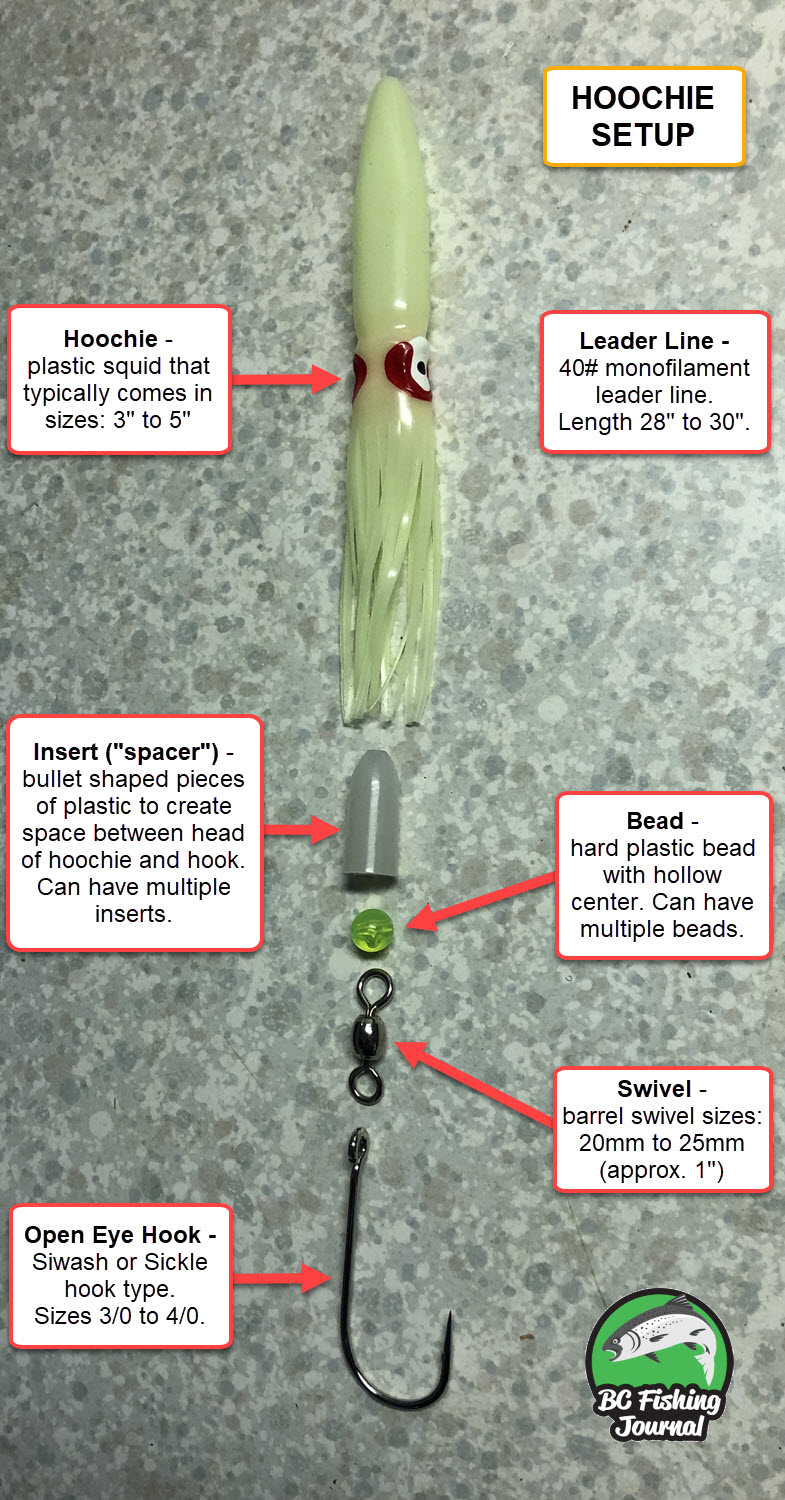 Hoochie Setup Components
Leader Line
Monofilament leader line in a 40# is ideal. You can use fluorocarbon line as well, but personally I wouldn't recommend because the knots can be more challenging to tie. Also, fluorocarbon is more money and the invisible underwater benefits of the line don't really apply in these trolling setups.
Hoochies don't create their own action. They don't have a component that creates any movement in the water other than the trailing legs, so this is why the 40# leader line is so important. The 40# line may seem like overkill BUT its the stiffness of the line that you need, as this stiff line creates a "whipping motion" from the flasher. If you have a limp (softer) line you won't get the action needed on your hoochie.
The leader line length is subjective, but I recommend a shorter leader line of 28″ to 30″. A hoochie leader is shorter than you would use for trolling cut plug bait or a spoon as these lures create their own action (see point above). You are reliant on the flasher and stiff leader line to create action on the hoochie. But certainly experiment to see for yourself what action you get on longer to shorter leaders behind your flasher.
Hoochie
These come in way too many colors, designs and styles to get into. A typical hoochie for Chinook (King) Salmon is 5″ long. If you're trolling for smaller Salmon like Pink, Sockeye or Coho you can downsize to a 3″ or 4″ hoochie.
My favorite hoochie colors are white or green. A little glow in the coloring or plastic doesn't hurt either, especially when your fishing those deeper depths. See my hoochie glow photo further below.
Insert or Spacer
These are a small piece of plastic that act as a internal body piece of the hoochie and create space between the top of the hoochie and the hook.
The big idea, your hook should be dangling just below your hoochie skirt (legs), so depending on the size of your hoochie you may need more than 1 insert to ensure your hook sits low enough.
There are different colors and styles of inserts, most commonly they look like little bullet shaped plastics, but you can get them in a variety of sizes and colors. Some even come with glo, which really is not a big deal as it's inside the hoochie and seems to be gimicky to me.
Bead
These are your typical plastic beads with a hollow center to run leader line through. They are a hard plastic about 4mm to 6mm in size.
These are great for adjusting your hook distance from skirt by those few millimeters as you can put 1 or 2 on.
Colors typically are chartreuse or pink. I'd recommend trying to match the primary color of your hootchie
Barrel Swivel
This swivel should rotate so recommend a barrel swivel or something similar to that. Swivel sizes can be confusing as they'll be different depending on the type of swivel. Anyway, I'd recommend a swivel that's around 20mm to 25mm (just below an 1″).
The swivel ties to the end of your leader line and on the bottom connects the hook.
Open Eye Hook 
In order to connect to the swivel you need an Open Eye Hook. You then use pliers to crimp the open eye closed around the swivel.
I recommend Siwash or Sickle hook styles. For more information see the Types of Fishing Hooks tip page.
Hook sizes should be 3/0 or 4/0. These sizes are for your typical larger salmon trolling species. If your fishing smaller species you could go as low as 2/0, but for the most part I rarely go smaller than 3/0.
Trolling Hoochies for Salmon, Halibut, Lingcod and Rockfish
This is a 3 day fishing trip where our we trolled for multi-species on a white and glow hoochies. This video series demonstrates how dynamic hoochies can be for many different species.
Hoochie Gear options online
30pcs Lumious Fishing Squid Skirt Lure Glow Soft Plastic Bait Octopus Lures Hoochie Lures Trolling Bait Saltwater 7.5cm/3" Luminous White
Dr.Fish 20 Pack Ball Bearing Swivels Saltwater Fishing Swivels Stainless Swivels Fishing Tackle Heavy Duty Black Nickel Terminal Tackle Barrel Swivels Leader Lures Connector Offshore Size 6
Gamakatsu 25 Pack Open Eye Siwash Hook (Nickel, 3/0)
30pcs Lumious Fishing Squid Skirt Lure Glow Soft Plastic Bait Octopus Lures Hoochie Lures Trolling Bait Saltwater 7.5cm/3" Luminous White
Dr.Fish 20 Pack Ball Bearing Swivels Saltwater Fishing Swivels Stainless Swivels Fishing Tackle Heavy Duty Black Nickel Terminal Tackle Barrel Swivels Leader Lures Connector Offshore Size 6
Gamakatsu 25 Pack Open Eye Siwash Hook (Nickel, 3/0)
Additional Tips