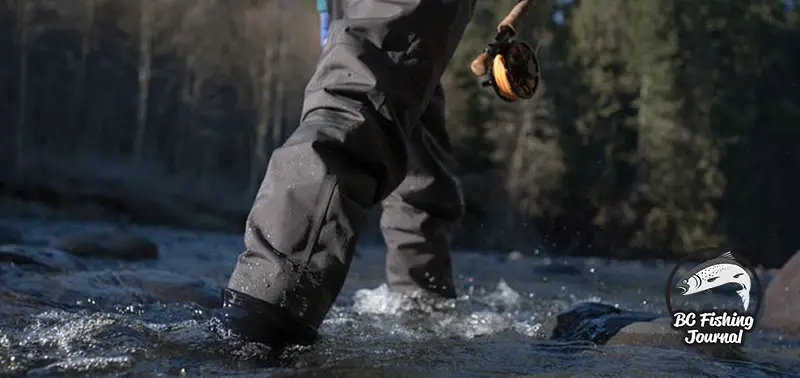 5 Best Fishing Waders for the Money in 2023
Having quality waders that continually perform is so important as there is nothing worse than having to deal leaky waders all day (especially during those rainy or freezing days). This article outlines the different types of waders, materials and questions to consider when buying waders to ensure you get a quality pair the first time. Lastly, I include my top recommendations for fishing waders on the market today.
** If you're only looking for our top recommendations, skip to the bottom for reviews as there is a bunch of wader information at the top.
Different Types of Fishing Waders
The 3 most common types of fishing waders are: hip, pant/waist and chest waders. As you may know (or guessed) the types are based on the height the angler is protected. Each each have their pros and cons depending on the type of fishing you're doing. In the section below it outlines the best wader type for various fishing scenarios and water types.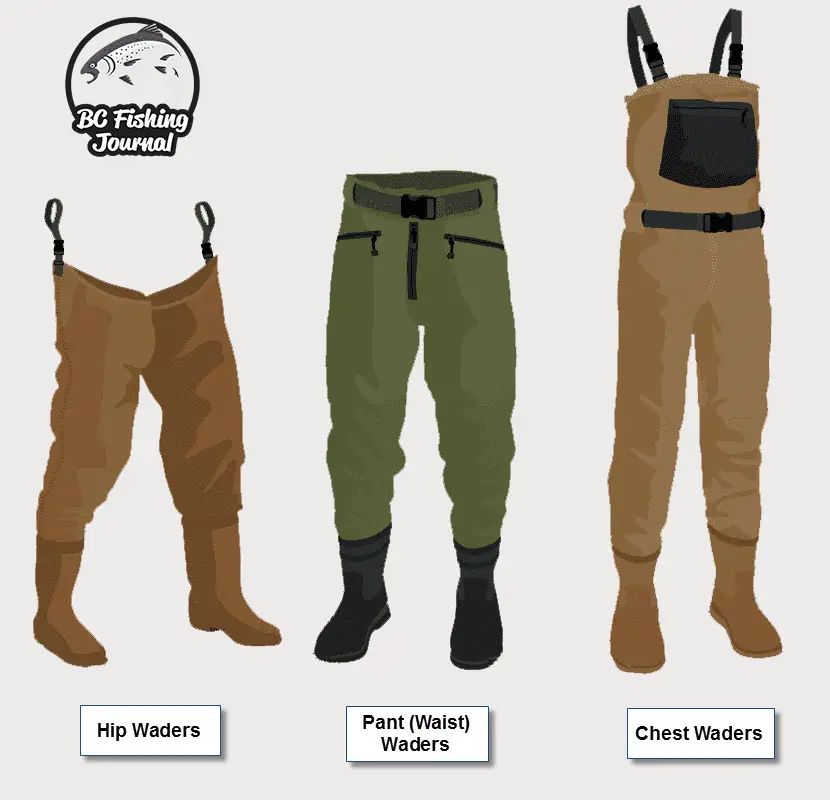 Hip Waders
These are often the cheapest type of wader. They are called hip waders because there are straps that connect to a hip belt in order to keep them up. Hip waders are very easy to slip on and off as they're essentially a big rubber boot connected with a water proof legging that goes up to the crotch area. These are best suited for shallower water conditions like small streams or low slow moving water.
Pant / Waist Waders
These are essentially waterproof pants that offer water protection up to your waist. These come with or without boots attached, the ones without boots are very easy to put on and take off. In my opinion these are the most comfortable waders of the three types (likely because they act just like any pants we wear everyday). 
Pant waders are excellent to use in warmer climates or days as they don't have the additional chest high coverage. They don't have the same height protection in water so are best fished in medium sized streams and small rivers.
Chest Waders
Chest waders are the most popular type and certainly the ones I use the most. They are the most expensive wader of the three, some of the cheaper waders will come with rubber boots attached. The higher end chest waders typically come in a stockingfoot format (no boots attached). Chest waders are dynamic as they can be used in both shallow or deeper waters. If you're fishing in a colder climate I'd highly recommend using a chest wader to keep you warm. 
What are the Different Materials used in Fishing Waders?
All waders are made from waterproof materials, the most popular ones are Neoprene, Gore-Tex and Nylon. There are other cheaper materials used for the very low end waders, but I wouldn't recommend you waist any money or time on them as they are often fail and leak in short order.
Neoprene vs. Breathable Fabrics (e.g. Gore-Tex)
Neoprene has been around for almost 50 years, it's a light material that comes in a variety of thicknesses from 2 mm to 7 mm. It's best suited for colder weather conditions, in fact I have a 5 mm pair of neoprene's that I love using the dead of winter when targeting winter Steelhead. That said, Neoprene does not breath so if you're fishing them in warmer conditions or doing a lot of walking in them they can get pretty warm and sweaty. Lastly, because of the material being someone "spongy" I've found doing proper repair work is much more challenging.
Gore-Tex is a waterproof and breathable fabric so that it offers a much more comfortable and versatile wader. Underneath the Gore-tex waders you can put on the long johns for those colder days or go commando (if that's your thing) on those summer days. The technology in Gore-tex continues to grow in offering better protection and durability as well. The durability is often based on the layers of the Gore-tex, as there is 3-layer and 5-layer. The 5-layer offers more protection from wear and tear than the 3-layer. You'll often find the 3-layer protection used in the upper part of the wader as it has less impact with the elements. Lastly, I've found that the Gore-tex patch kits are much easier to use when repairing any holes or tears.
Best Foot Type for your Wader? Stockingfoot vs. Bootfoot
Stockingfoot is the wader that does NOT come with an attached boot to the wader but is simply a "sock like" cover. With these style of waders you'll need to purchase wading boots separately. This of course adds to your cost but having a specific wader boot is a big advantage. The stockingfoot style will always offer the most comfortable boot because you're pairing with a custom boot. All the higher end fishing waders will come in a stockingfoot style because if you're going to spend the money on the top notch wader you'll likely want your own fitted boot as well.
Bootfoot has the boot connected to the wader. Most of the boots are made from a thick rubber material like a glorified gum boot. The sizes are fairly generic and will not be near as comfortable as the custom boot you'd wear with the stockingfoot. These bootfoot waders are often the cheaper option for waders. If you're a beginner angler and/or don't want to spend a lot of money on waders and boots a bootfoot wader might be a great starter option for you.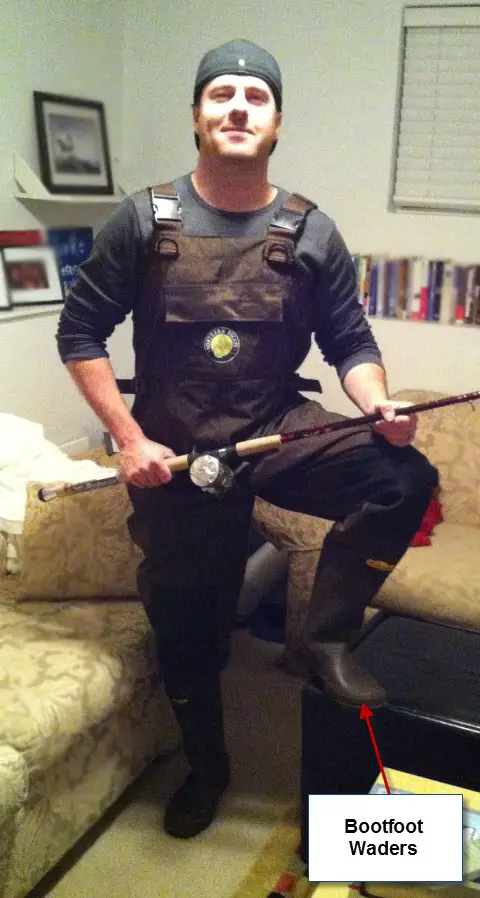 Our Top Fishing Wader Recommendations
Simms is likely the number one manufacturer in fishing waders. Simms was started in 1980 and were the first to manufacturer a breathable fishing wader using Gore-Text, which was a game changer for the entire industry. Simms has decades of experience and their most popular line of waders is the G4 Guide Stockingfoot wader.
It has a 3-layer Gore-tex in the upper section and 4-layer Gore-tex in the lower and seat sections. The more layers provides a better guard against rips or tears, so it makes sense for the bottom layers to have that additional protection. The removable flip out pocket is handy for additional storage which very important when you're standing out in the middle of the river and need quick access to that small terminal tackle.
Simms waders have a higher end entry price point are most often for the serious anglers. In fact, I don't know many fishing guides in the Pacific Northwest that don't own them. They do have this sort of "cool kid" reputation but deservedly so. They have a pretty good warranty of 365 days to fix any leaks, after that they'll charge you a fee to fix (or you'll have to patch yourself). Regardless, if you're looking to invest in a long term wader you can't go wrong with a Simms wader.
Pros
High end quality waders
Decades of experience (first company to create Gore-Tex breathable waders)
Simms has many additional packs/accessories to pair/connect to their waders
Good warranty
DRYFT is new(ish) to the fishing industry (started in 2012) but in my opinion have addressed an important lane in the fishing waders market that I believe has been missing. That lane being a high end wader at a mid-range price. Look at the big names like Simms and Orvis, they manufacture high end waders with a hefty price tag to go along with it, the next price point below seems to suffer greatly in quality. For example, the high end Simms waders will start around $400-$500 USD, the typical next price step down is often around the $250-$350 USD. This step down comes with a significant drop in quality. Where is the middle of the road priced wader?! This is the lane I believe DRYFT has addressed and without sacrificing quality.
The reason why DRYFT is able to do this is because they are the manufacturer and have a direct-to-consumer sales model (no middle men), meaning you won't find these waders in your local tackle shop. This high end wader at a mid-price point is what I've been looking for in waders for awhile, I'm sure they'll do well for it! And I wouldn't be surprised to see some of these higher end manufacturer's trying to create some waders to compete in their lower price point.
One last thing I'd like to say about these waders is the look. The design is superior to anything on the market in my opinion. Why is it that all waders look the same?! Typical colors are brown, tan or green, DRYFT have these grey and blue waders that look great! Obviously style is not superior to quality but why not look good? If you're serious angler and are ready to put up the money for some long lasting waders I'd recommend checking out DRYFT first.
Pros
High end quality without the high price point

Excellent accessibility with front zipper
Best design/style on the water
Excellent warranty
I was sent these waders to do a review and to be honest before I received them was pretty critical, mainly based on the lower price point and iWader logo. That may sound silly, but it's the truth. BUT once I received these waders and actually took them out on the river I will admit my assumptions were wrong.
These waders were extremely comfortable with a stretchy material that breaths very well. If you're doing a lot of hiking along the rivers these are idea for that. I did some pretty gnarly hiking with them into some canyons to access remote fishing locations and was not dripping with sweat on my legs afterwards. I'll exclusively be using these during the summer and warmer days. 
A feature that really stood out for me was the ankle protection. The ankles have a thicker and harder section that protects that area that typically takes the most abuse in the water. It's reinforced but still very comfortable. A great call!
They also have all the typical benefits with lots of waterproof chest storage, good additional knee protection and good neoprene booties with sticky traction on the bottom.
One thing to note, I'm located in the Pacific NW and in the middle of winter we typically use thicker 5mm waders to keep warm. These are 3mm thick so if you are using them on colder days be sure to wear some long underwear and wool socks inside.
You hear the phrase "best bang for your buck" often, I'd say these waders are exactly that. If you're looking for new waders and don't want to break the bank these are a fantastic option! 
Pros
Low price point! Best wader for the dollar amount.

Stretchable material makes for a comfortable wader
Excellent shin & knee protection
Lots of waterproof chest storage
Cons
Not ideal for extreme cold water conditions (3mm wader)
Compass360 is a new outdoor brand that was started in 2015. They were founded to create rainwear and wade wear for the fishing, utility and hunting markets. They have created an fairly extensive wader catalog that include both stockingfoot and bootfoot options. The Deadfall Breathable Chest wader (stockingfoot) is their best seller. It's price point on this wader is one of the lowest in this article so is a fantastic option for an entry level wader. 
The wader is made from 4-ply nylon, the knees and shins are reinforced for added durability. The stockingfoot are made from 4mm neoprene for warm and comfort. Compass360 offers the same 1 year warranty that the higher end manufacturers offer which stands out for me. I respect the companies "Culture and Values" promoted on their site in maintaining their promises and quality of work.  
To summarize, this wader is a classic constructed wader for a low price point. If you're an angler who is buying their first set of waders and don't want to drop the big bucks first time around this could be a great option to start with.
Pros
Low price point

Classic wader construction (has all the essential features)

Good warranty
Cons
Middle lane quality for moderate usage (wouldn't recommend for high usage)
New company so not a lot of experience 
Excludes the higher end features 
Here is another wader at an affordable low to mid-range price. These waders include the foundational features that should be a wader, so lets go over those features. Starting from the top down, it has the typical chest pocket with an additional flip out pocket which is pretty handy for those fishing license or phone. There is a fleece lined hand-warmer pockets feature which is always appreciated on those cold/windy days. The waders are made from 3-layer waterproof and breathable polyester.
For the price point, these are another great entry level wader for someone looking to buy their first set of waders. I wouldn't recommend these waders for the hardcore angler who's going to be fishing often. However, if you're not looking to break the bank and want a decent set of wader these could be a great choice for you needs. Additionally these would be a fantastic backup wader for those who are repairing their higher end waders. Or perhaps a set to throw in the boat for the moderate usage.
Pros
Low price point

Has all the foundational wader features
Good chest storage
Cons
90 day return policy

Average quality for moderate usage (wouldn't recommend for high usage)
Tips on How to Take Care of your Waders
To keep your waders working in good order for as long as possible here are some important tips to follow, some of which might save you from voiding your warranty. 
The most important tip is to dry out your waders after each use. Dry out the inside first if water got in by pulling them inside-out, once the inside is dry, then dry out the outside. 
If your like me and get roe stains all over your waders you'll want to give them a proper washing in a front load washing machine. Ensure you only use cold water and a normal (or natural) detergent that has NO bleach. When drying out your waders do NOT put them in the dryer as this will jeopardize the seal tape on your waders and can void your warranty. Follow the same drying instructions from point #1 (dry inside first, outside last). 
Store your waders in a place that will not have excessive heat or direct sunlight as it may damage them. If possible, hang them up in a consistent temperature room like a basement or storage locker.
When I'm transporting my waders to the water I often keep them in a large plastic bin. When I get to the water I use the lid of that bin to stand on when I'm putting them on. The lid prevents any damage from rocks or pavement to the wader. The point being, be careful when you're putting on and taking off your waders. 
How to Fix and Maintain Breathable Waders 
Here's a really helpful video on how to fix and maintain your breathable waders. The waders used for the example are the Simms model.
Additional Fishing Waders
Conclusion on Favorite Fishing Waders
I really like the Simms G4 Guide Waders, their experience and longevity in this market is not comparable by any of the manufacturers. Simms is the only company that manufacturers their products in the USA, all the other companies (big names included) have their manufacturing done overseas. Simms waders have to be at the top of these lists.
That said, I really do like the direction Dryft is going. They've got an edge to them in their marketing and how they're diversifying (e.g. drift pants and zipper waders). They have that medium price point lane with a high end quality wader that's packed with all the top of the line features. And as mentioned earlier, I'm really impressed with their attention to detail on style, it's not a deal breaker but is certainly a great perk. That all said, if you're looking for a stylish wader, good quality and middle pricing definitely check out DRYFT Waders. I'm excited to see what they're going to bring next, already with their zip-front waders for easier access and many other features that I have yet to see in the wader industry.
If you have any questions in regards to the waders information above please don't hesitate to contact me or leave a comment at the bottom of the page. Tight Lines! Jesse
My name is Jesse, I've been obsessed about fishing since I was a toddler trying to catch fish with my minnow net in any type of water. Today I have a passion to promote fishing in an educational, fun and respectful format.