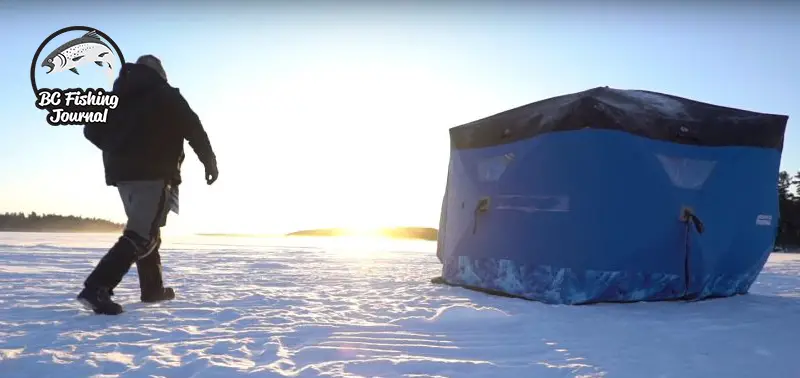 4 Best Ice Fishing Shelters and Gear Guide
Ice fishing is growing in its popularity and alongside that is the tackle and gear that goes along with it. A good ice shelter will protect you from the wind, snow/rain and the sun (including reflecting light) and as ice anglers know will extend your time out on the hard water. It's no fun trying to fish when you're freezing your butt off and dealing with extreme weather conditions. This article goes over the best portable ice fishing shelters broken down by shelter size, occupancy size, time to setup, fishable area, price and material quality.
Our Top Portable Ice Fishing Shelters
Why Do you Need a Portable Ice Shelter?
Portable ice shelters are very compact, light, easy to transport and store. They don't take much space up in your tow kit whether your pulling by sled or hand. This portability has to be one of the largest benefits outside the weather protection as your able to pack up and move in minutes! 
Additionally, with the number of shelters increasing in the market we've seen the price point drop making them very reasonably priced. If you're planning on doing any amount of ice fishing the benefits and comfort they add on the water makes them mandatory for me. 
Types of Ice Fishing Shelters
There are a number of different types of shelters and categorizing them get confusing as they have hybrids as well. There 3 most common types of ice fishing shelters are Flip-Overs, Tents/Hubs and Ice Houses. For simplicity in this article, I'm going to focus on the 2 most popular types: Flip-Over styles and Tent (Hub) styles.
What is a Flip-Over ice shelter? This is the smallest ice shelter which is typically designed for 1 or 2 anglers (usually around 20 sq feet). The design allows you to pull the tent over in a single motion. These flip-over shelters are incredibly mobile and are the quickest/easiest to setup and tear down. If you're planning on moving fishing locations throughout the day these styles will likely be a better choice.
Pros
Easy to setup solo
No tiedown needed (attached to tub/toboggan)
Great for fast location changes
Better in windy conditions
Cons
Assembly needed
Not as much space
Requires a vehicle (or trailer) to transport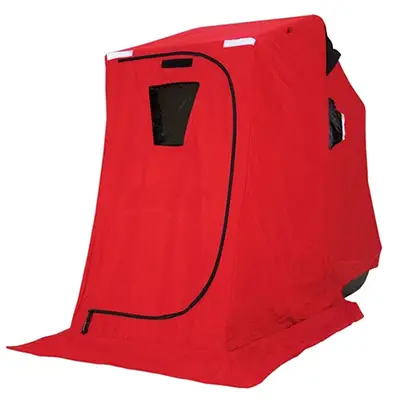 What is a Tent (Hub) Style ice shelter? This is the larger type of portable ice shelter that can accommodate 2-8 anglers. The structure is more sturdy as they often have quick snap in aluminum polls. Additionally, these will come with tie downs and anchors, so are not as conducive to moving around the ice and looking for active fish. The largest benefit of these shelters is obviously the fishable area within and space for multiple anglers and gear. These are great for families or group of anglers looking to fish a single section on the ice.
Pros
More space for more people / gear
Best suited for anglers fishing in a single location (less moving around)
Cons
Takes longer to heat up (can mean more propane $ too)
Wind! If not pegged down it can become a tumbleweed
Not suited for anglers looking to moving locations often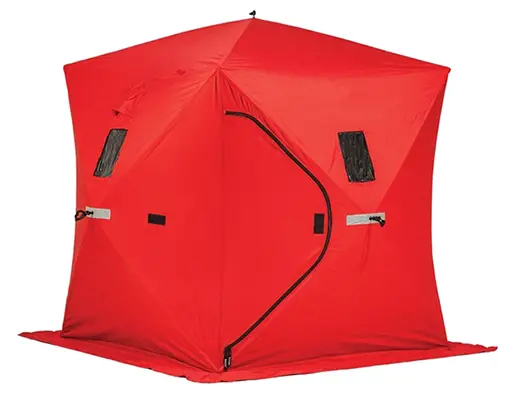 What to look for in Ice Shelter Materials
Portable ice shelters are made from a number of different materials the primary ones being nylon, canvas, cotton and polyester. The most important material quality you need in a shelter is strength. A thicker material often gives that added strength quality, so that's an easy way to distinguish between a higher and lower quality shelter. The last thing you want is to be sitting in a thin camping style tent on the ice in howling winds. The strength and thickness of the material is not only for the shelter performance but also to increase the longevity as you'll get fewer tears and patch jobs.
Thermal vs. Non-Thermal shelters. If you're fishing in extremely cold conditions it's recommend that you have a thermal shelter. Up front there is higher cost BUT having a thermal will save you a lot of money on propane and heating up (and keeping your) your shelter warm.
Another important quality to look for in the material is its breath-ability which reduces the condensation inside the shelter. Alongside this the shelter material should be waterproof, that probably goes without saying that, but there are cheap shelters (materials) with liner integrity that quickly fades making them no longer waterproof.
Ice Fishing Accessories to Consider
Sled – You'll need some sort of sled to transport your shelter and ice fishing, whether towing it from a snowmobile or pulling yourself moving the gear quickly and efficiently is very important. Look for a sled that tracks well through the snow, I'd recommend looking at adding a runner onto the sled.
Tie-downs & ice anchors – These are used to keep the shelter secured in windy conditions. These are the same thing as pegging a camping tent to the ground, except the ice anchors are much a much larger/wider peg as they twisted into the ice.
Travel Cover – This protects and covers either your entire sled or the shelter inside the sled. Think of it like a backpack cover where it protects the gear from rain, slush, mud, snow, etc. You don't want to deal with wet or dirty gear when on the ice setting up.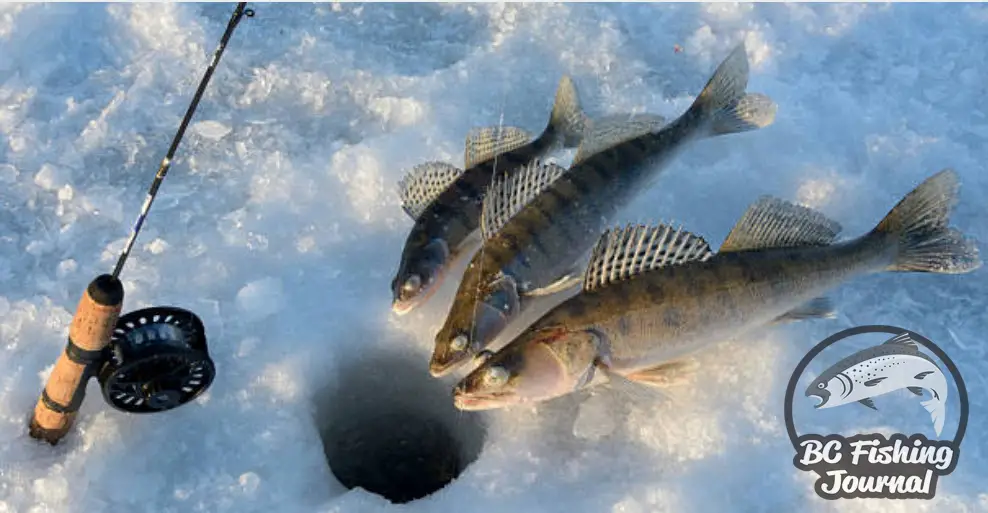 Eskimo is a leader in the ice shelter space as they were the first to create the pop-up portable ice fishing shelter. Their experience comes through in their well constructed shelters with sturdy poles, strong foundation, removable windows, high quality zippers and lots of storage.
Eskimo has 2 series of shelters: the QuickFish and the Fatfish. The QuickFish was their original and is still the most popular today. The Fatfish is a newer shelter series that provides more square footage. Within both of these series there are multiple models separated by size, weight and insulation materials. 
The models ending with an "i" means the shelter is insulated. Eskimo's fabric is a a thicker material they call IQ Insulated fabric. It's a high thread count fabric that helps to trap the warm air inside the shelter while still protecting from the outside elements.
The comparison table below outlines their models. I'd pick based on number of anglers you'll want to accommodate, also if you're going to be fishing in extreme winter temperatures then I'd recommend the insulated models (names ending with "i").
Eskimo Shelters Comparison Table
Piscifun has entered the ice fishing space with 2 sizes of ice shelters (2-3 and 3-4 person). In these two sizes there is fully insulated and non-insulated options. The shelters have 2 removable windows for and skylights for lots of natural light with blackout cover options as well. The shelter comes in an easy to carry bag (with backpack light straps). The pop up design makes it easy to setup and collapse.
One thing I really like about these shelters is the price point. They are certainly on the lower side, so if you're looking for a shelter on a smaller budget this is worth checking out. 
Thunderbay ice shelters? Come on you've heard of them right? Perhaps not, they're a little company out of Wisconsin that does fishing, hunting and some other outdoor tools. They don't have the same sized catalog that Eskimo has but produce a few high quality shelters that accompany 2, 3 & 6 people.
The Ice Cube 3 model I'm recommending below is a 3 person shelter. The height inside is 80 inches and it weights just under 20 LBS! That's much lighter than it's counterpart in the Eskimo QuickFish 3. It has a blackout coating with a very strong 300 thread count denier shell. It has a number of extras like the pull handles on all sides of the shelter to make for easy setup and tear down and ice spike storage bag to keep them secure.
If you're looking for a lighter weight, 3 person ice shelter this one might be perfect for you. Check Thunderbay out they know their winter gear!
Ice Thickness Diagram – Safe Ice Depths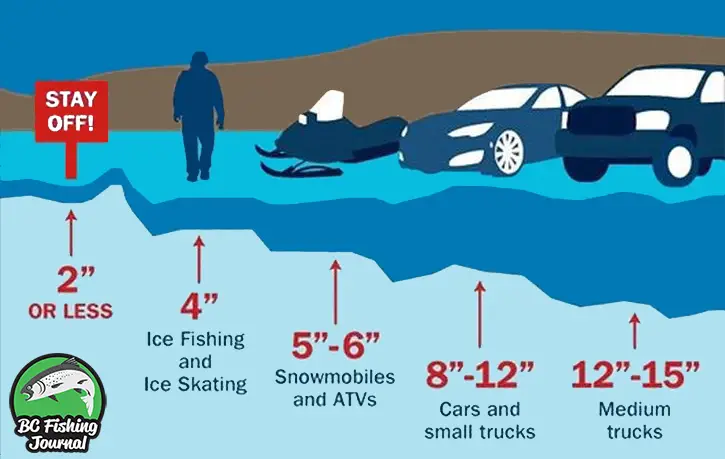 Additional Ice Fishing Gear
Best Ice Shelter Conclusion
For me I lean toward the experience of Eskimo shelters. For me the ideal shelter size will fit 3 people, typically I'm fishing with one other guy but it's nice to have a room for one more or some additional square footage for gear. I'm also fishing up here in Canada where the temperatures can get ridiculously cold so I like the insulated models. That all said, the ice shelter I'd recommend is the QuickFish 3i or the the Fatfish 949i. Both being in that middle of the pack on size and weight but still have the height benefits like the larger tents. These two stand out as a great all around ice tent that will last a lot of winters.
I hope this helps. Please drop me a comment or email if you have any questions or want to talk ice fishing. Good luck!
My name is Jesse, I've been obsessed about fishing since I was a toddler trying to catch fish with my minnow net in any type of water. Today I have a passion to promote fishing in an educational, fun and respectful format. More on Jesse