How to Setup a Prawn Trap
Prawns are some of my favorite food to eat from the Ocean. This article outlines all the setup components for prawn and shrimp traps. These setups are much more involved as they are fished in hundreds of feet of water so there is a lot more too them than a shallow crab pot/trap. I've outlined all the prawn and shrimp trap components of the setup and different options. Good luck out there!
Diagram of a Prawn / Shrimp Trap Setup
The diagram below outlines a single prawn trap setup, here in BC you can have up to 2 traps per line. There are different styles of traps and setups, this is one approach that I use here in the Pacific Northwest. See diagram for quick view and all the components are broken down further below.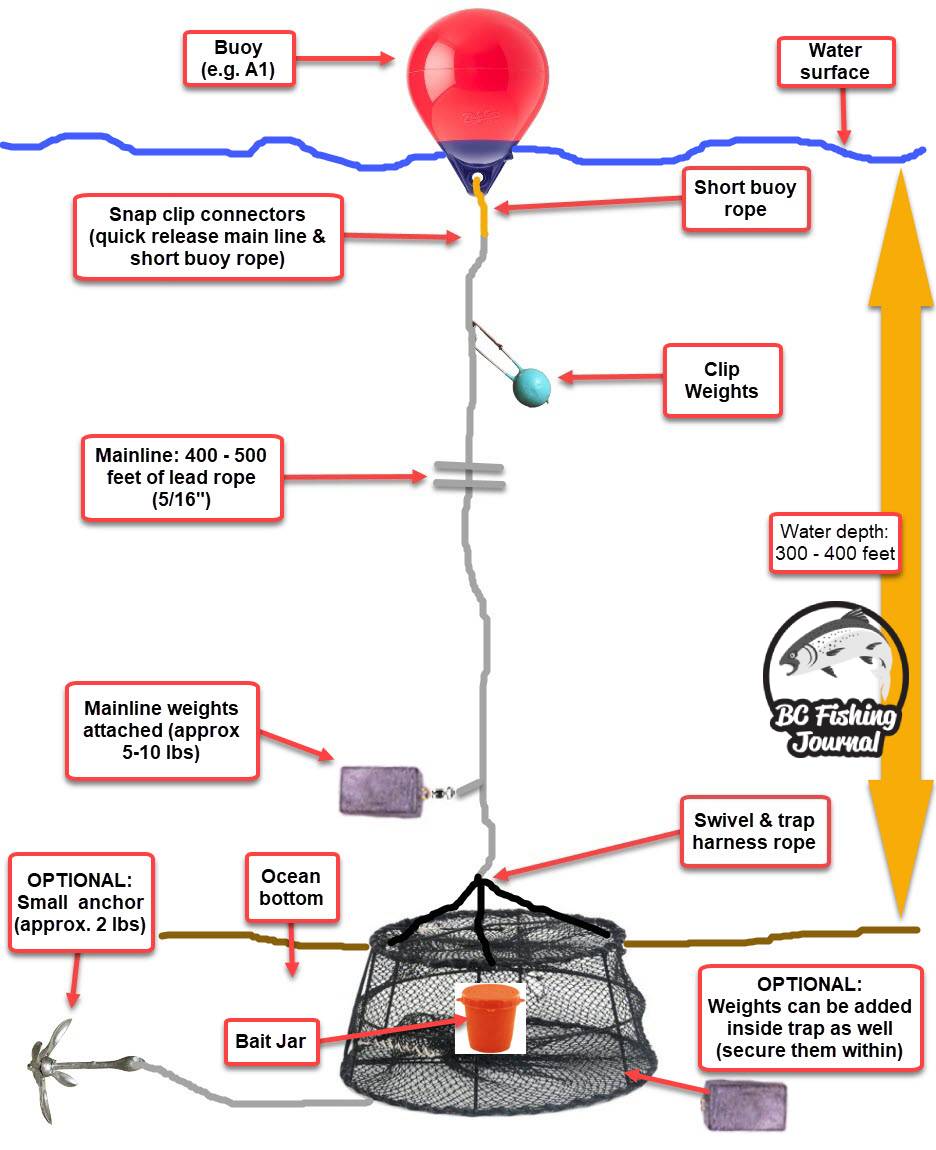 Prawn / Shrimp Trap Components
Mainline – Lead line
Line length is dependent upon the depth your prawning/shrimping. It's recommended that you use an additional 100′ of line than the water depth. So if you're prawning in 300′ of water, you should have a 400′ mainline. The reason for the excess is to due to line or trap drifting with the tides and also you'll want excess line weighted down on the bottom to ensure the trap doesn't drift (see bottom weights components).
Weighted line (lead core line) is important as you don't want line floating around that other boats props can run into. Typical line diameter is 5/16″.
I like to use thimbles on both ends of my mainlines to allow for easy connections (see photo of example knot, thimble & swivel snap connector).
Buoy
I recommend not to cheap out on the buoy. A1 Buoys are a good size for most prawn lines (including up to 2 traps on a mainline).
Be aware of buoy colors, some states have mandatory buoy colors for prawn/shrimp traps (e.g. Yellow buoys must be used in Washington).
Buoy Line
A short buoy line that connect the buoy to the mainline. The short line doesn't have to be lead line and doesn't need to be longer than 25′. You'll need some sort of connectors on both the buoy line and mainline to connect these (see connectors components).
This line is optional as you could tie the mainline directly to the buoy, you'll simply need some good connectors.
Clip Weights
These are smaller weights clipped onto the top end of the mainline to ensure your mainline is sinking near the surface. This again is to reduce any chance of a passing boat/prop running over your line.
The clips cinch onto the mainline and have a weight attached usually around 16oz – 32oz (1 – 2 lbs).
I like to clip my first weight about 10-15 feet below the top of the mainline. You can clip as many weights as you'd like as you work down the mainline. Personally, I don't think you'd need more than 2 clips near the top end of your mainline, but I guess it depend on currents of the water in the upper columns.
Bottom or Trap Weights
Adding larger weights onto the bottom of your mainline, approximately 15′ feet from trap will help in keeping your mainline tight from top and will ensure your trap doesn't move around.
Depending on depth, tide/current strength you'll want to adjust your weight. A typical weight would be 10 to 15 pounds that sits on the bottom.
Optional: You can also put weights inside the trap itself (recommend securing and ensuring the trap is well balanced so have a weight on each side).
Optional: Adding weights to the outside of the trap. On my trap I have 8′ of 5/16 thick gauge chains to help weight down the trap. The chain wraps around the trap evenly to ensure it's well balanced (see image).
Optional: You can use a small 2 lb – 9 lb anchor with a short rope that connects adds some additional weight to keep the trap from moving.
Prawn Trap
There are different types of traps, from mesh, rubber coated wire and commercial metal traps. They typically come in round or rectangle shapes.
Because prawns and shrimp are smaller the traps have a much tighter threading vs. what you'd find in crap trap.
There are usually 3-4 trap doors (or openings) around the trap for prawns and shrimp to enter.
Trap Harness (bridle)
This is the line that connects the mainline to the prawn trap.
Often these harness lines come with the trap. If they don't, ideally you want a few connections spread across the top of the prawn trap that then connects to single connector that then connects to the bottom of the mainline.
I like to reinforce the harness line with a metal thimble.
Also, be sure to get steel (or some sort of metal) clips, don't buy the plastic connectors.
Bait Jar
These are plastic containers that hold your bait and tie inside the prawn trap. The trap should come with some straps or housing to hold this bait jar in place.
The jar has little slits in it so the bait scent is slowly released.
Bait
I like to use a combination of cat food can, salmon roe and/or shrimp/prawn pellets. You don't need all three, but have at 2 of these and if you're leaving the traps for a longer period of time, I'd recommend using pellets.
Prawn pellets should be soaked overnight in a prawn attractant or fish oil, this will have the prawns expand a little more ensure the scent is better released when it's in the trap.
The cat food says in the can, but put a number of holes in the can so it slowly releases the scent. Get a cat food that has a fish base, e.g. Tuna or Salmon.
Don't overfill the bait jar, should be about 2/3 full as the pellets will swell open and you don't want a tight packed bait jar as the water should be able to flow easily to ensure scent is being distributed.
Connectors
I like to use quick clip connectors, so when I'm pulling my gear out of the water I can easily unclip it and compartmentalize everything. That said, I like the heavy duty metal clips with a swivel on the end. The swivel can be important as it'll avoid any line tangles/twists. I ensure the clip that connects my bottom of the mainline to the trap has a swivel.
Thimbles are very handy in reinforcing your line ends, particularly the top and bottom of the mainline. Having a thimble makes it easier for any other metal connectors to attach to the rope.
D-shape connectors (metal carabiner with twist locks) are great for any of the connecting points. I used 4 of them to attach the chain around my trap (see photo).
Wire rope clip, I like to use these to reinforce my knot and thimble holding on both ends of the mainline. These are a bit overkill but are cheap and do create a little extra weight as well.
Polyform A-0 Buoy Saturn Yellow 8 x 11.5 in.
KUFA Sports 5/16" Lead Core Line from 50-feet to 600-feet (400-feet, 5/16" Lead Core Line)
KUFA Tower style prawn trap (Size:ø35"x ø21"x 16-1/2"H),Stretched Mesh size:1-3/4"
Scotty Vented Crab Diner Bait Jar, 1 Liter, Red
LFS Inc. Prawn/Shrimp Super Bait
Polyform A-0 Buoy Saturn Yellow 8 x 11.5 in.
KUFA Sports 5/16" Lead Core Line from 50-feet to 600-feet (400-feet, 5/16" Lead Core Line)
KUFA Tower style prawn trap (Size:ø35"x ø21"x 16-1/2"H),Stretched Mesh size:1-3/4"
Scotty Vented Crab Diner Bait Jar, 1 Liter, Red
LFS Inc. Prawn/Shrimp Super Bait
Additional Tips