Bass Seasonal Feeding Habits, Best Lures & Rigs
A good angler can find bass any time of the year. Knowing what the bass are eating and when, is crucial to be a successful angler. I'll start by covering the different feeding habits during the season before going over some common, but highly effective ways to catch largemouth bass.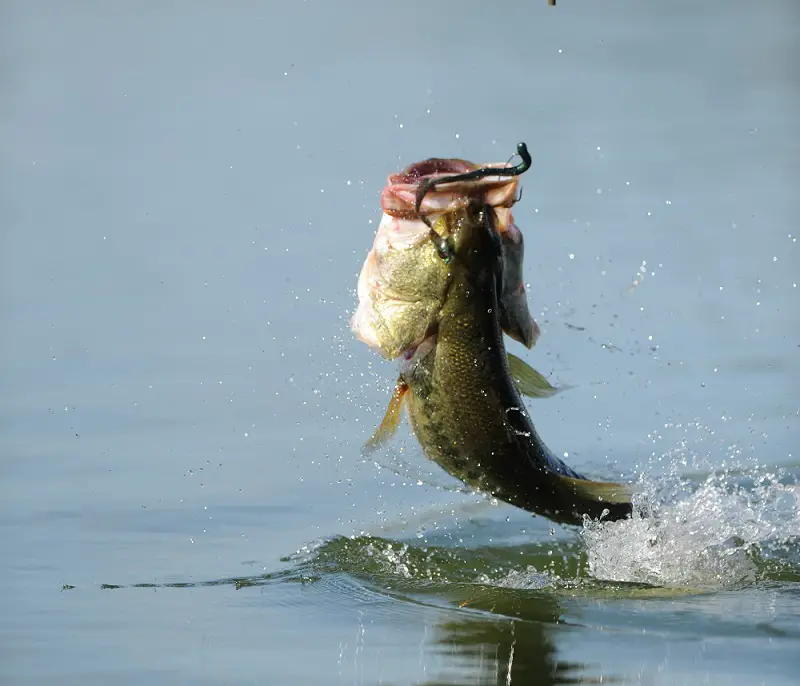 Spring
Spring is an interesting time as it is essentially broken up into three phases: pre-spawn, spawn, post-spawn. In pre-spawn, bass are preparing for the spawn by migrating out of their deeper wintering spots while actively feeding. Just about anything will work during this time. Crawfish imitations are always good along with baitfish imitations like crankbaits and umbrella rigs. During the spawn, bass aren't feeding, but will attack any threats to their eggs. Spinnerbaits and shallow crankbaits can get close enough to the bed to trigger aggression. If you need to get closer to get a bite, dragging a Texas-rigged worm onto the bed will certainly get a reaction. In post-spawn, males will stay shallow to protect the nests, so topwater baits are key. Females need to recoup their energy and will seldom pass up a slow-moving bait. The water temperature range is from 10C (50F) to 21C (70F), with spawning happening in the 16C (60F) zone.
Summer
In the summer, when the water temperature is 21C+ (70F+) bass are coming off post spawn lulls and into normal feeding patterns. This is when it pays to know the spawning season of different baitfish. Know what's in your lake, but usually you will want to imitate the size, shape, and color of the shad and sunfish found in your lake with various types of crank baits and jerk baits. Quietly make your way into the shallows to find spawning shad/sunfish to get an idea of their size.
Fall
When the water temperature is down to 7C (45F), bass will begin fattening up for winter. The bass will follow the shad that begin migrating to the backs of creeks. It becomes easier to catch bass during this time with any lure that imitates shad, like spinnerbaits, crankbaits, top-water baits, and underspin lures. 
Winter
Waters below 7C (45F) trigger winter feeding habits. Bass will slow down significantly to conserve energy. Smaller shad will die off and so lures that imitate dying shad like a slow falling spoon should do the trick. As the winter progresses, switch to dragging a jig on bottom, or a deep diving crankbait. The key to winter fishing is to slow down your retrieve.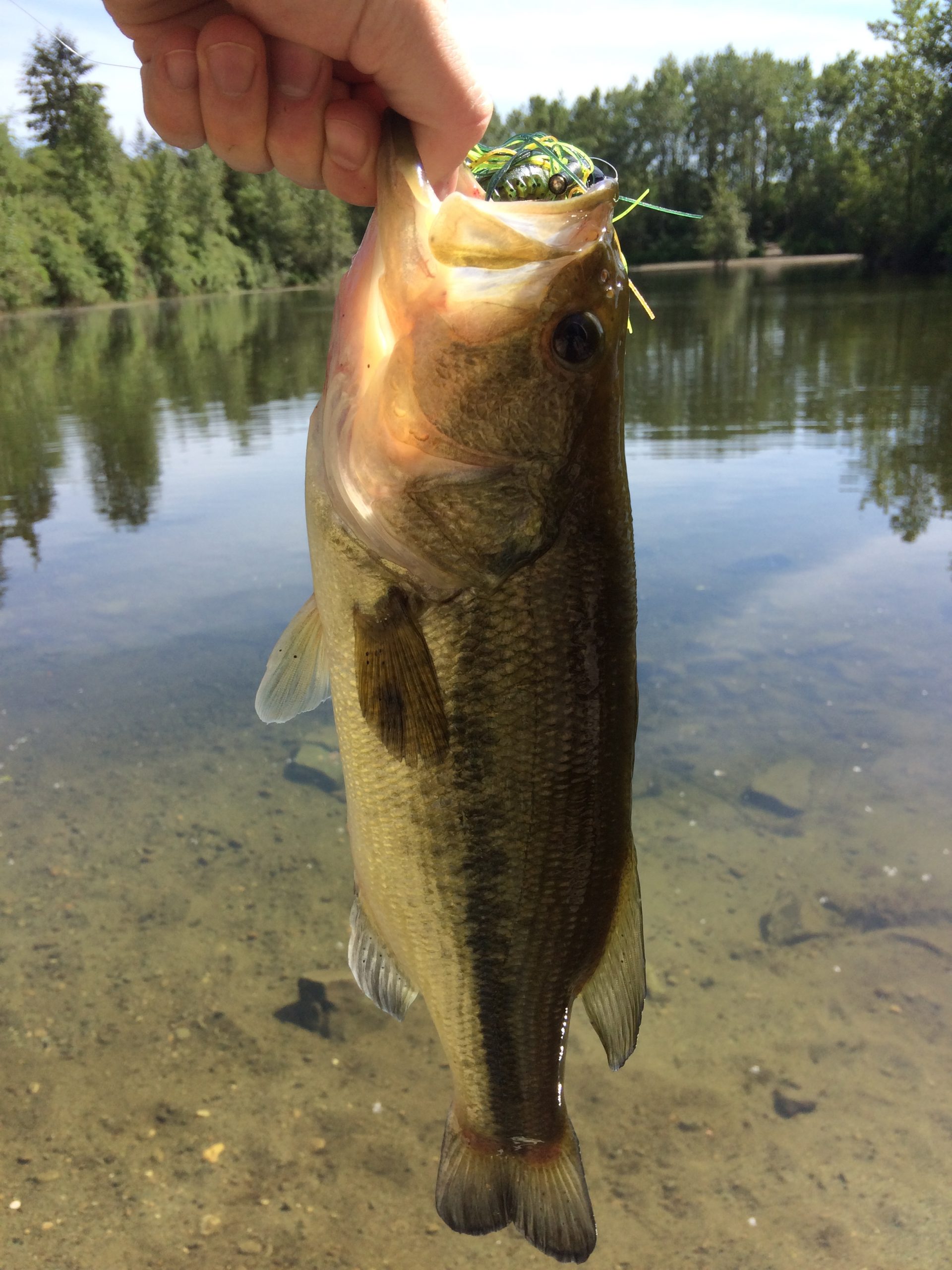 Best Bass Lures & Rigs
Spinnerbaits
Every bass angler has a spinnerbait in their arsenal. They're extremely versatile lures that can be used spring, summer, or fall. It is essentially a hook with a skirt attached to a set of spinning blades. Generally, spinnerbaits excel during overcast conditions and light chop. The two main blade styles are Colorado and Willow. Each has their place in different situations. 
Colorado bladed spinnerbaits excel in stained water where the extra blade vibration is needed. It also moves slower than its Willow bladed counterpart. When casting close to shoreline cover, the slower speed of the Colorado spinnerbait keeps your lure in the strike zone longer.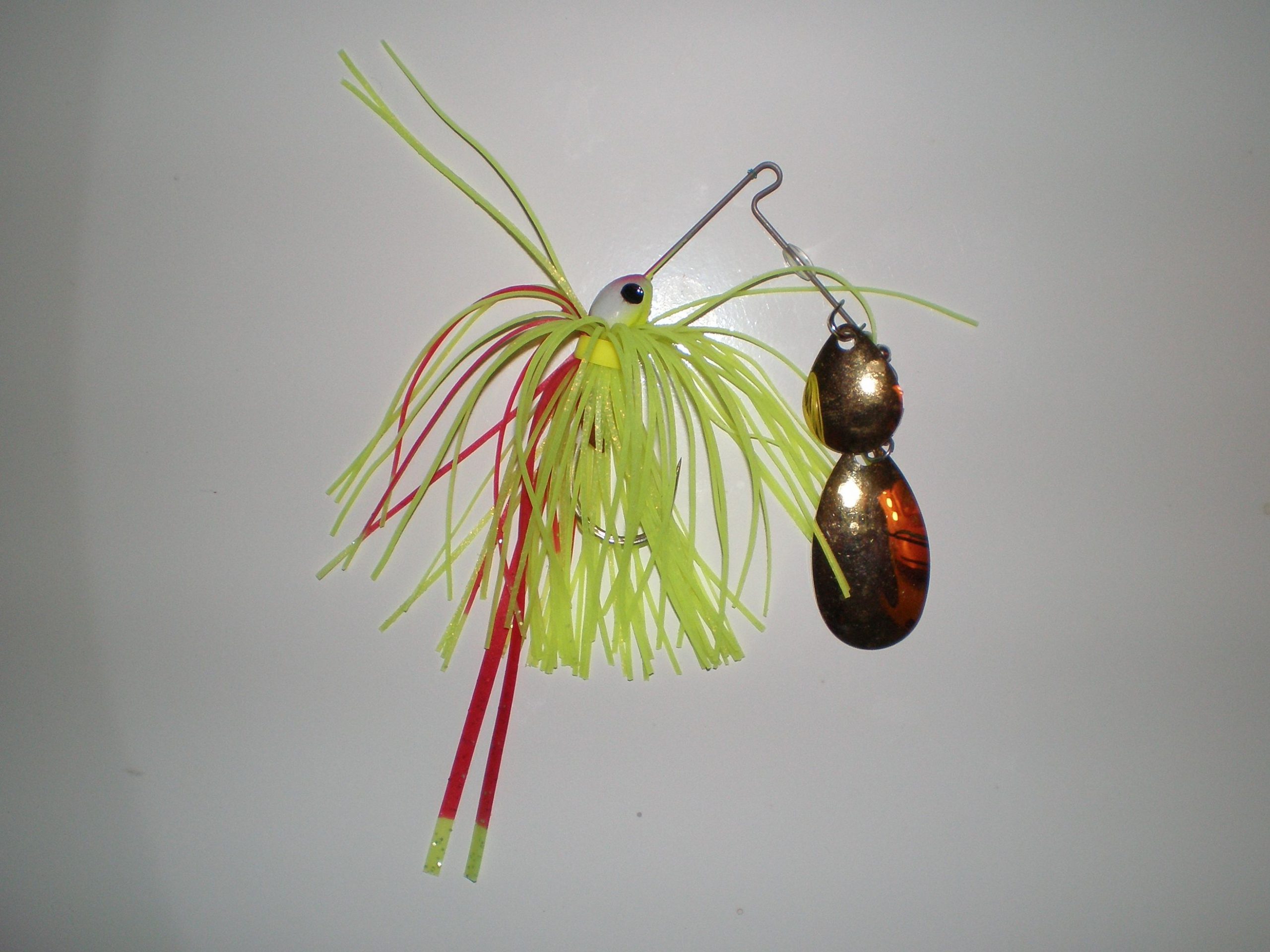 Colorado Blade Spinnerbait
Willow Leaf Spinnerbaits
Willow leaf blades are fished in the opposite way to Colorado spinnerbaits. Break out the Willow leaf spinnerbait on clearer days around grass where making longer casts is the norm. These spinnerbaits are better at covering water.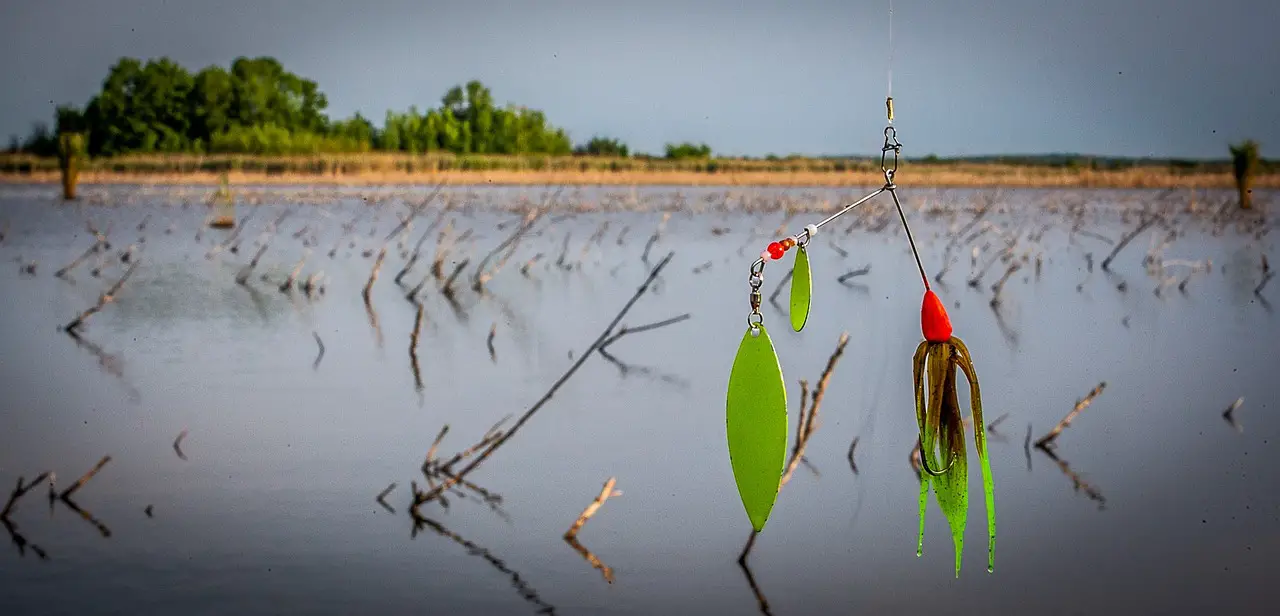 Silver blades vs. Gold blades and Skirt Colors
Silver blades are better in super clear water, gold for darker water. When choosing a skirt color, you can't go wrong with white, chartreuse, or white/chartreuse. Setting hook is simple, you won't need a super hard hookset, sweeping your rod and increasing your reel speed will suffice. If you're fishing in weeds/grass, avoid dropping your rod tip so that you don't become too hung up. Rod/line combo isn't too complicated. Since you will most likely be in thicker cover, having a medium-heavy rod in the 6'8" to 7′ length is ideal. The fish won't get a good chance to look at your spinnerbait for long, so you can get away with heavier line such as 65# braid, or 17# fluorocarbon.
Texas Rig & Rigged
Another staple bass fishing technique is the Texas Rig. Some claim a Texas rigged Senko has caught more big bass than any other method. The Texas Rig is the nomenclature for the rig itself, and Texas rigged refers to how a plastic is rigged. The great thing about the Texas Rig is that virtually any type of soft plastic can be used. Common types of soft plastics to rig Texas style include worms, craws, and creature baits. 
The basic Texas Rig consists of a worm hook (offset, EWG, Straight-Shank), your choice of soft plastic, a bullet sinker, and optionally, a bobber stop. To make the Texas Rig, start by threading your bullet sinker through a fluorocarbon leader, the pointy part of the sink facing towards the rod tip. Then tie on your hook, I like to tie an improved clinch knot. Finally, hook your piece of soft plastic. There is one caveat though. You must hook your plastic to make it weed less, there are many videos on how to do this on YouTube.
The Texas Rig can be used virtually anywhere and can be finessed or used to cover water by dragging it on bottom. You can throw it in and around docks and shoreline structure or drop it into weed pockets. You can even flip/pitch it into cover and fish it like you would a bass jig. Since any type of plastic can be used, you have the freedom to use all sorts of different colors and bait actions and sizes.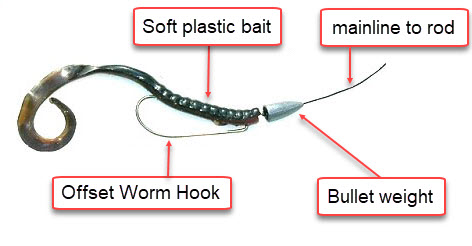 Weighted Texas Rig Diagram
The Jig for the Biggen's

My favorite way to catch bass is with the jig. While it won't get you numbers, it will get you bigger fish generally. There are many types of bass jigs, like the football jig for dragging on rocky bottom, the swim jig for covering water, or my favorite, the flipping jig for flipping into cover. There's a jig for all seasons and many different trailers and skirt colors, which makes the jig one of the best, most versatile baits.

The bass jig comes ready to tie on, and every fishing store will carry an array of different head styles and skirt colors. The jig consists of a hook on a weighted head, a skirt, a weed guard, and sometimes a rattle. When purchasing a jig, most manufacturers will print the style of jig somewhere on the packaging. The most common types of jigs include the flipping jig, the football jig, the swim jig, the finesse jig, and the punch jig. All these jigs allow you to hook on a trailer, which is essentially a piece of soft plastic that give your jig some action. Commonly, trailers are craws and chunks, and even grubs with fluttering tails.
The flipping jig is the most all-purpose jig in the family. It is usually fished in and around docks and other shoreline structure such as lay downs, weed pockets, and grass. When flipping a jig, stealth and speed is the name of the game. Get up close to the targeted structure, maybe 5 to 10 feet away. Underhand flip the bait precisely where you think the fish might be, here accuracy is key. Let the jig fall to the bottom. If the bass doesn't bite it on the fall, give it a hop or two, maybe a few extra seconds then reel out and flip into the next spot. This method allows you to quickly work your way along the shoreline where bass will be feeding shallow.
The Football Jig
When the bite calls for a slower presentation is where the football jig shines. The weighted head of the football jig is shaped like a football (who would've guessed?) Depending on the depth, you will want to fish a heavier jig. To fish the football jig, simply tip it with a craw style trailer, cast it out and let it hit bottom. Ideally, you're fishing a hard bottom with the football jig. Once the jig is on bottom, drop your rod tip, and slowly sweep your rod. Imagine how fast a crawfish will travel on bottom, that's the speed you should be sweeping at. Reel the slack and keep dragging, repeat until the jig is back to the boat before casting somewhere else and doing it all over again.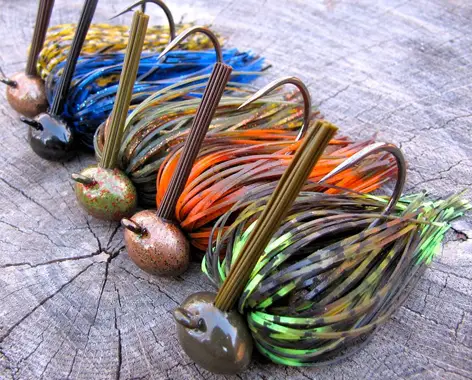 Fishing Largemouth Bass in Lower Mainland

If you're looking for lake options in the greater Vancouver area for Largemouth Bass have a look at our tip page. It contains a Google Map of all the lakes, ponds and streams holding largemouth bass.

How to Tie Bass Rigs

If you're looking for helpful videos and diagrams on how to tie popular rigs like the Texas Rig, Carolina Rig, Drop shot and more check our rig tying tip.

Recommended Bass Fishing Gear
Bass gear seems to be changing with the wind. Here are some foundational gear recommendations that have stood the test of time. These lures, plastics and terminal tackle will get you into Bass.
Also, check out my Top 6 Bass Baits page for more information on lures.
Jigs and Spinnerbaits
BOOYAH Boo Jig - Black/Blue - 1/2 oz
Reaction Tackle Tungsten Swim Jig for Bass Fishing - 1/2 oz Camo Craw
Strike King KVD Spinnerbait/TN Shad, FSB38CW-517SG
BOOYAH Pond Magic Small-Water Spinner-Bait Bass Fishing Lure, Moss Back Craw, Pond Magic Real Craw
BOOYAH Boo Jig - Black/Blue - 1/2 oz
Reaction Tackle Tungsten Swim Jig for Bass Fishing - 1/2 oz Camo Craw
Strike King KVD Spinnerbait/TN Shad, FSB38CW-517SG
BOOYAH Pond Magic Small-Water Spinner-Bait Bass Fishing Lure, Moss Back Craw, Pond Magic Real Craw
Plastics
Yamamoto 92F-10-297 Fat Ika, 4-Inch, 10-Pack, Green Pumpkin/Black Flake
Yamamoto 4" SENKO GREEN PUMPKIN W/ LARGE BLACK FLAKE (10 PACK)
Berkley PowerBait Power Worms, Plum/Chartreuse, 7" (13 Count)
Yamamoto 92F-10-297 Fat Ika, 4-Inch, 10-Pack, Green Pumpkin/Black Flake
Yamamoto 4" SENKO GREEN PUMPKIN W/ LARGE BLACK FLAKE (10 PACK)
Berkley PowerBait Power Worms, Plum/Chartreuse, 7" (13 Count)
Terminal Tackle
Gamakatsu Extra Wide Gap Worm Hook-5 Per Pack (Black, 5/0)
XGATML Interwebz 5 Pack 1/16 oz Tungsten Black Bullet Worm Weight for Bass Fishing Pitching and Flipping Sinker
Gamakatsu Extra Wide Gap Worm Hook-5 Per Pack (Black, 5/0)
XGATML Interwebz 5 Pack 1/16 oz Tungsten Black Bullet Worm Weight for Bass Fishing Pitching and Flipping Sinker