Halibut and Lingcod Bottom Fishing Gear and Setups
There are many types of bottom rigs this page is covering deeper water setups primarily targeting Halibut, Lingcod, Rockfish and any other fish on the bottom of the ocean. The foundational elements are pretty basic, but the lures and baits you can add are endless! This setup is designed for salt water fishing that typically used from 40′ to 250′. You could use this rig for deeper waters but the deeper you go the more complicated it gets, more on that later. Let's get into it!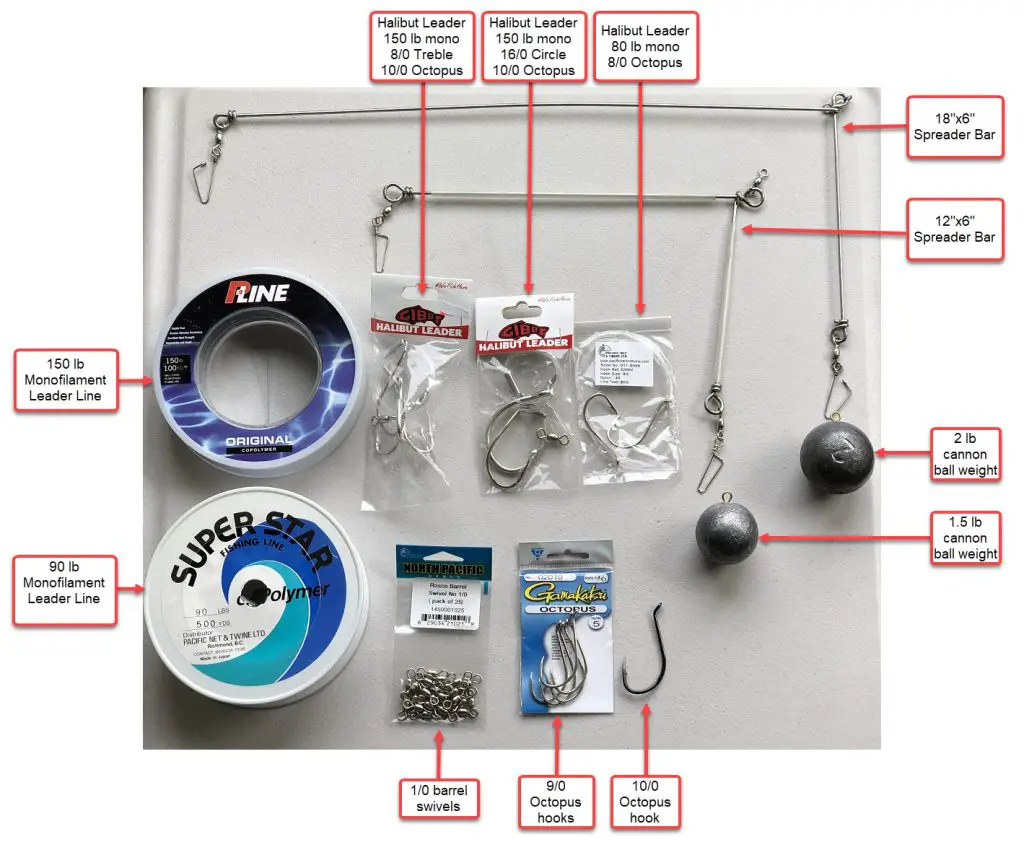 This diagram above contains a few setups and we'll walk through each one, so don't get overwhelmed by the amount of gear and labels. I'll first discuss each component then detail the specific setups and lastly talk about how they're best used.
Spreader Bars
Spreader bars are two pieces of stainless steel in the shape of an L. The purpose of the spreader bar to avoid tangles between the leader line and weight. It avoids tangles by spreading them a part, hence "spreader bar". I like to think of these as the foundation of the bottom setup.
Spreader bars come a number of different sizes. The 2 in this diagram are the most common for deep water bottom fishing. In the diagram there is an 18″x6″ and a 12″x6″. The smaller the spreader the bar the shorter the leader line should be. My favorite is the 18″x6″, personally I'd recommend that for most fishing scenarios as I have the least amount of tangling issues.
Spreader bars have 3 connection areas:
Long arm duo-lock connects to the leader line
Short arm duo-lock connects to the weight
Middle swivel (where the two arms connect) ties off to the mainline
The duo-locks and swivel should come with spreader bar when you purchase it.
Other Types
There are other types of spreader bars that don't have the "L" shape but only a single bar to hold the weight. There are also soft spreader lines that have a plastic coating but work similar to the single speader bar. The "L" shaped spreader bar is most commonly used and that's the one I'm articulating in this article. 
Cannon Ball Weights
Cannon ball weights are another key part of your bottom setup as its purpose is to ensure your rig and bait get to the bottom.
The size (weight) of the cannon ball is dependent upon two main factors:
Water Depth
Tidal Current
The deeper your fishing and the faster the current the more weight you'll need to get your setup on bottom. Fishing around a slack tide is ideal because you're not dealing with a tide that will make it more challenging to keep your gear on the bottom.
Two common bottom weights are 1.5# to 2.5#. I recommend having a few different weight options so you can adjust for different water scenarios. For example, if your fishing in 180 feet of water and there's a little bit of a tide current I'd recommend a minimum of 2# cannon ball. It's not always easy to tell how fast the current is ripping deep below, so a pro-tip is to watch the line angle at which your setup drops. If your line is dropping straight down, you've go the right amount of weight. If your setup is taking awhile to hit bottom and is angled back behind the boat, you need more weight.
If you have to choose one weight, I'd always choose to have more weight than less weight. I use the 2# cannon balls most often.
Leader Lines & Hooks
Your leader line is an important piece of the bottom rig as it connects to the spreader bar's longest arm. Leader lines are typically monofilament line ranging from 90# to 150#. On top there is a large swivel (usually around 1/0 to 2/0 in size), on the bottom is your bait hook(s), hoochie, swimbait or some type of lure.
Leader length is really subjective, anywhere from 12″ to 36″ long of monofilament. You can have longer leaders but you risk more tangles as the length negates the purpose of the spreader bar (aka. spread your leader away from your weight).
You can tie your own leader lines or buy pretied leaders. Pretied leaders are usually cost around $5 to $9 bucks each in your local tackle shop. If you plan on doing a lot of bottom fishing you may want to practice tying your own.
If you're using bait, the most popular hooks tied on are Circle hooks, Octopus hooks or Treble hooks (see hook types for more info). Depending on your fishing regulations, but most tidal waters will allow you to have two hooks on a single leader. Here are some recommended sizes for these types of hooks that I like to use for Halibut and Lingcod:
Octopus hooks – sizes 8/0 to 10/0
Circle hooks – sizes 14/0 to 16/0
Treble hooks – size 8/0
How to Tie Two hooks onto one leader Line
When tying two hooks onto one leader line I use the Snell Knot. It's an easy knot to learn, especially if you're already proficient in an egg loop knot. The space between the hooks is really dependent upon the bait your using. The larger the bait the bigger the gap. A common gap is probably 5 to 6 finger widths (roughly 4 inches). Again think of a bait like a large herring, if you're putting one hook through the head and another through the body it's really dependent on the size of the herring. At the same time you don't want too big of gap, as a smaller gap will ensure you get both hooks into the fish which will increase your landing rate.
Mainline and Connector to Spreader Bar
Mainline could be subjective but I strongly recommend braided line. It has zero stretch and the smallest diameter line so you can get a lot more heavier line on your spool for fishing deep water. The mainline I recommend is an 80# braid line my favorite brand is Power Pro.
The mainline ties onto your spreader bar via a snap or duo-lock. Immediately above the snap or duo-lock you should have a bead or something to protect your rod tip guide. The bead acts as a bumper to ensure you don't break the guide if you reel up the spreader bar to far.
In the diagram I've included this is overkill. You don't need all the extra rubber pieces or the 6 ball swivel. Some of these extras can be good like a swivel as it'll reduce line twists but again is not mandatory.
Baits and Lures
The best baits for Halibut are Salmon belly strips, Octopus, Herring or Squid. These baits are attached onto your double hook setup as outlined in leader section above. These baits should be available in tackle shops near coastal waters. You can also find some of them in Asian groceries or sometimes in larger chain grocery stores as well.
Scent Trails
Bait is a great option to attract bottom fish because of the scent trails they put out. Keep in mind it's the tidal flows that will move your scent trails in various directions, ideally fishing 1 hour before and after slack tide (tide change) is best for getting a good scent trail going. If you're fishing in fast moving tide (incoming or outgoing) the scent won't hold well and it makes for more challenging fishing.
Pro Tip: To draw in more fish and create a larger scent trail fill a bait bag (or mesh bag) with chunks of various bait. Then put that bait bag on your downrigger (or any descending line with weight) and send it the bottom when your fishing. Bait bags should only be used when your anchored in a single spot. 
Hoochies, Swim Jigs & Metal Lures
If you don't have (or want to use) bait, artificial lures like plastic hoochies, swim jigs or flashy metals can also be very productive. The large hoochies or plastics look to mimic a squid. Because you're fishing deep the plastics are typically glow colors like white or green. There are even glow stick additions you can add to the hoochies, I've never used them but they seem like a good change up.
Hoochies setup can be tied onto the leader line and included on the spreader bar just as you would the hooks/bait setups. This is also the case for swim jigs. If you are fishing with heavy metal jigs, you may not need a spreaderbar and weight to fish the bottom. 
IMPORTANT: When fishing lures without bait you'll need to give some action to the lures by constantly lifting up your rod tip to make the lures look like a live bait. You should be feeling your cannonball weight hit bottom with each lift of the rod, that way you know you're putting your lures where the fish are. 
Wrap Up
Bottom fishing is one of my favorite styles of fishing. With so many species on the bottom you never know what you'll pull up. The gear I've outlined above has caught many different species like Halibut, Lingcod, Yellow Eyes, Rockfish, Cabezon / Sculpin, Greenling, Dogfish Sharks and more.
It's funny as I love to use this technique for Rainbow trout in stocked ponds with a tiny weight and floating power bait (setups are 10 times smaller!). The principles are so very similar as you want to always feel and ensure your setup is on bottom, and you want to give it some action or create some sort of scent for the fish to come to.
Thanks for checking out my site. I hope this article was helpful. If your interested in getting some of the gear I mentioned above here are some recommendations below. Cheers! Jesse
Recommended Salt Water Fishing Bottom Gear
GIBBS Halibut Spreader Bar
P-Line Original Leader Coil (100-Yard, 150-Pound)
Bullet Weights CB4800 Cannon Ball Sinkers Size 48 oz. 2/bx
Gamakatsu Octopus Hook-Pack Of 25 (Nickel, 10/0)
Fishing Barrel Swivels - 50/100 pcs Rolling Ball Fishing Swivel with Solid Ring Fishing Tackle Accessories Hook Line Connector Copper with Stainless Steel Black Nickle Coated Test Strength 35 - 165lbs
Dr.Fish 20 Pack Fishing Snap Swivels, Ball Bearing Swivels Coastlock Snaps Size, Stainless Steel Saltwater Swivels Fishing Tackles Inshore Deep Sea Fishing Terminal Tackles 178LB
GIBBS Halibut Spreader Bar
P-Line Original Leader Coil (100-Yard, 150-Pound)
Bullet Weights CB4800 Cannon Ball Sinkers Size 48 oz. 2/bx
Gamakatsu Octopus Hook-Pack Of 25 (Nickel, 10/0)
Fishing Barrel Swivels - 50/100 pcs Rolling Ball Fishing Swivel with Solid Ring Fishing Tackle Accessories Hook Line Connector Copper with Stainless Steel Black Nickle Coated Test Strength 35 - 165lbs
Dr.Fish 20 Pack Fishing Snap Swivels, Ball Bearing Swivels Coastlock Snaps Size, Stainless Steel Saltwater Swivels Fishing Tackles Inshore Deep Sea Fishing Terminal Tackles 178LB
Additional Deeper Water Bottom Gear