Best Ice Fishing Reel – Tackle Guide
Ice fishing is growing in popularity in North America, which is surprising with all the ice melt from global warming. Kidding! Ice fishing is a great pastime for those who can find the hard water throughout the colder months. Especially for the shore anglers without a boat who now have access to the entire body of water! Regardless, ice fishing is a great way to spend a day with family or friends, especially when you're staying safe and smart on the ice.
During the colder months when the water temperatures are dropping the fish activity drops as well. As a result you'll typically need an ultra-sensitive and light setup to detect these less aggressive bites. Of course when fishing deeper or for larger fish the lighter (smaller) setup won't be ideal, but for the most part it's the typical approach.
To make the most of your next ice fishing trip, it's important to have a quality reel in order to have confidence and be more productive. When looking for the best ice fishing reel we recommend one that will provide the best ice fishing experience. Here are a few tips on what to look for in the best ice fishing reel and a few reviews to help you start your search.
Our Top Ice Fishing Reels
What type of reel should I use for Ice Fishing?
The most popular ice fishing reels are spinning, inline and baitcasters. Baitcasters are the least common and usually only used for deep water or very large fish (e.g. Lake Trout). In this guide we are focusing on the two most popular in the spinning and inline reels.
Spinning Reels
The spinning reel is the most common reel that anglers use when ice fishing. A typical ice fishing spinning reel will be an ultralight size with a model smaller than or equal to 2500 (25). These smaller sizes are necessary to properly balance with the smaller ice fishing rods which are between 16 – 24 inches long.
Inline Reels
Inline reels are like the younger brother to the fly reel in look and general functionality. The round reel hangs below in line with the rod. This position of the reel enables the line to run off/on in a straight line with the reel and without any line twists. Even though spinning reels may the most common reel, that doesn't mean they're the best. As these reels technology and model availability continue to grow, we could see them being the go to reel for ice fishing.
Ice Fishing – Spinning Reels vs. Inline Reels
Spinning Reel PROS:
Best option for using live bait
Better drag adjustments
Better price point
Less skill required to use
More versatility in different fishing applications
Inline Reel PROS:
Lack of line twists is the main advantage
Best option for jigging baits (perfect presentations without line twists)
Great line speed control on the lure/bait drop
Free spool system (allows the spool to spin freely)
Good for shallower fishing applications or smaller fish
Better performance in colder temperatures (quicker to thaw and avoiding reel from locking up)
Spinning Reel CONS:
Cause line twists when dropping and reeling up bait (causes the jig/lure to spin)
Poorer control of the lure/bait drop speed
Colder temperatures has a lower performance (if reel freezes up, it's a longer time to thaw to stop locking up)
Inline Reel CONS:
Higher price point
Higher learning curve for newer anglers to use
Fewer model choices available
Less drag performance
Ice Fishing Reel Features
Weight
Weight is a crucial factor of an ice fishing reel. The lighter the better: easier to carry and store and less fatigue when holding for hours and waiting for the bite to go off.
Ball Bearings 
By reducing the friction that is created in a fishing reel, ball bearings help to ensure the reel is operating smoothly and freely in spite of the drag load. More bearings are ideal for better performance and spin speed of the reel.
Reel Construction
Graphite is a great choice when looking at reel components, as it has both highly rated strength and light weight specs for the harsh winter temperatures.
Anti-Ice System
There are some interesting new materials being used in reels to decrease the lock up when components freeze. The Inline reels are demonstrating a better recovery time in this area. Worst case scenario, you should always have some sort of Antifreeze Paste on hand to reduce freezing on your line and rod guides.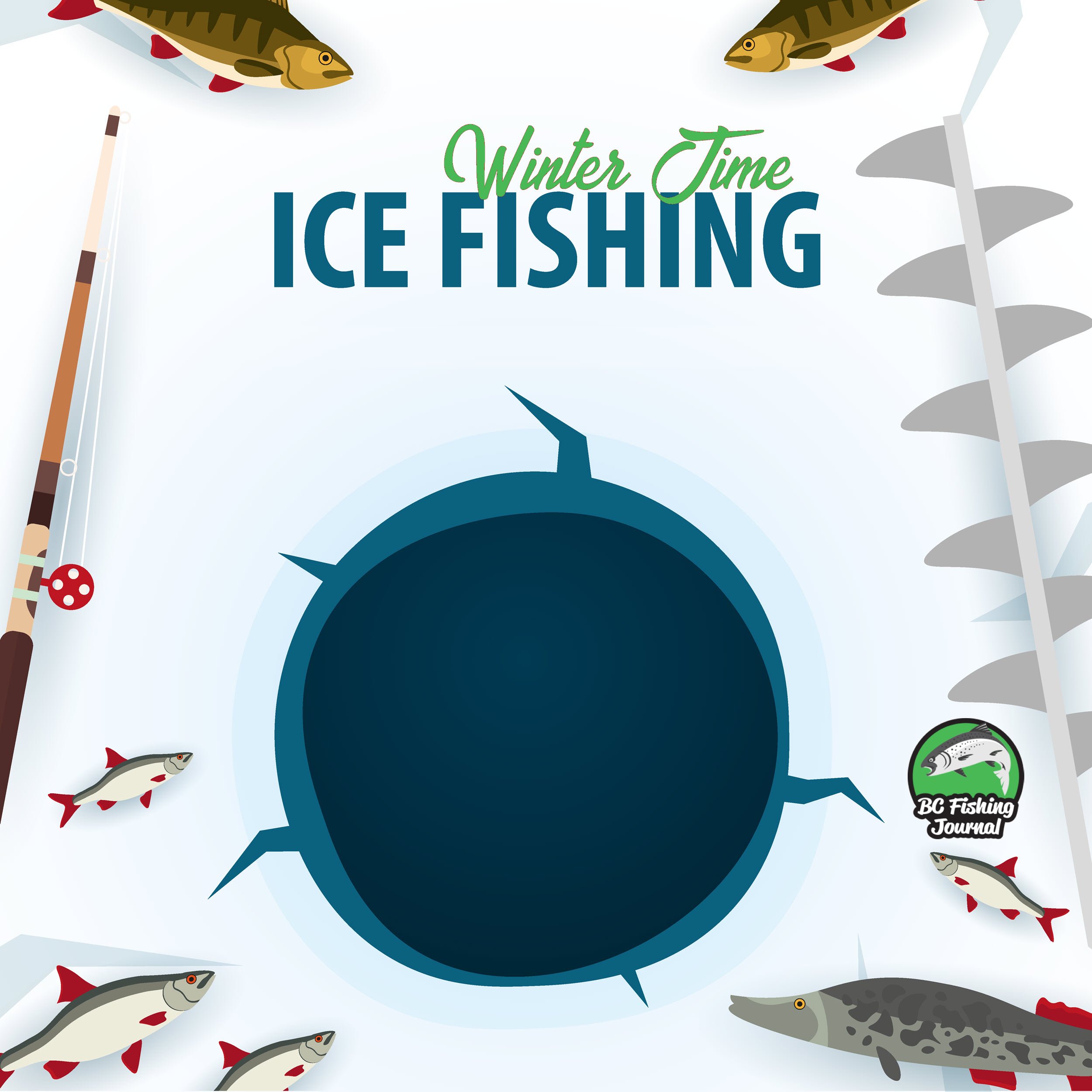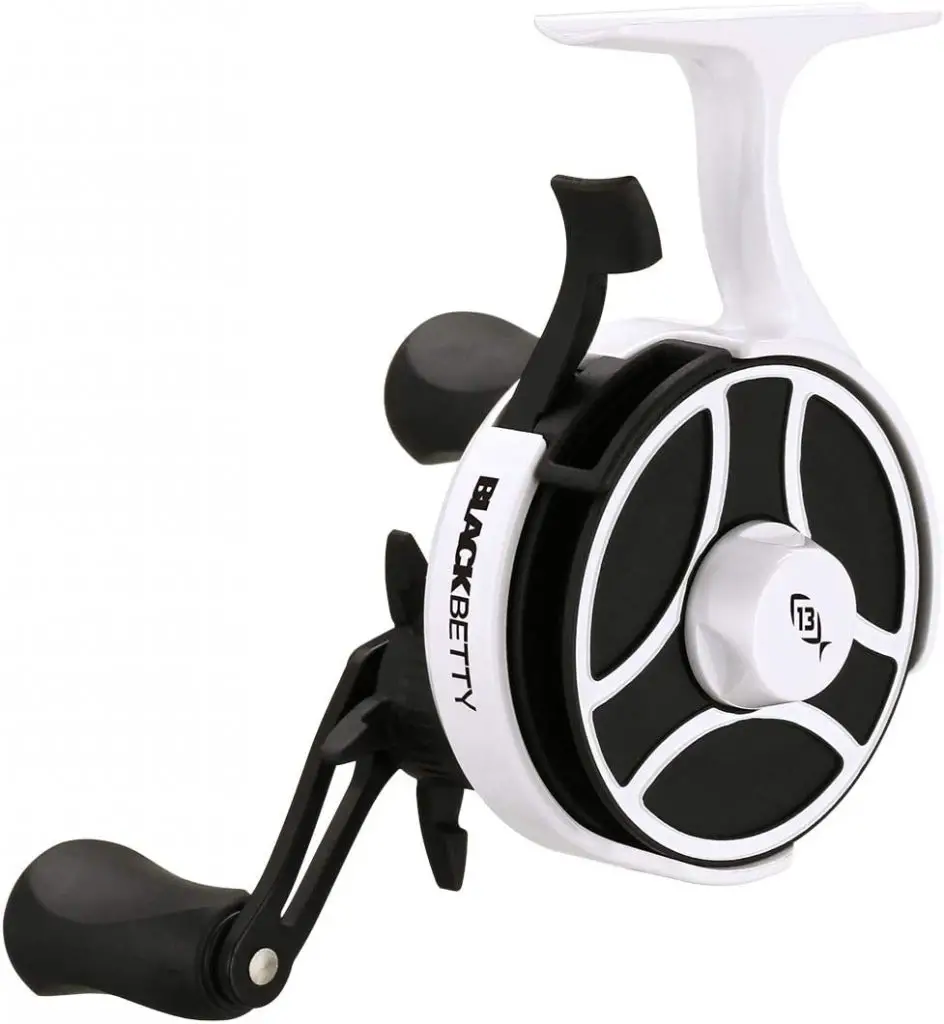 Reported to be one of the best ice fishing reels available on the market today, the 13 Fishing Black Betty Reel features aluminum construction that is bar stock CNC machined. This gives you the rugged gear you'll need in the tough winter environments when ice fishing.
The Black Betty features an anti-reverse, a smooth carbon drag system, and a bait alarm. With an aluminum handle and AVA knobs, the new frame design lets you use either a pencil or pistol grip without touching the rim of the spool. Plus, it has a super free-spool that drops even the most lightweight baits deep and the 2.7:1 Gear ratio allows you to retrieve at a 19" per crank rate.
Pros
Has a perfect lure free fall while keeping the line straight (excellent jigging reel)
Smooth drag that is easy to adjust when you are playing a fish
Line retrieval speed is very good in keeping up with those running fish
Cons
Hard to keep a pencil grip without your hand making contact with the spool
Easy to overrun the line if you aren't careful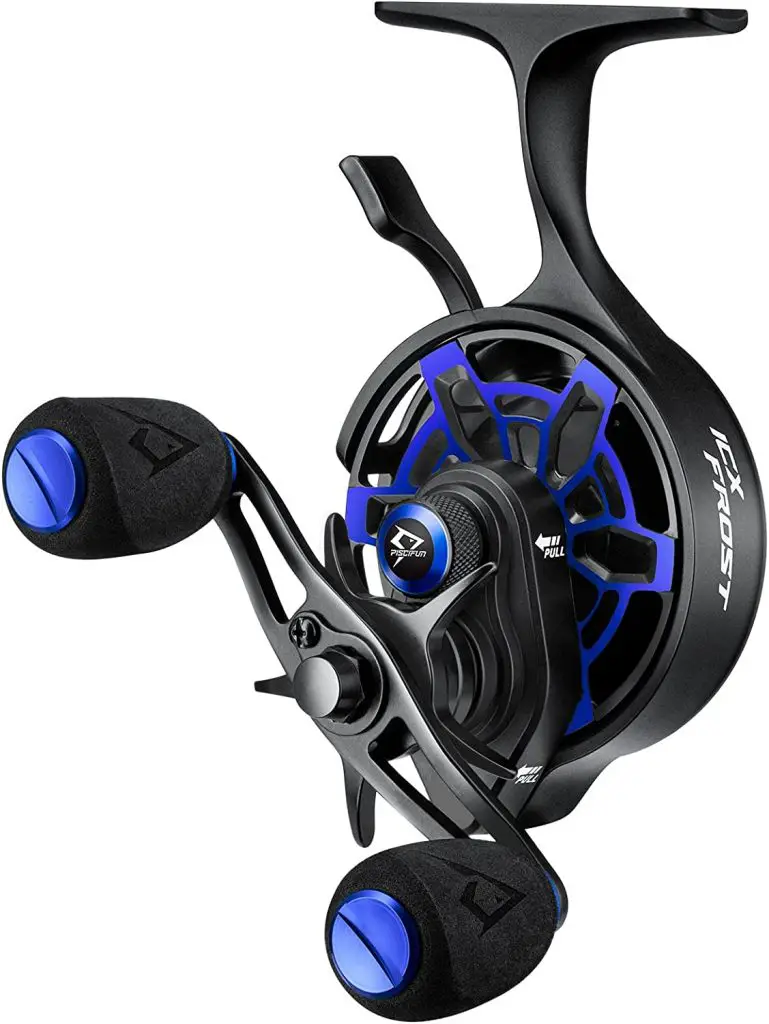 Piscifun has been continued to expand their fishing line into the ice fishing world. This is their latest upgrade in the inline reels space with their ICX Frost reel. The new design has the spool and handle on the same side and an 8 piece magnetic break that provides excellent lure dropping speed control. The reel is made of carbon fiber material with aluminum alloy spool. The max line capacity is 4lb – 213 yards. 
Pros
Spool and Handle on the same side
8 piece magnetic brake for dropping speed control 
Good for handling large fish 
Cons
Trigger placement can be awkward location for some anglers
For a high-quality spinning reel, the KastKing Spinning Reel is full of great features that will improve your fishing experience and make a great addition to your reel collection. It has a very lightweight spool that is made with strong CNC machined aluminum. It also has internal grooves for better lube retention, even line lay, and a larger fishing line capacity.
This is also a great reel to help you stick with you when you are wrestling with a fish. With high-quality inner parts, the KastKing Reels are what you need for hard-use ice fishing. With a hardened metal main shaft, you get increased fish-fighting power, plus you get a pinion gear that is precision machines and an excellent mesh drive giving you a higher rate of success when ice fishing.
Pros
Solid and lightweight reel
Very smooth feel
Good value for the price
Cons
The bale hangs up periodically
Larger than some anglers may expect
Most people want an affordable product that will perform well and last a long time. The Pflueger Monarch Ice Spinning Reel is a high-quality product that is available at a good price. With a graphite rotor and body, this reel is one of the most lightweight and durable reels on the market with a heavy aluminum wire bail design that is stiff to stop misshaping and give you an even line lay.
With five stainless steel ball bearings that are corrosion-resistant, the Pflueger Monarch has a drive system that gives you reliable and solid retrieves. Plus, the rubber knob provides extra grip on cold days and the longer stem gives you a comfortable hold even if you are wearing gloves.
Pros
Great price point
Quality long lasting reel that can handle cold temperatures and abuse
Great for small to large fish (Smelts to Pike)
A stable design that also stays up to date with technology is a great way to describe the Penn Pursuit Spinning Fishing Reel. With an anodized aluminum spool that features line capacity rings, the Penn Pursuit takes lightweight aluminum and makes it really durable. With line capacity rings located at specific intervals, the spool will give you just the right amount of line.
The Penn Pursuit also features an oiled drag to keep the drag lubricated. Dry drags have performance issues that can cause a snapped line or that will stick on its first engagement. With an oil felt drag, you won't have any issues like that.
Instant anti-reverse performs two very important functions for your reel. They stop back play which lets you hold on strong once the drag is engaged. It also features four shielded stainless steel ball bearings that cover the balls with thin metal plating and traps them inside the bearing. This is important to lessen wear and stop harmful gritty particles from entering it.
Pros
Great price for the value you get
Durable reel that will lasts many years
Good design that works well under pressure and cold temperatures
Cons
A smaller sized reel would be a great addition
Oil that lubricates the drag tends to run dry
Best Fishing Reels Conclusion
The clear winner for the best ice fishing reel is the 13 Fishing Black Betty Fishing Reel. You can tell just from the reviews how much this reel is loved, and it has one of the best reputations on the internet. Featuring aluminum construction, this is a durable reel that can take whatever a tough environment like ice fishing can throw at it. The Black Betty has tons of features including a bait alarm, anti-reverse, and a smooth carbon drag system. Plus it has an aluminum handle that include AVA knobs and a new frame design so you can use either a pencil or pistol grip without touching the spool's rim.
Lastly, I'm continually testing and researching new reels to keep this guide up to date. If you have any of these reels or have tried other ice fishing tackle that you'd recommend I'd love to hear from you. Please leave a comment and let me know! Tight Lines! Jesse
My name is Jesse, I've been obsessed about fishing since I was a toddler trying to catch fish with my minnow net in any type of water. Today I have a passion to promote fishing in an educational, fun and respectful format.