Best Spinning Reels under $100
If you're on a tackle budget or like me are always buying more reels for various fishing applications, you don't need to break the bank on these reels. These might also be great reel options for the "weekend warriors" who don't get out as often as they'd like. Regardless, you don't have spend hundreds of dollars on a spinning reel, so here's a darn good list of reel options for under 100 dollars.
Our Top Spinning Reels under $100
The Price vs. Quality Gap
Well it should be no surprise that cheaper priced spinning reels will not be the highest quality reels on the market. However, the comparison gap between price and quality is large. For example, you can spend $200-$500 on a Shimano reel or $40-$60 on a Pflueger reel. So what quality are you giving up for a 200%-400% lower price tag? There's a reason why the most popular selling spinning reels are the ones priced under 100 bucks!
The Wine Analogy Low vs. High Priced Bottles
I like to use the wine tasting analogy of comparing a low priced vs. high priced bottles of wine to spinning reels. Much like our spinning reel example, can most people tell the difference between a $25 or $100 bottle of wine? For a new to average wine drinker they likely won't be able to notice a big difference. The wine connoisseur will know the differences and often be able to articulate these subtleties. The same argument can be said with fishing reels, if you're fishing on weekly basis with high end reels you may notice the differences between lower and higher end reels. But for the majority of us anglers this won't be the case and those differences may not be necessary.
What to look for in a Spinning Reel
For the purpose of this article we are focusing on 3 important components (Drag, Weight & Line Rating) when looking for a cheaper priced spinning reel. If you want more detailed information on spinning reels check out our best spinning reels article.
Drag System is like a Car Brake System
The drag system controls how the fishing line comes off the spool. A "tight drag" (or higher drag) means line will come off slower, a "loose drag" (or lower drag) means line will come off quicker. Much like a brake system in a car, when you tighten your drag it's like pushing down the brake pedal to slow the car (aka. slow the line from coming off the spool).
Car brakes are composed of pads/discs, similarly the a spinning reel is primarily composed of disc washers. A greater number of washers will provide a smoother drag on the reel. The washers should be stainless steel and/or carbon fiber, made from materials that will not rust.
The drag system is detailed by a weight range (lbs or kg). This is an important specification to note when looking for a reel as the max drag weight should align or exceed the weight of the fish you're targeting.
Weight & Quality Materials
The weight of a reel should be comfortable for you, having to cast and retrieve a heavy reel all day is not pleasant and can quickly lead to wrist and arm fatigue. It may sound simple but this point can't be emphasized enough, the weight of your reel will greatly impact your fishing enjoyment on the water.
This said, we don't recommend reels strictly on weight as you could be holding a light piece of plastic crap. Most reels are made of plastic, aluminum or graphite. Graphite is the lightest of the three but not as strong as aluminum. Aluminum is both heavier and stronger than graphite. We don't recommend reels made of plastic, but always recommend graphite or aluminum (or combination of these two).
Line Rating & Capacity
Each reel should have the line rating and capacity written on it. For example, this usually looks something like this: 6/230, 8/170, 10/140. This numbers represent the weight of the line/yards that can be put onto the spool. For the example above means the reel can spool 230 yards of 6 lb mono, 170 yards of 8 lb mono or 140 yards of 10 lb mono.
Understanding the line rating and capacity is important as helps you understand two important ideas:
What weight and amount of mainline the reel is rated for
What size of fish the reel is rated for
If you put on a line that's too heavy for the reel, you'll lose casting ability and won't be able to spool as much line on. If you put too light of line on you may have more line breaks for those larger fish.
The Best Spinning Reels for under $100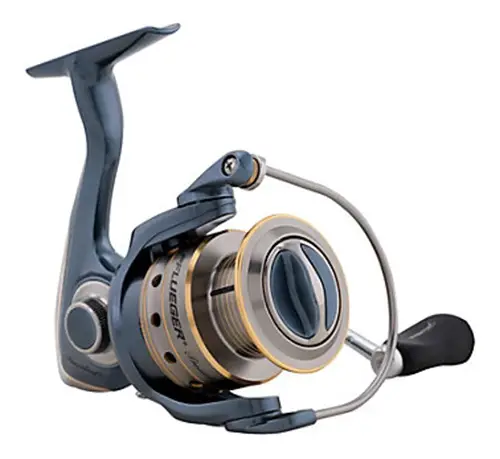 Gear Ratio: 5.2:1 
Weight: 5.9 – 10.9 oz.
Max Drag: 12 lb
This reel is perfect for the new to casual fisherman that offers excellent quality for dollar value! The President is lightweight with a max drag rating of 12 lb, so this reel is meant for small to medium sized fish.
Alternatively, this would make a great backup reel. When looking at all the features like gear ratio, drag, ball bearings, weight, etc. the President gets a medium to high rating across the board. Pflueger's parent company Pure Fishing is certainly doing something right as they continue to create quality reels at a low cost!
Pros
Reliable reel for a beginner angler
Reel feels very smooth (because of 10 ball bearings)
Cons
Limited model sizes (largest rated for 12 lb mono)
Not rated for Saltwater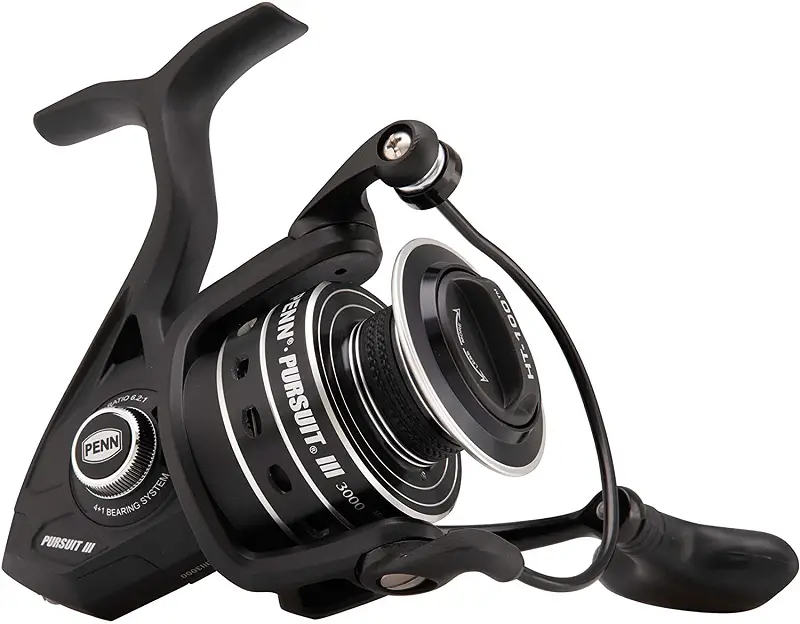 Gear Ratio: 4.3:1 – 5.2:1  
Weight: 8.9 – 22.9 oz.
Max Drag: 10 – 25 lb
The Penn Pursuit III is a continuation of this model as there was a pursuit I & II and is built on the same foundation/platform as Penn's higher end reels like the Sargus. That essentially means the reel comes from "good stock". It has an oil felt drag system so if you ever encounter any stickiness feel, simply add some reel oil to the drag. The handle has improved knobs (softer and larger) for a more comfortable grip and retrieval.
Pros
Excellent value reel for saltwater anglers

Built upon Penn's top reel platform
Tough, durable, well made components
Cons
No ultralight models (smallest size is 3000)
Not sealed (careful submerging reel)
Piscifun is continuing to develop high quality fishing reels/gear at very affordable price points. The Piscifun Honor spinning reel is brand new that reviews are just starting to pour in and … they're awesome! The Piscifun honor reel is made from machined aluminum with a graphite rotor which makes for a compact light weight reel. The drag is carbon fiber which makes for a smooth feel. There are 4 models (sizes 2000-5000) that cover a mono line weight rating from 5 lbs to 20 lbs. The 11 ball bearings make for a smooth retrieval and feel. Really impressive reel, I'm excited to see what these guys come up with next.
Pros
High quality components  (carbon fiber drag, graphite rotor, etc)
4 models available (2000 to 5000)
11 Corrosion resistant bearings
Rated for saltwater
Cons
Rare occasions where the bail sticks
Gear Ratio: 4.5:1 – 5.0:1

Weight: 6 – 20.7 oz.
Max Drag: 5 – 22 lb
The reel may be a little smaller in weight and size but still holds its own in performance. It's lightweight is because of the graphite body, rotor and side plate. It has a large range of models (10 to 65), so there is a reel option for small freshwater trout to large saltwater species. An interesting difference in this reel than others is its "Cyclonic Flow Rotor", this is a fancy phrase that means an open rotor design where the air flow is increased when in movement, and enables a quicker drying time when the reel gets wet (which reduces corrosion and impact to reel)
Pros
Even line lay on spool which enables line to come off better (and increases casting distance)
Open Rotor design, dries out quicker
Large range of models for most fish sizes
The Daiwa has an exceptionally smooth feel with the 8 bearing system. The reel models available are meant for small to medium sized fish. That may be the only drawback is the lack of larger reel sizes for those Daiwa fans. Has an air rotor design that makes the reel lighter and enables better airflow (enables quicker drying time). For a low range priced reel this one is tough to beat for the fresh water angler.
Pros
Exceptionally smooth feeling reel (retrieval and drag)
High end components geared for fresh water fishing
Cons
No large model sizes (largest is 4000, largest mono line rating is 14#)
Con 2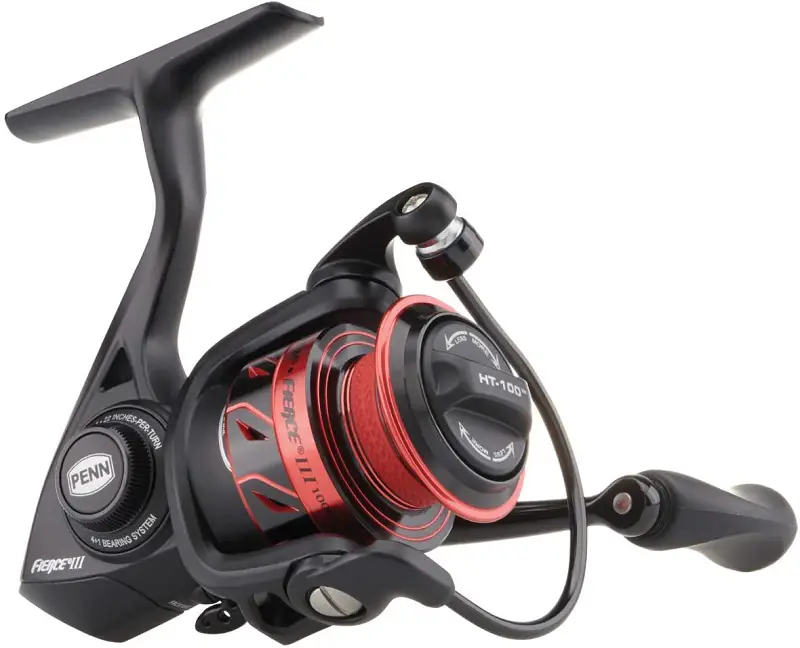 Gear Ratio: 5.2:1 – 6.2:1

Weight: 7.8 – 28.40 oz.
Max Drag: 7 – 25 lb
The Penn Fierce III is the next edition of the Fierce line (Fierce I & II). The reel body lives up to its name with a full metal body and sideplates, and heavy-duty aluminum bail wire. This reel is tough and designed to take some abuse, but with this added grit the reel weight is a little higher than comparable reels. This real has 8 different models (sizes 1000 to 8000) so there is a reel size for micro to large sized fish. There is also the Superline Spool which provides a little more line capacity than other comparable reels.
Pros
Excellent saltwater beginner angler or weekend warrior
Many reel models (sizes) available
High line capacity
Strong materials for solid reel (can handle high abuse)
Cons
Heavier weight
Reel body is not sealed (may need to oil after submerging reel)
What is the Life Span of these inexpensive Spinning Reels?
Excluding the reel specifications (structure, materials, etc) the life span comes down to two things: usage and maintenance. If you're using these reels on a weekly basis (higher usage) you can expect a shorter life span. Obviously! Additionally, the type of water you're fishing can also have an impact on the lifespan of a reel. Saltwater takes a heavy toll on reel components, washers, bearings, etc. Reels generally have a much shorter life span when fished in saltwater.
Now all that said, you can prolong any reels life span with diligent maintenance! This is something that should be done on both lower and higher end reels. Maintenance should be an annual cleaning, which includes wiping down the reel of any dirt/stains, adding new oil & grease and tightening any loose screws. Every two years we recommend dissembling the reels; clean out all the components (apply new oil & grease) and then reassemble. These maintenance practices have kept even my inexpensive reels going for many years!
Additional Fishing Reels for under $100
My name is Jesse, I've been obsessed about fishing since I was a toddler trying to catch fish with my minnow net in any type of water. Today I have a passion to promote fishing in an educational, fun and respectful format.