Diagrams on how to setup Downriggers with Inline and Dummy Flashers
In this article I'm outlining the components of a downrigger trolling setup. There can be watered down versions of these setups but this will give you a good understanding of the components, how they are used, their lengths, weights, colors and sizes. Below is a sneak preview of the 2 setups, but I'll break these down separately further below.

Inline Flasher vs. Dummy Flasher for downrigger trolling
Additionally, in this article I'll outline the PROS and CONS of the inline flasher and dummy flasher setups. Under each diagram I'll outline the detailed specifications of each of these components, leader length, line weight, distance between clips, etc. There are some variances on these two options but these are the most common flasher setups.
Setup #1 – Inline Flasher
An inline flasher setup is where the flasher is attached to your mainline. The mainline attaches to the flasher followed by a leader line to your lure/bait. When you're fighting the fish, you'll also be fighting the flasher as well. Below the diagram I'll outline all the different components.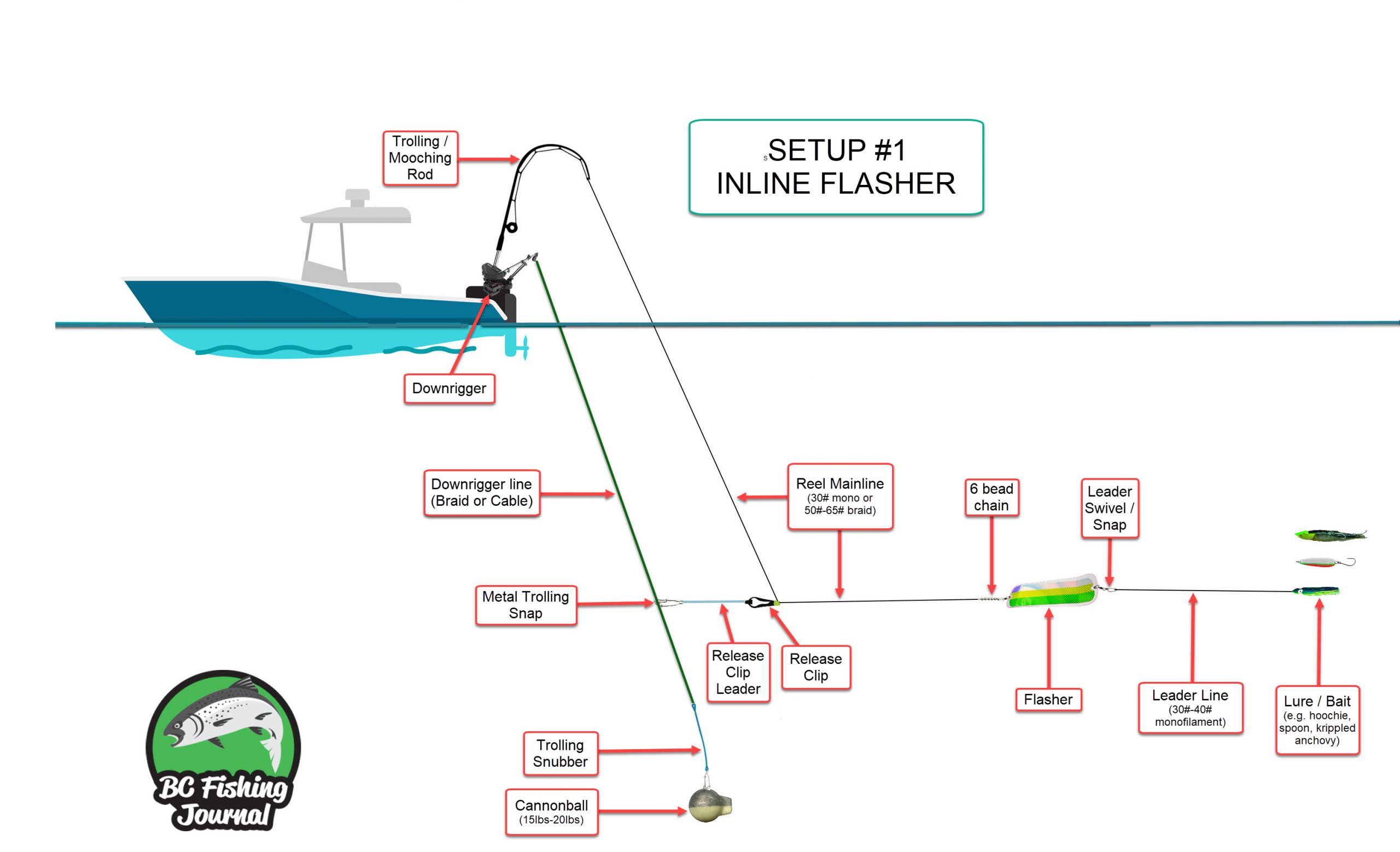 Trolling or Mooching Rod
There are a lot of rods you can use while trolling. Typically, I'm looking for a 10'6 Medium to Medium-Heavy mooching rod. Some guys like to use 10'6 casting rods with their baitcaster reels. It's all a preference thing. I think the more important part is length and strength, so ensure it's between 10′-12′ and has some backbone to handle larger setups.
Mainline
I like using 30# Monofilament. You can also use Braided line in 50#-65#. If you use braid, you'll need to have a mono or fluorocarbon shock leader at the end (not getting into that in this article).
6 Bead Chain setup
The diagram doesn't outline every component so I've taken a quick photo (below) of my setup at home. This is the end of my mainline that has a bead, plastic bumper (same ones included with buzz bomb lures) and finally the 6 bead chain that connects to my flasher.
You don't need all 3 of these components, the green bead protects the rod tip eye so you have a visual of how far to reel up, the rubber piece is simply there to protect the mainline knot from wear and tear. The most important piece is the 6 bead chain which is the primary connection piece between your mainline and flasher (or straight to leader line).
Salmon Flashers
Flashers do two main things, firstly they act an attractant that mimic bait fish or feeding salmon/fish and secondly they spin to create action for the lure. The spinning and erratic action of the flasher is very important for using lures like Hoochies or krippled baits that don't create action on their own (more on that later).
Sizes and colors vary for flashers, a general rule of thumb is align flasher with lighting and depth. For example, in shallower depths (anything below 120 feet) use more flash as there is more sunlight, in deeper water (greater than 120 feet) try to include more glow on the flasher (less to no sunlight). You can add UV flasher or silver tape on the back of your flashers if it doesn't already have it. Also can use UV flash lights (or even direct sunlight) to "charge up" your flashers and lures to rejuvenate their glow.
Colors you'll have to experiment with and find out what works for you in your area. I like to use chartreuse in higher level light and green and purple in low level light areas. Again, not exclusive here but don't forget the flash and glow components.
Flashers ends are usually not the same, there is usually a wider end on one side. The wider should connect to your leader line, the smaller end should be connected to your mainline.
Leader lines for different lures with inline flashers
For leader line I like to use monofilament or fluorocarbon leaders. Depending on the lure I'm using, I'll use different lengths and weights of line. Here are my general rules of thumb for leader setups specific to lures.
Hoochies leader lines
Leader length is shorter like 28″ to 32″. Line should be heavier (40# to 50# mono or fluoro). The shorter and heavier line provides more rigidness so it acts as whip in the water and creates action on the hoochie. The shorter the leader line (the closer the lure is to the flasher) the more action will be provided to the lure. See hoochie setup tip for more info on this.
Spoon leader lines
Leader length are longer for spoons, usually 5′ to 6′ (so call it 66″). The line doesn't need to be as heavy and most common is 30# mono or fluoro. The reason for longer and lighter line is the spoon creates most of it's own action and doesn't need to be as close to the flasher for that additional whipping motion.
Krippled Herring/Anchovy leader lines
Similar to the spoon use a longer leader (5′ slightly less than spoon as it doesn't create its own action) and line weight of 30#. I've noticed with krippled baits anglers have varying lengths when using an inline flasher, that to say it seems to be a little more subjective.
Inline Flasher Pros
Flasher creates whipping action on lure/bait
Flasher is closer to your lure, so attracts fish closer to your hooks
Your mainline is less likely to tangle with extra lines holding dummy flashers
Inline Flasher Cons
Fighting a fish with the flasher creates drag on your line and erratic pulls on the fish so it can pull the hook. This is especially true when the fish is on top of the water and the flasher is bouncing around on the surface.
Detecting a bite can be harder to see as the flasher can disguise those very small bites
Lower landing fish ratio than compared to no inline flasher
Flashers are additional gear on your setup, so you'll collect more seaweed
Rolling flasher creates more impact on release clip and can deteriorate your mainline (so that it may create weak points and snap)
Setup #2 – Dummy Flasher
The dummy flasher setup has the flasher detached from the mainline, instead it is attached to the downrigger line or cannonball. The beauty of this setup is when you're fighting a fish you're not fighting the flasher as well.
Important Note: I'm not including the redundant components that are already outlined in setup #1 above, e.g. rod, mainline, flashers, 6 bead chain, etc.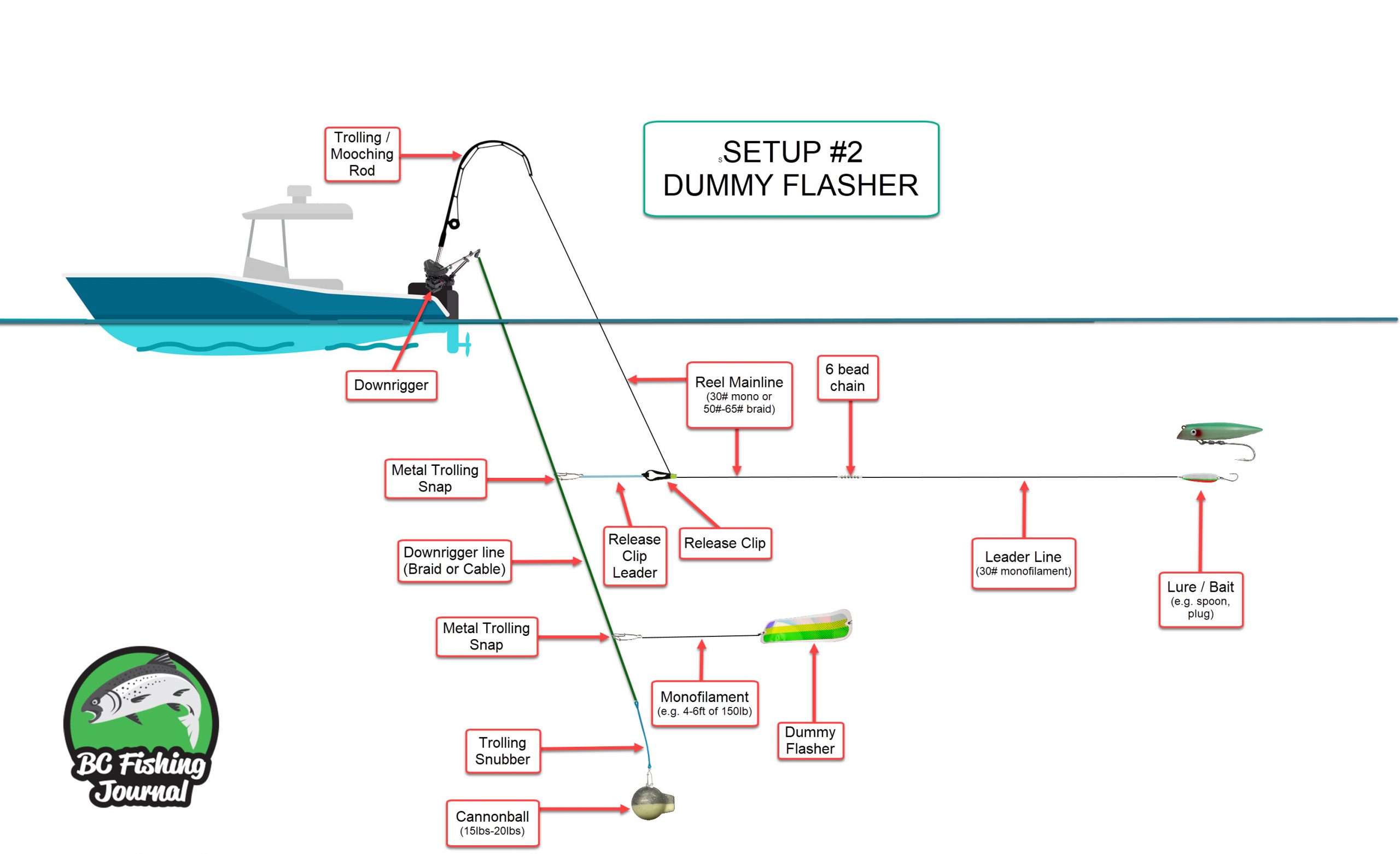 Leader lines for lures using dummy flashers
As these leaders do not have a flasher in front of them there is a lot more wiggle room to explore and try new things. I still like to use to use monofilament or fluorocarbon leaders but will base my leader length on the lure I'm using. The big idea here is to align your leader line with your dummy line below.
Plug leader lines
Leader length should be longer as the plugs create some incredible action on their own, I suggest 5′ to 6′ leader lines. Plugs are my father-in-law's favorite trolling lure, they are both old school and still deadly. And full transparency, his landing ratio with plugs is 5x better than mine, but I do like to try new things in my defense. 🙂
Spoon leader lines
Similar to the inline flasher leader lengths for spoons are usually 5′ to 6′. I would also encourage you to explore different lengths based on the size and weight of your spoons. Hold your spoons in the water close to the boat (with different line lengths) to see their action, look for the most spoon movement and action and set that as your leader length. I hope that makes sense, if it doesn't stick to the 5′ to 6′ length.
Dummy Flasher Rig
You can purchase these premade rigs (as shown in photo below) or you can make your own. In my Setup #2 diagram I've made my own as it shows a Metal trolling clip that clips just above the trolling snubber with a 150# mono line (cheap mono is fine) and a terminal gear piece like a swivel and snap to connect to the dummy flasher.
You could have multiple dummy flasher rigs if you wanted. Having different lengths of mono for each flasher. Or you could even attach multiple flashers to a single line as well. There are many options to experiment with but I'm not going into great detail on all of them here.
Spacing between the 2 metal snaps on the downrigger line should be at least 5′. If you're getting tangles you can increase the distance of the top metal snap. Be aware of the depth difference when you're dropping the setup down as you'll need to go that extra distance more than the desired depth.
Dummy Flasher getting tangled?
If the dummy flasher is getting tangled with your mainline, you can resolve with a few different actions. First one, when dropping your gear on the downrigger go slow! The slower drop of the gear will avoid some common tangles. Secondly, have a larger space or gap between the dummy rig line and the mainline clip. Lastly, if these don't work shorten the monofilament dummy line so the flashers are closer to the downrigger line. 
Dummy Flasher Pros
Fighting only the fish and not a flasher
Much higher fish landing ratio!
You can see small/subtle bites more easily
Less seaweed caught on your line
Less impact on your mainline from the release clip
Dummy Flasher Cons
No flasher to provide the whipping/erratic motion on a lure
Flashers are often further away from lure (hooks)
Can tangle lines between dummy flasher rig and mainline
Additional Downrigger Components
There are some other components from the diagrams I didn't detail in the setups above as they were redundant.
Metal Trolling Snaps
These snaps are useful for so many things! I use them on my prawn and crab traps and for anything that requires a line connector. These snaps are very important for holding your release clip setup, dummy flasher rigs and even holding your cannonballs.
Release Clips
This is very important piece that pinches your mainline to hold it to the downrigger line (and cannonball). Your mainline isn't hard fastened to the downrigger because when you hook a fish you don't want to be connected to a heavy cannonball! You need to be able to get the mainline off the heavy downrigger line and the release clip does this for you. 
Release clips have adjustments so they can hold the line tighter or looser. The deeper and faster the current/tide you fish in you'll want a tighter adjustment of the clip. If you're new to trolling this will take some time and figuring out the right balance for your setup. It can be frustrating when the line keeps popping off when you get your line down 175 feet down! If you're starting, I recommending setting the adjustment to a fairly tight clip setting, once you get more comfortable with this you can reduce the tightness. 
Cannonballs sizes, tides and trolling speeds
Cannonball sizes vary big time! The most common weights range between 13 lbs to 20 lbs. The big idea is to align your cannonball weight with the tide and trolling speed. If you're finding the cannon ball is dropping slowly (or not at all) you need a larger cannon ball, or need to slow down!
Ideally you want your downrigger line to be at a 45 degree angle when your trolling, having the right cannon ball weight will help you better understand where your gear is at in the water column.
If I had to choose one cannonball for the rest of time based on average trolling speeds and tides it would be a 15# one, as that's what I use for most of my trolling scenarios.
New Types of Cannonballs
These days I'm seeing a ton of new cannon ball designs, glows colors and flash tapes. The recent fad is cannonballs in the shape of a fish with reflective metal and glow on it. I can respect the idea on trying to add more attention flash/glow attention with your downrigger but a lot of this stuff seems pretty gimmicky to me.
The purpose of your cannonball is to get your gear to specific sections of the water column, I say add your own cheap flash tape yourself vs. spending 3x the money on a fish shaped cannonball, haha!
Trolling Snubber
This is a strong rubber band that connects your downrigger line to your cannonball. It provides the downrigger with a little give and flexibility when bringing it up and lowering it down. It also has an easy clip to add or change up your cannonballs quickly.
Quick Trolling Tips
Fish/troll with the tide, the baitfish will often be moving in the direction of the tide so fish with it
Look for baitfish on your electronics, often you'll find schools ("bait balls"). When you find these schools of baitfish be sure to get your cannonball and setup to the same depths.
On slower days, play around with trolling speeds. Some fish species like fast speeds, some prefer dead slow speeds. Do your research on your targeted species and find out what type of speeds they prefer.

Try to match the size of the Herring to the spoon. At different times of the year the Herring will be larger or smaller. E.g. earlier in the season the herring could be 2.5″ inches (so use a smaller spoon) and later season the herring can be 4″-5″ inches (so use a larger spoon). 

When trolling make sure you don't leave a lot of slack in the line between the rod tip and the release clip. To remove this slack when you've got everything in the water and setup is complete, reel down on your line so the rod tip is bent close to the water. This is something you'll have to play around with on your reel and drag, but the big idea here is to minimalize the amount of line between your rod tip and the release clip.
Recommended Fishing Gear from above Setups 
Scotty #1101 Depthpower Electric Downrigger w/30-inch Boom
Extreme Max 3006.6756 Coated Pancake Downrigger Weight - 15 lbs.
Scotty #371 Downrigger Weight Snubber with Trolling Snap , Blue
Extreme Max 3005.5011 Downrigger Weight Holder - 2-Pack, Black
Scotty #1156 Trolling Snaps, Stainless Steel, Small (2-Pack)
Scotty #1101 Depthpower Electric Downrigger w/30-inch Boom
Extreme Max 3006.6756 Coated Pancake Downrigger Weight - 15 lbs.
Scotty #371 Downrigger Weight Snubber with Trolling Snap , Blue
Extreme Max 3005.5011 Downrigger Weight Holder - 2-Pack, Black
Scotty #1156 Trolling Snaps, Stainless Steel, Small (2-Pack)
Scotty #1171 Power Grip Plus Line Release, 18-Inch Leader w/ Cable Snap
Scotty #1161 Dummy Flash Downrigger Release Clip, silver, 12.00 x 6.00 x 4.00"
Gibbs-Delta Highliner Flasher
Gibbs-Delta G-Force Spoon #3 SWIFTSURE
Brad's Killer Fishing Gear Chain Swivels-Pack of 50 (Black, 1/8-Inch 6 Bead)
Scotty #1171 Power Grip Plus Line Release, 18-Inch Leader w/ Cable Snap
Scotty #1161 Dummy Flash Downrigger Release Clip, silver, 12.00 x 6.00 x 4.00"
Gibbs-Delta Highliner Flasher
Gibbs-Delta G-Force Spoon #3 SWIFTSURE
Brad's Killer Fishing Gear Chain Swivels-Pack of 50 (Black, 1/8-Inch 6 Bead)