Tackle Guide: Best Spinning Reels for 2023
First off a warning, I've included a lot of fishing reels information on this single page. I highly recommend you review the Table of Contents below to ensure you find what you're looking for. This post isn't just about the best spinning reel and reviews, its about what components to look for in a great spinning reel, when, where and how to use a spinning reel, and a ton more information on all things pertaining to fishing reels. OK then onto the rest of the introduction…
The spinning reel is the most popular fishing reel for anglers and for good reason as they are easy to use and they catch fish! In my opinion, a good spinning reel & rod combo is mandatory for anglers of any level. With hundreds of spinning reel options out there it can be challenging to know what to look for in a quality reel. This guide points out the 6 best spinning reels for the money. Additionally, I've included sections on the advantages of a spinning reel and what makes a great spinning reel by looking at the specific components and comparing them. I hope you find this guide helpful!
The Best Spinning Reels for the Money
Advantages of the Spinning Reel for Fishing
One of my favorite advantages of the spinning reel is how easy they are to cast. The spinning reel spool hangs below the rod and feeds fishing line out by the weight of the lure or tackle that's tied on. The position of the spool allows the line to come off the spool very easily/quickly to avoid backlashes. Backlashes are line tangles that can quickly occur when line is coming off the spool, and are often the bane of my existence when they happen when the bite is on.
Spinning reels are also extremely versatile as they can cast several types of lures, bait or tackle. I use spinning reels for all types of fishing from casting big heavy lures off the beach to finesse fishing rubber baits (e.g. Senkos) on lakes and ponds. I'll even take my spinning reel & rod setup to the river for the precise casting ability when using spoons or spinners.
Another reason why spinning reels are so versatile is the model sizes. Each spinning reel will often have several different models, which is basically the size of the reel and spool. There can be more construction improvements for larger models, but for the most part it's the size of the reel that's changing to accommodate the type of fishing you're doing. Each manufacturer rates their reel model's numbers differently so there are no fixed values, but for the most part a lower number usually means a smaller reel, and a larger number means larger reel. To better articulate this, here's a simplified chart of model numbers, average line weights and fishing applications.
There are several components to look at in a quality spinning reel. Manufacturers will often come up with a variety of terminology/fancy words for their own components, but most of it is marketing. This guide eliminates the brand name fluff and focuses on the key features when buying a quality spinning reel.
Gear Ratio
The gear ratio represents the number of times the bail spins for each full crank of the reel handle. An average ratio would be around 5:1, again meaning the bail spins 5 times to each crank. Typically, 4:1 would be considered slow, 5:1 would be average/medium and anything equal or above 6:1 would be fast.
The higher the gear ratio the better. This higher ratio enables for a quicker retrieval; which gets fish into the boat quicker, reduces physical fatigue on your wrist/arms, and can allow more speed options/actions for your lure/tackle when retrieving.
Drag System
The drag system allows the reel to release line when the fish is pulling/fighting. If the line is too tight and there is no give on the line, the fish may break the fishing line or tear the hook out of the fish's mouth. The drag system is managed by several large washers within the reel. The washers work much like a vehicle brake pad system, and each reel manufacturer offers unique ways for producing friction (aka. drag pressure) on their dray system.
The drag system specifications to look at are the number and quality of the washers used in the reel. The more washers there are the better the drag system. Additionally, washers should be made of carbon fiber or stainless steel. The worst thing you can have is a regular steel washer that will eventually rust and fail.
Lastly, manufacturers don't post the washer very readily but instead translate this system into a max drag weight/range (in lbs). This is an estimate on the number of pounds the reel can handle. In my experience, this number is subjective to many other components in your tackle setup and how you fish the fish, so certainly don't get too bogged down with this max drag number on your reel.
Ball Bearings
The ball bearings are important in helping the spool and handles spin efficiently. These bearings should be made of stainless steel to ensure there is no rusting. There is correlation between the number of bearings and the smoothness of the reel. Reels should have at least four ball bearings; my reel recommendations have between six to ten. A reel with few or poor ball bearings will feel very cheap when you're reeling it in, and to me takes away from the enjoyment of line retrieval.
Weight
Although weight itself does not necessarily dictate a quality reel. It is something that should not be overlooked by anglers. Think about holding and casting a heavy reel all day. The weight can add to your wrist/arms fatigue. More importantly a light reel makes for easier and enjoyable casting. That said, look for the best quality components paired with a lower weight.
Body / Structure
Most reel bodies are made from plastic, aluminum or graphite. Graphite may be lighter material but you lose a little strength when compared with aluminum. Plastic is both heavy and unreliable for strength and I would not recommend a reel with a plastic body. You'll need to decide whether weight or strength is more important. Additionally, if you're fishing in saltwater you'll likely want to invest in a graphite body as it will not corrode like aluminum & plastic. To summarize, if you're doing freshwater fishing a nice balance between both weight and strength is ideal and that's exactly what I've considered with my reel recommendations in this guide.
Spool Size / Line Capacity
A larger spool enables more line or a larger line capacity. Spool size does not dictate the quality of a reel. However, it's important to consider when pairing the right spool size with the type of fishing you're doing.
What Size of Spinning Reel should I get?
This question is answered by the type of fishing you're looking to do. Important questions to consider could be:
What species are you targeting?
How big (weight) can the species get?
Are you fishing in saltwater or freshwater?
Are you fishing moving water or still water (rivers vs. lakes vs. tidal, etc.)?
And on and on…
Let's keep it simple and focus on fish size in relation to the reel line capacity/rating.
So what size of fish are you catching or targeting? Are they 2-8 lb bass? Perhaps 1-4 lb Trout? 15 lb Salmon? 50 lb Tuna? You get the idea. Having a general idea on the weight/size of the fish you're catching will help you choose a fishing reel as the fish weight should align with the line capacity/rating on the reel. To clarify, let's look at a fishing line capacity example.
What is the Line Capacity/Rating?
Written on each fishing reel there should be a mono line capacity in the format: #Test / yd. This is the strength of the line weight in pounds by the number of yards that can be put onto the spool. For example, you may see a line capacity that looks like this: 6/230, 8/170, 10/140. This means the reel can spool 230 yards of 6# mono, 170 yards of 8# mono or 140 yards of 10# mono.
In addition to the mono line rating you'll see many reels also include the braid line rating as well. Braided line has a much smaller diameter and stronger lbs rating. The braid capacity on our example above may look like this: 10/200, 20/140, 40/105. Again, 200 yards of 10# braid, etc.
When you're looking at fishing reels, there are often different models (sizes) which each will have their own line capacities because of their size differences. Make sure you're finding a model that has the correct line capacity that aligns with the size of fish you'll typically be catching. Clear as mud? Great.
Model Sizes to Line Weight and Fishing Applications
| | | | | |
| --- | --- | --- | --- | --- |
| Model Size (common numbers) | Mono Line Weight (lbs) | Braid Line Weight (lbs) | Water Types / Applications | Example Target Fish Species |
| Small (1000/10 to 3500/35) | 2-6 | 4-10 | Fishing in ponds, lakes, slower moving water /rivers, bays, harbours etc. | Pan fish, small/medium Bass, Trout, Bream, Whiting, etc. |
| Medium (4000/40 to 5500/55) | 8-12 | 8-14 | Fishing in lakes, rivers, bays, harbours, light offshore boat fishing etc. | Large bass, Trout, Walleye, small/medium Salmon, Carp, Bluefish, Snapper, Bone fish, Morwong, Cod, etc. |
| Large (6000/60 to 8500/85) | 10-25 | 12-30 | Fishing in rivers, boat fishing, beach or rock fishing. | Salmon, Steelhead, Musky, Carp, Snapper, Morwong, Tailor, Cod, etc. |
| Very Large 10,000/100 30,000) | 25+ | 30+ | Fishing in big rivers, boat fishing, beach or rock fishing. | Sturgeon, Tuna, Sharks, GT, Kingfish, Halibut, Marlin, Mahi Mahi, Sailfish, etc. |
Note: This is only a guide for widespread application to help outline reel models. Hopefully, you get the general idea.
6 Best Spinning Reel Reviews
Each of these recommend reels are quality reels which will get the job done in many fishing scenarios. I've chosen these reels based on the key features detailed above in parallel with price. Essentially, "the best bang for your buck" as they say. For this guide I've included a wide range of price points, the cheaper end starts around $50 and the highest around $225.
The structure of the reel is a
metal body, sideplate, and rotor
. This gives the reel a little more grit / toughness, but also adds a little more weight.
I really like that the Battle II has eight different models. These models/sizes will cover a vast amount of fishing applications. If you're uncertain on the what model to choose for your type of fishing be sure to check out the chart above: Model Sizes to Line Weight and Fishing Applications.  
This reel has larger line capacity than other reels in this class. I did a comparison of line capacity between a number of spools of the same model and the Battle II was able to hold 15%-18% more line. This additional line capacity is helpful for those long fish runs or putting on additional backing.
The Superline Spool are replacement spools that have a rubber gasket to ensure the line/braid does not slip. These additional spools are helpful when you want to swap between several types of fishing lines (monofilament to braid).
The Battle II is certainly in the same class as the Supreme XT and aligns in quality in many ways with a few trade offs. A few differences are a little heavier, fewer ball bearings (smoothness of reeling) but is built to sustain some serious punishment!
Key Features
Approved for use in saltwater
Strong structure with metal body, sideplate & rotor
HT-100™ carbon fiber drag washers
Line Capacity Rings
Superline Spool
The Avenger ABF is an interesting spinning reel with a unique feature that the other reels do not have and that is the
bait feeding system
. This is a little lever on the back of the reel that allows the line out without opening the bail. I like this usage for allowing line out when a fish is holding your bait (before a hook set) and additionally for float fishing in rivers to allow that extra line out in the current.
Another standout feature is this reel's fast line retrieval. It picks up line quicker than most of the reels in its class. This is important feature when a fish is swimming toward you and you need to "catch up" to keep that line tight!
Lastly, Okuma has used quality materials in the right places, with the body and rotor both made of graphite and the bail is made of stainless steel bail wire, all of which is corrosion-resistant and important for fresh and saltwater usage.
Key Features
On/Off auto trip bait feeding system
Corrosion-resistant body, rotor & bail
Approved for use in saltwater
Fast line retrieval
6 available Models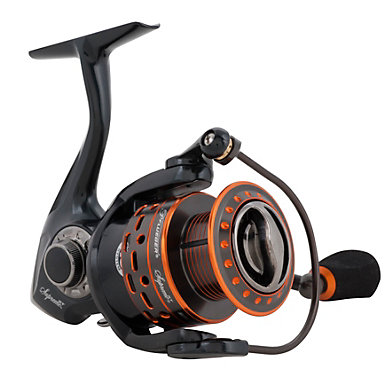 Pflueger make great reels with quality components, so much so I've included two in this guide.
The body and rotor are made from lightweight magnesium so you can fish this reel all day with no wrist/arm fatigue. The Supreme XT lightweight feature is above most reels in its class.
With 10 ball bearings, it gives a smooth reeling action like concept / higher end spinning reels on the market. It has a mid to fast gear ratio (dependent on model) which will ensure there is no problems with line retrieval.
The only minor downside for me is the lack of model sizes available (there are four). The four models are designed for pan to middle sized fish and is not intended for larger fish (aka. greater than 15 lbs).
High performance without the high price point makes this an essential reel for most fishing arsenals.
Key Features
Approved for use in saltwater
10 Stainless Steel Bearings
Extremely Lightweight at 6 – 8.7 ounces
If you're thinking the Revo SX looks a lot like Pflueger Supreme XT you'd be correct! Why? They are both owned by the parent company
Pure Fishing
. The Revo SX is very similar specs to the Supreme XT with a few differences that makes it a great reel!
It has four models that are geared for small to medium sized fish with a little better drag system than its brother reel Supreme XT.  The Carbon Matrix™ hybrid drag system provides a stronger and reliable drag when compared to other reels in its class.
The biggest reason why the Revo SX is rated slightly below the others is price point. Even though is dollar amount difference isn't large, it all adds up in my review! Regardless, if you're an Abu guy, this reel will not disappoint.
Key Features
Carbon Matrix™ hybrid drag system
Lightweight graphite rotor
9 stainless steel ball bearings
The Shimano offers a larger diversity in fishing application and it does this by offering eight different models/sizes. The smallest 1000FB is a tough little reel that can handle a lot! This little guy is so light you might forget you're holding a reel. Wherein the largest model (4000XGFB) is a beast that will handle your large fish or toughest fighters with 150 yards of 50# braid.
I would recommend the smaller models of this reel for the finesse fisherman. The guy who wants to feel the lightest sensitives of their baits/lures. Additionally, the smaller models of the Stradic Ci4 have a higher line retrieval than the other comparable reels in its class. This quality reel will not let you down for those very targeted applications.
I am a massive Shimano fan, they manufacturer reliable reels. The big reason why this quality reel is #5 is only the price point. The specs on this reel are better or as good as any reel on this guide, the fishermen that are using this reel extensively will appreciate it most. For the beginner/average fisherman the price point doesn't line up for me.
Key Features
Ultralight weight
Magnumlite Rotor
8 available Models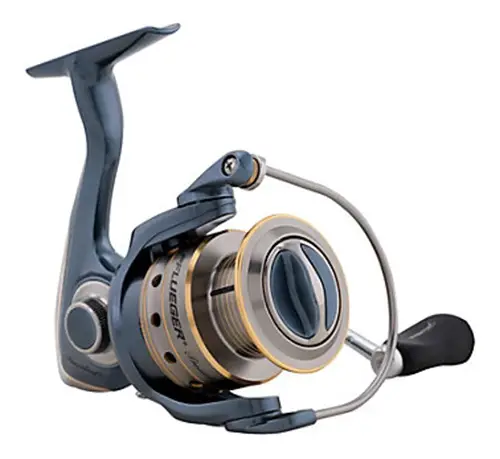 Another Pflueger reel? You bet! This reel is perfect for the casual fisherman who wants the cheapest reel that isn't going to fall a part on their first use. In fact, it'll last for many years with its quality components.
The President is lightweight with a medium gear ratio. The reel's largest model has a drag rating of 12 lb, so this reel is meant for small to medium sized fish.
If nothing else, I would recommend this as a backup reel in my tackle arsenal. When looking at all the features like gear ratio, drag, ball bearings, weight, etc. the President gets a medium to high rating across the board. And for the price point its a smoking deal! Pflueger's parent company Pure Fishing must be doing something right as they continue to put out quality reels for a great price!
Key Features
Smooth Reel with 10 ball bearings
Graphite Body & Rotor
Price point
5 available Models
Reels Features Comparison Chart
Here's a quick summary of the recommend spinning reels by features and specifications. The numbered ranges represent the small – large models details.
Spinning Reel
Gear Ratio
Ball Bearings
Drag Range (lbs)
Weight (ounces)
Line Retrieve
(inches / crank)
Body / Structure
# of Models
Pflueger Supreme XT
5.2:1 – 6.2:1
10
8 – 14
6 – 8.7
22.8 – 38.6
Magnesium body/rotor & Aluminum spool
4
Penn Battle II & III
5.2:1 – 6.2:1
6
9 – 30
8.1 – 30
22 – 44
Full Metal body
8
Okuma Avenger ABF
4.5:1 – 5.0:1
6+1
8 – 33
8.9 – 22.9
25 – 40
Graphite body
 
Abu Garcia Revo SX 
6.2:1
8+1
10 – 17
7.2 – 9.2
30 – 40
Stainless Steel Shaft, spool is Aluminum & Graphite Rotor
4
Shimano Stradic Ci4 
4.8:1 – 6.2:1
6+1
6 – 24
6.4 – 8
26 – 35
Magnum lite Rotor
8
Pflueger President 
5.2:1
7 – 10
6 – 12
5.9 – 10.9
20.7 – 30.2
Graphite body & rotor and Aluminum bail / handle
5
Conclusion on Spinning Reels
With a countless species, fishing scenarios, bodies of water, you fill in the blank, it maybe a bit challenging to find a quality spinning reel. When you clear out the fancy manufacturer's terms and focus on the key features detailed in this guide the choices become a little simpler. I hope this guide has been helpful you identify some key features to look at in a spinning reel, but also in choosing a spinning reel.
Lastly, I'm continually testing and researching new reels to keep this guide up to date. If you have any of these spinning reels or have tried others that you'd recommend I'd love to hear from you.  What is your best spinning reel? Please leave a comment and let me know! Tight Lines! Jesse
My name is Jesse, I've been obsessed about fishing since I was a toddler trying to catch fish with my minnow net in any type of water. Today I have a passion to promote fishing in an educational, fun and respectful format.