5 Best Saltwater Spinning Reels for 2023
I think you'll agree that there is an endless list (dare I say Ocean depth) of options for saltwater spinning reels out there. With so many, what are the best salt spinning reels for the money? Whether buying your first saltwater spinning reel or looking to expand your tackle inventory with a better quality reel this article outlines the important features to look when buying a saltwater reel. I'll also cover some helpful tips on how to properly clean your reels to ensure they perform and last much longer and lastly provide reviews of the top 5 saltwater spinning reels for the money.
Top 5 Saltwater Spinning Reels
Saltwater Spinning Reels vs. Freshwater Spinning Reels
You may be asking why can't I use my freshwater when fishing in saltwater? Why would I want to buy another spinning reel for saltwater fishing? The quick answer is saltwater rated reels typically have higher end internal components that are made of special corrosion resistant alloys, additionally these reels often much larger than freshwater reels (e.g. larger knob, spool depth or drag strength, etc).
Saltwater is known to easily corrode most types of metal components in freshwater reels and there is a high likelihood that sand is also present in a saltwater conditions. When corrosion and sand are mixed together, there's a good chance you'll end up seriously affecting (or destroying) the internal parts of your freshwater reel. Again, the saltwater reels corrosion-resistant type of metal is designed specifically these types of sand and saltwater environments.
This is not to say you can never use freshwater reels in the saltwater, but it really does increase the risk of damaging your reel or at best shorten the lifespan. Even if you do thoroughly clean a freshwater reel after fishing in saltwater (see cleaning tips below), you may not be able to completely wash away all of the salt entangled in the line against the spool or within the reel body itself.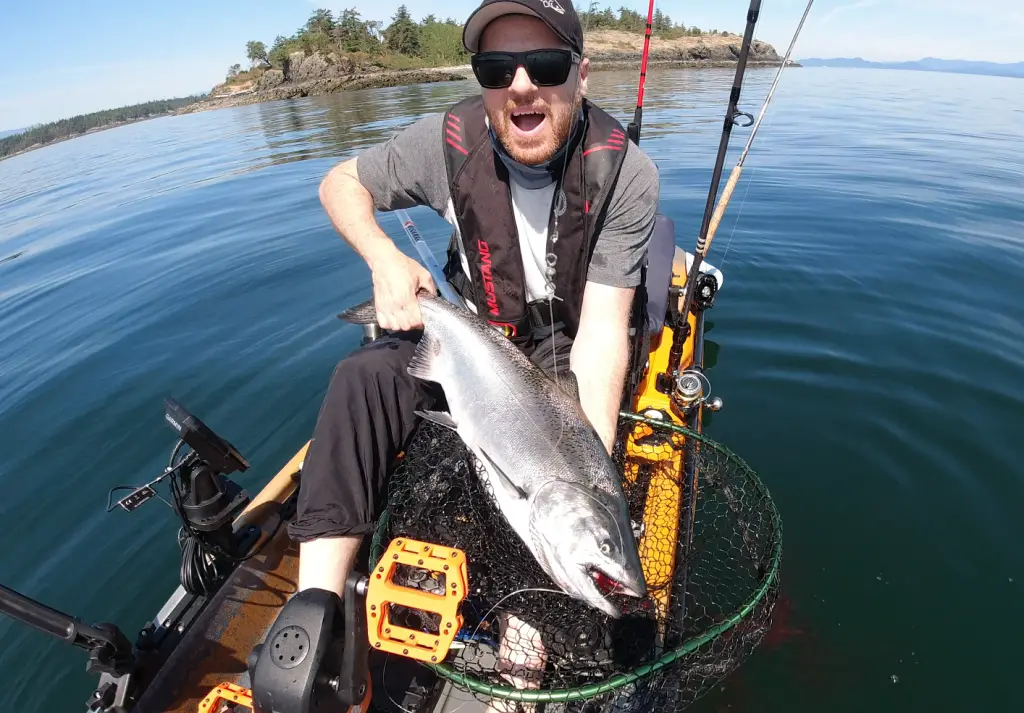 What to Look for when Buying a Saltwater Spinning Reel?
There are a number of qualities and components of the saltwater reel to consider before buying. Here are some ones to understand and pay close attention to before buying. 
Line Capacity
Fighting large and fast swimmers in deep or spacious water requires a lot of fishing line, much more than you would expect to use while freshwater fishing. Sometimes reel spools for offshore fishing will be much larger in diameter or have a deeper spool to accommodate more line. It is absolutely essential that you use a fishing reel with a deep spool and more line capacity, so when those large fish decide to swim out hundreds of yards of line, you will have enough to fight back.
Drag Strength
It goes without saying, that most fish out of saltwater are exceptionally larger, stronger and faster than most freshwater species (like this photo of an African Pompano I caught in Mexico). You can certainly expect these fish to pull right past the tradition freshwater drag threshold and easily swing the balance of the fight into their own hands. Even if you're fishing with a deep spool and hundreds of yards of line capacity, what good will it do you if you have no drag to stop it? It's imperative that you select a good offshore spinning reel with maximum drag strength at the weight of species you're fishing, and then some.
Handles and Cranks
Your main source of comfort in a saltwater reel will be within the way you handle your line spool. Large, beefy handles and a strong crank will allow you to quickly reel in the line when the fish has loosened it's reins or hold on when they've yanked the line. Flimsy knobs and a weak crank simply won't hold up to the fight a saltwater species can put up, especially if the species you're going for is even bigger than you are.
Braided-line Compatibility
In a lot of offshore fishing situations, you may call upon the use of braided line for its strength, casting distance and sensitivity. However, braided line is known to slide around on spools when you are reeling in, which makes it incredibly difficult to reel in when a fish has taken all of your line. To help counteract the effect, many offshore saltwater spinning reels have a rubber grip material where the line makes contact with the spool. Instead of the line sliding around, it will catch on the rubber material and give you leverage to pull some of that line back.
Top 5 Saltwater Spinning Reels
KastKing has been taking massive strides in the fishing industry. I've become as massive fan of their gear over the years. This saltwater reel is no different. I put this reel at the top of my list because it's top Saltwater spinning reel that I use on my Ocean Kayak. I use this reel for most of my bottom fishing jigging and vertical jigging for salmon. It has a number of different model sizes based on your fishing scenario. This reel is built solid and can feel a little heavier than some other comparables but that speaks to the quality of this reel.
If you follow me on YouTube you've seen me catch a TON of fish with this reel on my 12′ Ocean Kayak. I'm as massive fan of this reel especially for the price point. It really is a great entry level salt reel based on the price but also one that you'll use for a long time. If you want to read more on Kapstan reel, I wrote a review of the reel and rod combo here. 
Pros
Many model sizes
Lower cost for higher end saltwater reel
Excellent drag and materials
If you're planning to go a little deeper and more aggressive with the species you're fishing, this reel may have what you're looking for. It has a waterproof, 33 lb drag system, 53" line retrieval per rotation and more than 300 yards of line capacity which will help you tackle a deep and strong swimmer. The overall design and performance of this reel are likely to keep any boat or shore fisherman satisfied for years.
Although it has the potential to handle fishing in a 100 lb margin, you can expect this reel to be a little heavy for your liking. If you pair it up with a nice sturdy rod and have a rod holder on hand, the weight may be less likely to bother you in the long run.
Pros
Excellent line capacity

Strong drag with anti-reverse

Smooth casting

T

ough handles

D

urable and waterproof design
Whether you are pitching bait from the pier or casting out to the surf from the beach, this reel may serve you very well. The 3 S ARB ball bearings, 1 roller bearing and exceptional-quality handles give you a comfort and control of your casts. It has just enough line capacity and drag to handle most fish species you will find at the shoreline, which may make it a long-lasting choice for land-dwelling fisherman.
If you plan to go deeper with your fishing ventures, the max drag and line capacity may have you reaching for a different reel. This reel has PowerPro line capability, but is not suitable for braided line. Overall, if you plan to fight fish in the 60 lb or less bracket, you may find that this reel does an excellent job.
Pros
Extremely durable

Smooth action

Minimal line backlash

Tough handles
Cons
Max drag and line capacity low

Not braid-ready
When paired up with a strong rod, this reel has the potential to slay fish species in the 120lb range. Its beefy, EVA grip handles, 40 lb max drag system and 600 yards of 80lb braid capacity make it a deadly combination when holding on to heavy fish.
Since it can be quite heavy due to its quality finish and materials, you may be less inclined to use this reel from the shoreline and more so for fighting heavy fish. If you do decide to fish from shore with this one, you may be better off pairing it with a quality rod and rod harness.
Pros
Excellent line capacity

S

trong grip handle

H

igh max drag

S

mooth action
For those who like to spend a little time in both freshwater and saltwater, this reel may be just what you're looking for. It has the lowest drag setting in this lineup at 24 lbs max and has an incredibly smooth crank, which makes it suitable for fighting smaller saltwater species or bigger freshwater fish.
Since it has a low max drag and only 160 yards of 80 lb PowerPro line capacity, this reel may be better suited to fishing in shallow brackish waters or canals. You shouldn't expect to hold on to a running fish over 100 lbs with this reel, especially in deep water but it will put up a fight in the right settings.
Pros
Extremely smooth

Q

uality finish

Large grips
Cons
Not braid ready

Low line capacity

L

ow max drag
Cleaning Tips for Saltwater Reels
Saltwater can take a toll on your fishing tackle if it's not properly cleaned and maintained. Keeping your reels clean, oiled and greased up is very important ensuring they continue to work at their top efficiency and will also increase the life span of the reels. Here are some quick tips to consider when fishing in/around Saltwater.
After the fishing day on saltwater do NOT use a high powered hose to rinse off as you may push some saltwater further into reel. Instead use a wet towel and thoroughly wipe down the reel. If you don't have access to a towel/rag do a quick submerge in moving freshwater (stream or river) and use your hands to wipe down.
If a reel has been submerged in saltwater, completely soak the reel in a bucket of freshwater for 10 minutes.
For preventative maintenance, you can use a 3-4 quick sprays of household Pledge furniture polish on the reel. Use a dry rag or brush to spread around and wipe off. This not only cleans up the reel, it also adds a small protection layer the next time your out fishing.
Lube and oil your reel when you changing the line. If you plan on taking a part a reel for maintenance you'll need to take off the line anyway, so it's best to plan to do both at the same time.
How to Clean Saltwater Spinning Reels
Here's a really helpful video on how to properly clean your saltwater spinning reels and gear. There are some simple pointers on how to ensure you're not pushing salt/dirt further into your reel gears.
Additional Saltwater Fishing Reels
PENN Spinfisher VI Spinning Inshore Fishing Reel, HT-100 Front Drag, Max of 20lb | 9.0kg, Made with an All-Metal Reel Body and Spool Design, 4500, Black Gold
Okuma Azores Saltwater Spinning Reel Size 65
Ugly Stik Ugly Tuff Spinning Spinning Reel, Size 40, 5 Stainless Steel Ball Bearing System, Oil Felt Front Drag Drag, Max of 18lb | 8.1kg,Black
PENN Spinfisher VI Spinning Inshore Fishing Reel, HT-100 Front Drag, Max of 20lb | 9.0kg, Made with an All-Metal Reel Body and Spool Design, 4500, Black Gold
Okuma Azores Saltwater Spinning Reel Size 65
Conclusion
I might be biased (but for good reason) as I love Shimano gear and my recommendation for salt rated reel is the Shimano Baitrunner D. Shimano has been in the saltwater reel game for awhile, in fact the Baitrunner reel has been been around since 1987 (over 30 years!) so they've got a lot of experience packed into these reels. In tough saltwater conditions you need a reliable reel and for the money I think the Baitrunner D is tough to beat.
If you have any questions in regards to the gear above, please don't hesitate to contact us or leave a comment at the bottom of the page. Tight Lines! Jesse
My name is Jesse, I've been obsessed about fishing since I was a toddler trying to catch fish with my minnow net in any type of water. Today I have a passion to promote fishing in an educational, fun and respectful format.