Best Ice Auger for the money – Tackle Guide
There are different types of Ice Augers: Gas, Propane, Electric & Hand powered. Each of these have their Pros & Cons and that's what this tackle guide is all about. Additionally, we'll cover the most common auger flights (diameters) and how to match these to different species. Lastly, we outline some of the top selling augers in each of these categories and look at the best options for the money. 
Our Top Ice Fishing Augers
What Blade Size (diameter) do you need?
The blade size determines the size or diameter of the ice holes you're drilling. Blade sizes come in many sizes: 6", 8", 10" or 12" sizes. The most common blade size used by ice anglers is probably 8″. If you're buying your first auger, I'd recommend an 8″ size as it will cover most of your bases. And if you do want a larger hole, you could drill 3 x 8″ holes in a triangle shape. If you go to larger blade size: 10″ or 12″ be aware that some tip-ups won't fit this large of a hole (8″ – 9″). 
Blade size is dependent on targeted fish species, here are some example species to blade sizes.
| | |
| --- | --- |
| Example Species | Blade Size (diameter) |
| Panfish / Crappies / Bluegill | 6″ |
| Trout / Bass / Walleye | 8″ |
| Large Pike / Lake Trout | 10″-12″ |
Comparisons of Ice Fishing Auger Types
Type / Powered

PROS

CONS

Electric

Less noise
No gas, mixing or smell
Lighter weight
No starting problems

Dependent on battery life
Requires electric outlet to charge
Number of holes drilled on a battery life is dependent upon ice thickness (approx. 20-25 holes at 12" of ice)

Gas

Drill holes exponentially faster
More torque and power
Longer average run time
Bigger ice holes

Louder noise
Gas required & mixing (not great for within a house/tent)
Less physical effort required
Higher cost

Propane

No smoke and less noise than a gas powered auger
Easy fuel management with 1 pound propane tanks
The 1 pound propane tanks can be used for other purposes like heaters, lamps & stoves.
No oil & gas mixing
Don't have to choke it to start
Don't need to winterize the fuel at the end of the season

In extreme cold temperatures may experience issues running

Hand

Less noise.
No gas, mixing or smell.
Lighter weight.
No starting problems.
Least expensive augers

Takes longer to drill a hole (won't drill as many)
More physical effort to drill a hole
Our Top Ice Augers Recommendations
The ION is an electric battery powered ice auger with reverse operation. Lighter than gas/propane augers it weights between 21-23 lbs (depending on the length/diameter). This light weight auger is portable and environment-friendly with no smoke or oil/gas mixtures required. The ION length is 34 inches but has an additional 12 inch extension of 46 inches for taller users and deeper ice. As an electric auger it runs very quiet and is a one-person operation.
Pros
Electric power is an ideal way to engage fishing waters with a non-polluting device that operates as quietly as possible. It does not leave oil and gas residues in the water or on your vehicle when transporting. The Ion does not cause toxic fumes that go into the air, water, and operator.
Rechargeable Battery is a benefit that saves time and money for buying and mixing gas-oil fuels. The no-mess fuel source is also lightweight and easy to carry.
Advanced Cutting design offers quiet operation and controlled cutting
Lightweight, portable, and durable, the ION transports easily and does the work of larger, heavier machines
Cons
It needs an electric hookup to recharge
The ION must carry a spare for continuous operations
It is not as powerful as large gas-powered models
The machine costs more than gas-powered models with similar cutting power ratings
The 34-inch height may cause awkward positions for tall users; they may need to use the 12-inch extension for comfort
The powerful 43 cc motor provides power at 8000 rpm to cut through hard ice quickly. The augur's engineering provides quick and reliable starts with a low-tension recoil pull. The handles offer a stable platform for moving the blades down into the ice and users can select from 8-inch or 10-inch blades.
Pros
Sealed ball bearing power drive. Ball bearings provide smoother operation, lower vibration, and longer-lasting performance than with bushings.
The see-through gas tank keeps the available fuel level visible at all times. You can monitor your power reserves, and you can be assured of covering the best fishing spots.
Comfort and control grips have foam covered handles and convenient throttle lever. You can keep your hands warm while operating this machine with mittens or thick gloves. The foam absorbs vibration to improve handling and control.
The centering feature provides the control needed to position the augur to re-drill closed-over holes quickly
The machine has a primer bulb and a clearly visible on-off switch for quick starts in cold air
Cons
You will have to buy an oil gas fuel mix or make the gasoline mixture
The machine runs on a gas and oil mixture, and the operation leaves residues in the water and ice
The device has hot areas from internal friction that can be harmful if touched to bare skin
The gas-oil powered machine emits fumes from spent fuel

The propane specs are similar to the gas powered specs. Propane is much cleaner than the gas powered augers and does have the 1-litre bottles of propane that can easily be stored and used.
Pros
1-litre propane bottles make for easy storage and cheaper price
Often bringing the propane bottles for ice shelter heater as well
Runs quieter and cleaner than gas
Cons
Propane can freeze up in extreme cold temperatures
The powerful Thunderbay auger is a compact and powerful lightweight auger. It can apply upon to 8000 rpm of blade spin to fly through thick ice with ease. Its power and weight make it an ideal machine for fishing techniques that use a large number of holes.
Pros
Large recoil handle for easy and quick starts while wearing mittens or gloves
Special coating on the exterior for resisting ice build-ups and durable wear in outdoor conditions
The machine has a heavy-duty transmission to hold up through many seasons of intense usage
The auger has a fingertip throttle control to customize power levels and a safety cutoff switch
Cons
The two-stroke engine uses a gas-oil mixture that leaves fumes, and traces of oil and gas in the water
The two-stroke engine is louder that manual and battery powered units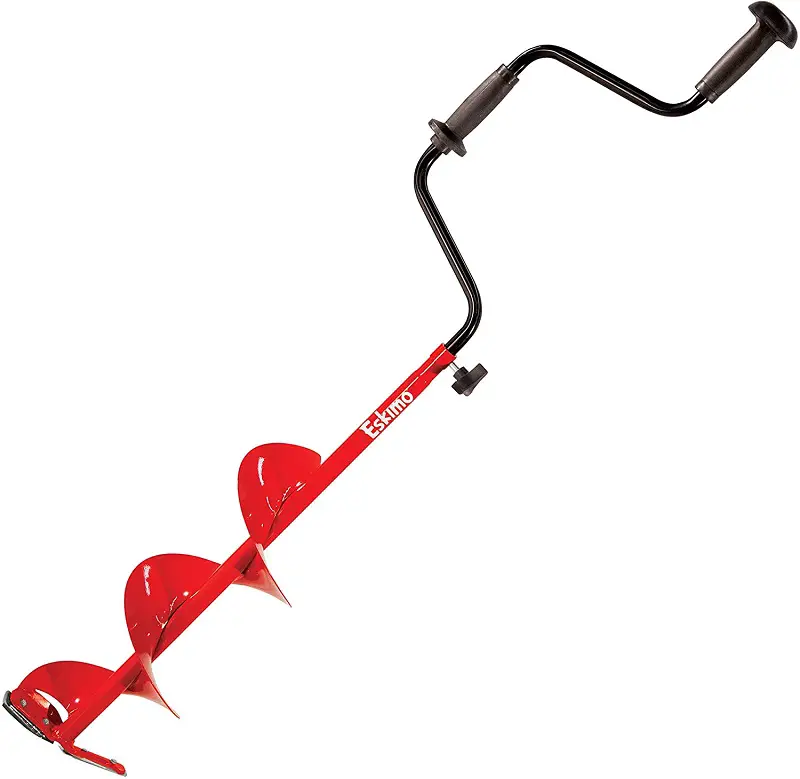 Hand operated augers have been the traditional method for setting up an ice fishing site. Their low cost and ease of operation make them a popular addition to the cold weather angler's toolkit. Many users report making multiple holes in just minutes per opening.
Pros
Lightweight auger for easy transport and packing
The manual cutting action is eco-friendly and no-polluting fumes, chemicals, or residues
Easy to sharpen these blades
Cons
More physically demanding
Fewer holes will likely be drilled (so if you're planning to punch a lot of holes and move around the hand auger is much more work)
Tougher to drill through thicker and harder (older) ice
What ice thickness needed to drive vehicles onto ice
Additional Features to Consider When Buying an Ice Auger
Now that you have a general idea of the type of augers, here are some of the features specific to the auger that should be considered before buying.
Auger Size
Auger size is not to be confused the blade size, it is the actual shaft or length of the auger. Size should be fitted to your height. Meaning you don't want to be bending over a short auger when you're drilling a hundred holes and vice versa you don't want to be struggling to push down on an auger that's oversized for you. The nice thing is augers often will have extensions so this size/height can be adjusted.
Weight and Portability
Weight is important to consider especially if you're walking or hiking long distances to your fishing spots. The hand powered augers are always the lightest with the gas powered augers weighing the most. For the heavier augers you typically won't be carrying these very far, but instead transporting them via vehicle like a skidoo, quad, etc (pending ice thickness/safety). Additionally anglers can drag them on sled behind themselves as they walk around the ice. The point in all of this, weight and portability are important to consider as you're planning out your fishing adventure.
Blade Sharpness
I haven't come across a blunt blade when buying a new ice auger. However, that doesn't mean I don't check before use! Dull blades are much less efficient at cutting through the ice, hence it'll take longer to drill each hole. This means more physical exertion for a hand auger, fewer holes drilled on a tank of gas/propane or battery charge. At the beginning of each ice fishing season you should be checking your blades sharpness. For an average ice angler auger blades should be sharpened every 2-3 years. Although this is completely dependent on usage, as I know guys who fish all season long and sharpen them once or twice annually.
Electric Powered Auger is Best suited For
Today the improvement in batteries has improved the performance of the electric powered ice auger. These augers can be used by anglers across the ice fishing spectrum, from beginner to advanced as they offer benefits for all levels. On a full battery charge they can drill very effectively but cannot maintain their torque as the battery drains down. They are completely dependent upon the battery life so that will impact the number of holes you'll be able to drill per charge (see next section for holes vs. battery life). The electric powered auger is lighter in weight than a gas powered auger so is easier to transport around the ice. It also runs with far less noise. Similar to hand augers, if you don't like dealing with gas/oil mixing, engine maintenance and the smoke output in your huts and tents the electric auger is a great option.
How Many Holes can an Electric Auger Drill Before the Battery Runs Out?
The number of holes will depend on the thickness of the ice. That said, on average you should expect to drill between 20-25 holes through 12″ of ice before needing to recharge (or replace) the battery.
Gas Powered Ice Auger is Best Suited For
The gas powered ice auger is best suited for the angler who ice fishes often. This auger packs the highest torque and drills ice holes more quickly than any of the other auger types. Quicker holes means more ice holes, this is appealing for those moving to various locations throughout the day/trip OR if you're looking to put down a number of holes in short order. In addition to more holes, you'll be spending much less energy drilling them. Exerting too much energy and sweating in cold temperatures may drop your body core temperature. If you're not properly prepared or sheltered these core temperature drops increase your risk of Hypothermia.
Propane Powered Auger is Best suited for
Propane powered ice augers are another option for a clean, low maintenance ice drill. The propane auger gives it that consistent and high end torque nearing the gas powered and above the electric/hand augers. For this reason, these augers are well suited for the angler looking to drill a lot of holes. Propane doesn't emit the smoke and gas emissions so is great for drilling (and redrilling) holes in enclosed huts or tents. Additionally, I like the fuel management as you can buy additional propane tanks (usually around 1 pound tanks) for you're backup fuel. They're cheap, readily available and easy to carry. There is no mixing oil and gas or choking the motor upon startup.
How Many Holes can an Propane Auger Drill on 1 Tank?
As with the electric auger, the number of holes is dependent on the ice thickness. For average ice conditions the average propane tank will drill around 150-200 holes.
Hand Powered Auger is Best Suited For
Hand powered ice augers are for the anglers who aren't planning to drill a number of holes. The hand auger takes significantly more time and energy to drill a hole when compared to the other powered types (gas, electric & propane). In addition to number of holes, the hole size should be considered in relation to the size of the fish you're targeting. A hand auger is more suited to 4.5", 6" or 8" inch holes, if you're looking for bigger 10" holes (for larger fish like Lake Trout or Northern Pike) a hand auger isn't recommended. These augers are ideal for the casual ice angler who doesn't want to deal with transporting and mixing gas and oil along with all the other maintenance that comes with a fuel powered auger. Additionally, hand augers are much lighter in weight and make transportation much easier. This is important if you're walking/hiking to your fishing location, dragging or carrying a heavier gas auger is not practical.
How to Use an Ice Auger
A quick video on how to use a gas powered auger along with some helpful tips!
Additional Ice Fishing Augers
Best Ice Auger Conclusion
The best ice auger has to be determined by its usage. If you're on the ice frequently and drilling a lot of holes on each trip I would always go for the gas powered augers. They're reliable and will make Swiss cheese of the ice in short order. That said, if your often fishing a hut, tent or "indoors", I'm a huge fan of the ION electric powered auger. The low maintenance, no gas/oil mixing, no smoke and light weight auger are a clear winner for me. And all this said, no matter what type of fishing I'm doing I often have a backup, whether it be a rod or reel when I'm far from home or off the beaten path I recommend having some sort of manual hand powered auger backup for those "just in case" times. Ice fishing is an incredibly fun and addictive outdoor activity! An effective auger is a great asset on the ice and will ensure your fishing trips are a success. Good luck!
My name is Jesse, I've been obsessed about fishing since I was a toddler trying to catch fish with my minnow net in any type of water. Today I have a passion to promote fishing in an educational, fun and respectful format.
More on Jesse