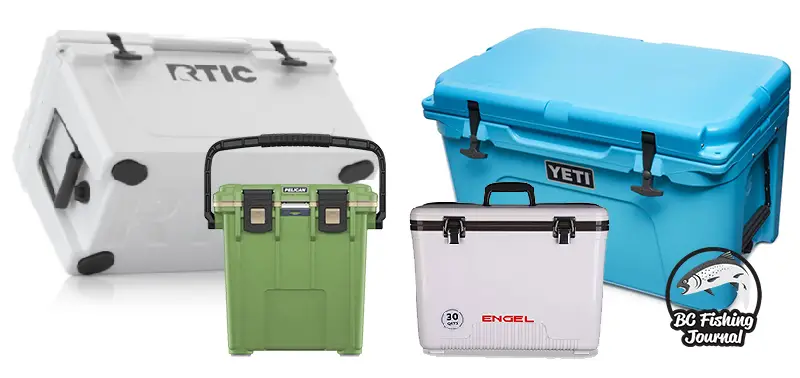 Best Fishing Coolers and Bags
I think you'll agree there are a ton of differences between coolers and ice bags. Whether for fishing, camping, marine or any other outdoor activity there seems to be a different cooler. It does not have to be that complicated as you only need to focus on a few questions in determining what cooler is best suited for you. In this article we outline these important factors to consider with the top rated coolers in a variety of sizes and types. By the end of this article you should have a good idea of the highest rated fishing coolers and why they land that way.
Top 5 Coolers for Fishing
Exceptional experience in outdoor & fishing industries
Best sealed and insulated cooler
Great insulation for long lasting ice

Non-slip coating
4 Rod holders
Compact and lightweight

Low price point
Ultra lightweight

Soft body for tighter fits
Built for durability

Big, strong carry handle

Non-skid feet
White coolers are harder to keep clean
Not as well insulated as hard coolers (based on soft build)
Size Matters
This is an important consideration. You don't want to take up too much valuable real estate on your boat, but you need a cooler big enough to hold everything that has to be kept cold. Think of all your beverages, snacks and, of course, all the fish you're going to catch.
Most full-sized fishing coolers fall into the 40 to 50 quart range. If you need one bigger than that, you should probably get two smaller ones. I'm not going to throw out my back struggling with a 250-pound cooler, and I don't want you to either.
There are some nice 20-quart coolers available that are great for one or two people spending a day fishing. Longer trips or more buddies require bigger chest coolers.
It's best to get one a little bigger than you think you need. A few inches of lost deck space can mean enough room in your cooler for an extra six-pack or ten more bass.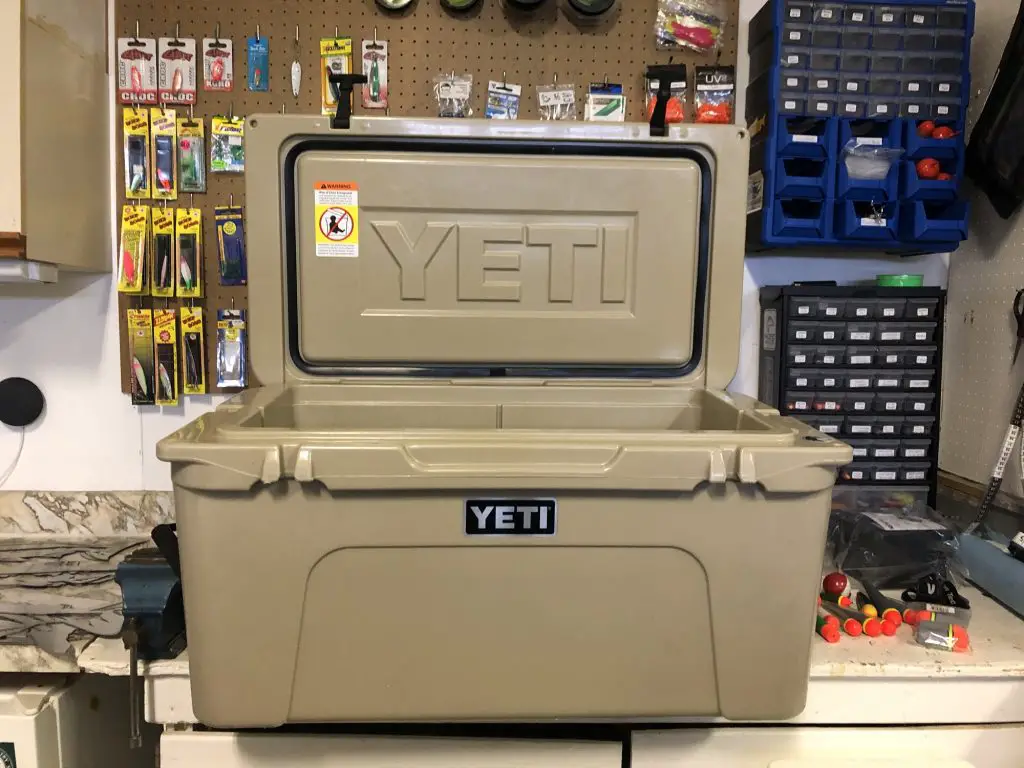 Packing my YETI Tundra 45 cooler
Ice Retention
This seems to be the gold standard that coolers are judged against, but should it be? Do you need a cooler that holds ice for three weeks? Think of a cooler's ice retention capabilities as a clue to their insulation value.
Soft personal-sized coolers should hold ice for 24 hours. 40 to 50-quart ones should boast a minimum of four days. Anything less than that usually means inferior insulation.
Speaking of insulation, a good fishing cooler should have some. That seems like a no-brainer, but I've seen a few that are made only of double-walled plastic. There should at least be some foam between those walls. Molded foam is best. It has a better insulation value and is more durable.
Durability
This is crucial. Good fishing coolers aren't cheap. I want you to get one that will last for years, not just one weekend.
All coolers have tough shells. The plastic exterior isn't going to break. What you have to pay attention to is hardware like hinges, closures, handles and wheels. These are the things that break under stress or wear out.
Steel hinges are best, but keep in mind that they add considerably to the price of the cooler. Plastic hinges are fine, but look at what secures them to the shell. If it's rivets, they should be at least a quarter of an inch in diameter.
It's ok if the fitting that secures the handle to the shell is riveted, but the handle shouldn't be riveted directly to the cooler itself. That creates too much stress on the shell and will eventually cause a problem. Grips sunk into the shell are great, but make sure they are deep and wide enough for a comfortable carry.
Elaborate closures and latches are usually unnecessary. A good cooler will have a lid that fits perfectly and has a good seal. I've seen fishing coolers advertised as having "bear proof" latches. If there's a bear on your boat, you have bigger problems than losing your beer and fish.
Latches, if present, should be simple and capable of being opened with one hand.
In general, pay attention to all of the hardware that holds everything together. And if you go ocean fishing, any metal parts should be aluminum or stainless or galvanized steel.
Special Features
Fishing coolers sure have come a long way from the square double-walled boxes that they used to be. Modern coolers have all sorts of little features that can be very useful on a boat. Take non-slip bases, for example. That's brilliant!
Look at each feature and ask if it solves a problem or creates one. Removable wheels are great if that feature will save some space or look neater. But what if you lose the wheels? Cup holders will always be used.
B
est Marine Coolers
The best marine coolers are ones that effectively will keep your ice cold for the longest periods of time. As covered earlier in this article I went into ice retention, and this is one of the most important factors for marine coolers. For all day or multi-day trips you need your ice to stay cold to preserve your catches and food.  
Another very important feature is ensuing your cooler is secured, meaning it can't slide around on your boat. Having slip resistant feet or something on the bottom to keep it from slipping is important. Most people tie down and permanently secure stored coolers with ropes, clips, etc, but it certainly helps having those non-slip feet on the bottom of the coolers, especially during those crazy weather days!
This cooler was obviously designed with function and durability in mind.
The insulation, which is three inches thick in some places, is injected in between the walls. This makes it similar to molded foam insulation.
Latches on most coolers are mostly there for peace of mind, but here we have nice latches that will actually hold the lid closed if the cooler was dropped off the back of a truck. They're stretchy rubber with a T-shaped end that fit snugly in a similarly shaped slot. That smart and simple design really works.
The lid's nicest feature is underneath it. The gasket ensures an air and water-tight fit. That's cool because it helps keep the heat out, and it will also keep the water in if it gets tipped over.
There's really not that many bad points to talk about with this cooler. But why are so many coolers white? They get filthy. On the plus side, the Tundra 45's shell is tough and doesn't scratch easily. Nothing makes a cooler looks worse than a bunch of scratches filled with dirt.
Here's the trade-off for three inches of insulation: This cooler is bulky.
Pros
Great insulation

Functional latches

Gasket-seal lid
Cons
It's a bit bulky

White coolers are hard to keep clean

 
Have you noticed that this cooler has the same pros and cons as the Yeti Tundra? Well, that's because the two are almost identical.
One key difference is this one's insulation is a little thinner. That detracts somewhat from its ice retention abilities, but it gives you a tiny bit more room inside.
The latches are pretty much the same. Oh, and they're supposedly bear-proof. Bears must be clumsy, because these latches are nice and easy to open. You can pop both of them open at the same time, but you have to stretch each one closed individually.
Using the latches is optional. This has the same gasket as the Yeti, so you can just close the lid and not worry about it until your bear gets hungry.
One thing that does set this one apart from the Yeti is the non-slip coating. You can use this cooler as a step ladder if you needed to. You can also put your phone or some gear on it and everything will stay put, even on choppy water.
Pros
Functional latches

Good insulation

Non-slip coating

 
Cons
Bulky

White color (challenging to keep clean)

 
This isn't just a cooler. It is small enough that it can be used to keep hot food hot for several hours. You can make a warm, hearty lunch at home and enjoy it on the lake later in the day.
When used as a cooler, you can keep a twelve-pack nice and frosty with plenty of ice. It's a lot bigger inside than it looks. That's probably because of the neutral color.
Some people use this type of cooler exclusively for keeping their catch fresh, which is a pretty good idea. I use dry ice in mine. To keep your fish cold, you put them on top of the dry ice. To freeze them, put them underneath.
This thing is the perfect size to use as a dry box. It is for me anyway, because I bring all kinds of electronics with me wherever I go.
All of this cooler's hardware is strong, except for the hinges. They are made of thin plastic and are easily broken.
This is a decent small cooler for infrequent use.
Pros
Air and water-tight

Compact and lightweight

Multiple uses

Strong latches and handles
Is it a cooler or a carry-on bag? It's the former, but could be used as the latter.
This soft cooler does have a flimsy feel to it, but it's actually tough as nails. The exterior is as strong as high-end luggage, and the interior is double-coated anti-microbial nylon. It's a good thing the inside lining is so tough, because it's done if it gets one little pinhole in it. The insulating foam would get soaked, and there's no way to dry the foam or repair the hole.
I wish the shoulder strap was wider. That would make carrying a 24-pack of drinks and ice more comfortable. But I am impressed with the hardware on this thing. The zipper may last a lifetime. It is tightly stitched and highly rust-proof. As an added bonus, the zipper pull is a nifty little bottle opener.
It'll sit right thanks to the hard bottom. And it will sit still in tough conditions if you take advantage of the four tie-down D-rings. Now that's a useful feature on a fishing cooler.
Pros
Anti-microbial interior

Very strong and durable

Metal hardware

Hard bottom
Cons
Shoulder strap is thin

Feels flimsy
This is the most durable cooler we've reviewed here. Everything except for the hardware is very tough plastic.
It's insulation is pretty thin, but it is true high-density foam. It'll keep drinks cold and fish fresh all weekend.
I was surprised by the latches. They look like the cheap oversized components found on a kid's tool box. I apologize to Pelican for that assumption. These latches are big and tough!
It won't slip around when it's loaded full. The rubber feet will keep it in place. Use the molded-in tie-downs, and this thing won't move a smidge.
It took me a while to figure out what that metal thing is between the latches. It's a bottle opener. That's a nice touch.
You will probably like this one if durability is your main consideration. I have to admit that it looks pretty awesome too.
Pros
Built for durability

Big, strong carry handle

Non-skid feet
Conclusion on the Best Fishing Cooler
Hands down my choice is the Yeti Tundra 45 Cooler. Yeti has been specializing and dominating in this industry for awhile. They build dependable coolers that have some of the best ice retention ratings. Yeti's are versatile in use as they have sizing options for pretty much any outdoor activities (boating, camping, etc). I'm a massive fan of Yeti in this space!
My name is Jesse, I've been obsessed about fishing and gear since I was a toddler. If you have any questions in regards to the gear above, please don't hesitate to contact me or leave a comment at the bottom of the page. Tight Lines! Jesse
Additional Fishing Storage Options