My Favorite Moose Meat Recipes
Moose meat is an underrated wild, delicious and nutritious meat. For me personally, I would put the quality on par with Elk within the wild game meats. Moose are the largest member of the deer family and they have very lean meat. They're essentially like giant free roaming cows! In this blog post, I'm going to share two of my favorite moose meat recipes with you. Cheers!
Moose Steak Cowboy Marinade
Moose Short Ribs Slow Cooker
Moose Steak Cowboy Marinade Recipe
This is my favorite moose recipe hands down. I think the reason for that is because I prefer moose steaks over all the other recipes like stews, pulled sandwiches, roasts, etc. Little moose steaks are the way to go! And if you want to use this marinade on the moose tenderloins you'll be in moose meat heaven. The photo is the tenderloins of the moose I shot and used this cowboy marinade on.
Ingredients
1 bottle of teriyaki sauce that includes sesame seeds (bottle sizes vary, any 400-600 gram bottle will work)

2 tablespoons peanut butter

3 tablespoons maple syrup

2 tablespoons liquid smoke 

5 grams freshly ground black pepper 

1 tablespoon hot sauce

1 tablespoon of you favorite coffee grounds 

Moose steaks (marinade will do roughly 50 ounces of moose meat, adjust amounts above if you're doing more/less).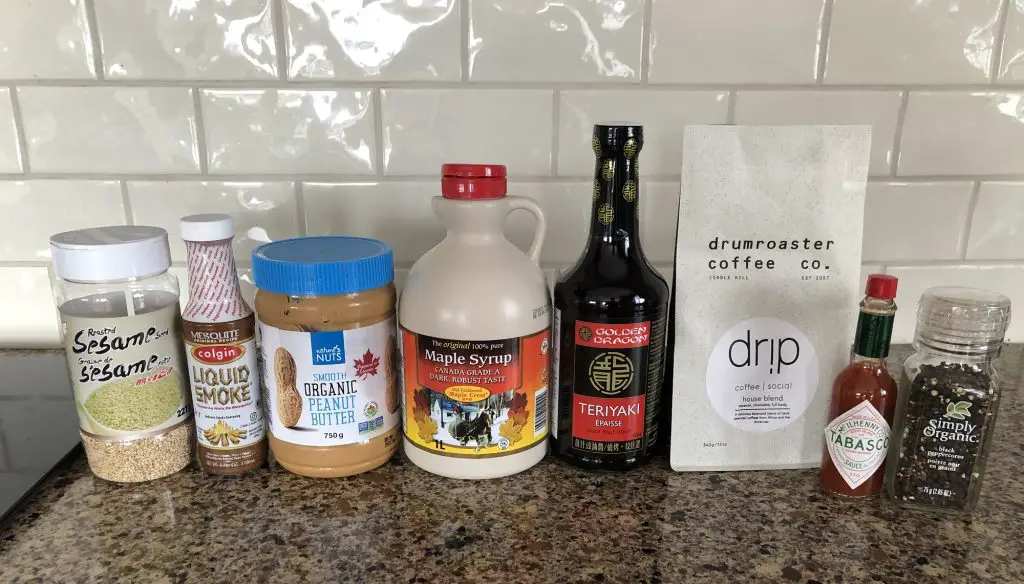 Instructions
Combine all the ingredients together in a large Ziploc bag. Seal the bag and mix well to ensure the marinade is all over the moose steaks. Put Ziploc into the fridge for 2 hours.
Take out moose steaks out of the bag and DO NOT dump the remaining marinade!
BBQ your moose steaks. Because moose meat is so lean do not cook more than medium-rare (135F).
While you're BBQing the moose steaks, reduce the remaining marinade. Do this by putting the marinade into a sauce pan and bring it to a boil, then reduce heat and it will thicken up the sauce.
When the steaks are done, let them rest for 3 mins, cover with the reduced cowboy marinade above. 
Moose Short Ribs Slow Cooker Recipe
This recipe will pleasantly surprise you! My family and I absolutely love it. This is my favorite short ribs recipe for Moose meat.
Ingredients
1 cup BBQ sauce (choose your favorite)

1 cup water

1 onion sliced

1 teaspoon dried oregano

1 teaspoon garlic powder

1 teaspoon onion powder

2 tablespoon salt

1 teaspoon pepper

2 racks Moose short ribs (can adjust amounts based on more/less rib meat that will fit in your slow cooker)
Instructions
Mix dry rub ingredients together: dried oregano, garlic powder, onion powder, salt and pepper. Prep your ribs by washing and dry with paper towel. Apply the dry rub on all sides of the ribs. 

If you can, season the ribs at least 1 day in advance while keeping in the fridge. Keep applying dry rub (or shaking ribs in a bag with dry rub) 2 to 3 times over the 24 hours.

Side note

: If rushed for time, I have done this recipe with only applying the dry rub for a few hours, it was still great but not as good as the 24 hour application.

Place into the crock-pot (slow cooker) with the 1 cup of water and sliced onion (see image). Cook on medium for 4-5 hours. Timing can be tricky based on the size of moose ribs. Moose is lean so you don't want to overcook, so keep an eye on these. 

After slow cooking is complete, put the ribs onto a baking sheet lined with parchment or foil. If you don't have rack you can also put them on parchment paper. Do NOT throw away the onions from slow cooker, keep these for later.
5. Coat and cover all sides of the ribs with your favorite BBQ sauce!
6. Set oven to Broil and place ribs in for 2 minutes. Pull them out early if they start to burn. 
7. Turn ribs over and double up the sauce. Put them back into the oven at broil for another 2 more minutes.
8. Once the ribs have caramelized, remove from the oven and let them rest for 5 minutes. 
My favorite side with ribs is rice paired with the onions from the slow cooker.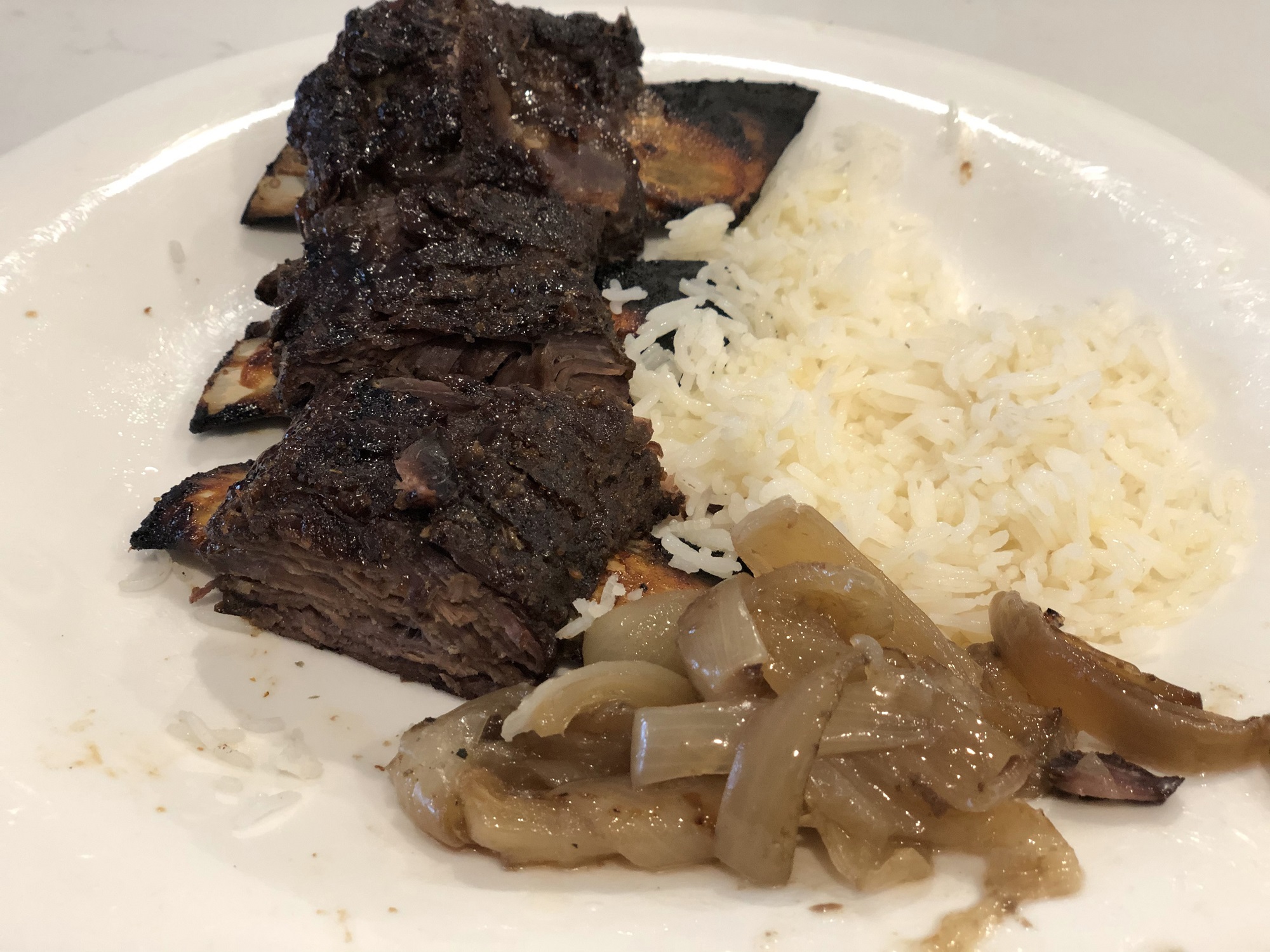 What is the best way to cook moose meat
Whatever recipe or style of cooking you choose to cook your Moose meat, I can't stress this enough, DO NOT overcook your moose. Moose have very little fat and as soon as it goes past the medium-rare (135F) temperature you'll be eating leather. You'll ruin the meat, so even if you're a medium or well done steak person, you really need to reject those ideas when it comes to eating moose.
I personally recommend cooking it to rare because even when it's resting (if you're BBQing) it'll still be cooking. So the rule with moose meat cooking is less cook time is best!  
Moose Hunt in British Columbia Cariboo Region
Small fun fact, all the recipes I've included above are from this moose harvested in this video or detailed on this journal page.
Additional Tips