Akataka Telescopic Spinning Rod Review
Telescopic rods are getting more popular each year in the fishing community. In recent years I've noticed a number of new rod manufacturers launching their first telescopic rod models. This increase in competition has created some pretty innovative telescopic rods and options that are miles ahead of the previous generations of rods.
This article is a full review of the Akataka Telescopic Journey Special Spinning Rod. I've included the pros and cons that I found while testing it for both Bass and Rainbow trout here in the Pacific NW.
What Rod Model did you Review?
For this review I used the 7'1 Medium Heavy Spinning Rod, I had it paired with a 2500 Shimano spinning reel and 30# PowerPro Braid.
Akataka has both Spinning and a Casting Telescopic rods. For each of these rod types they have 2 different lengths and weight ratings:
Spinning rods – 6'6 Medium and 7'1 Medium Heavy
Casting rods – 6'8 Medium and 7'1 Medium Heavy
Each of these 4 rods are available in a green or orange color.
Highlight Features / Pros
Lightweight – When I picked up the rod I was very impressed for a medium heavy telescopic spinning rod to feel this light. All the previous telescopic rods I've had in the past have felt heavy as there is a often larger rod blanks used in these collapsible rods.
Sensitivity – When I took this rod out bass fishing, I was using a lightly weighted Texas rigged Senko on a 2/0 extra wide gap hook. I was crawling this setup along the bottom and was pleasantly surprised by the sensitivity of the rod tip. I was able to feel all the structure and weeds very well. 
Backbone! I've included a photo further below where I compare my 7'1 MH UglyStik beside the 7'1 MH Akataka rod. It's a little difficult to see in the photo but the diameters of these rods was the exact same on the bottom blank. And look at the length of that first blank, that diameter and length is where all the strength of the rod is. This MH spinning rod has the strength to handle those hard hook sets and heavier fish. 
Collapses from 7'1 to 2′. This might be a given, but the collapsible sizes make them a perfect travel rod, camping or backpacking rod. In fact when I went Rainbow Trout fishing with my son I tossed the Akataka spinning rod in my small backpack which worked great as I didn't need to strap it down or have a rod holder.
Negative Features / Cons
The one feature for me that I wasn't the biggest fan of was the 2 floating guides near the tip of the rod. These guides float up and down on smaller rod blanks. This isn't the biggest deal, as you simply pull them down on the rod blank until they are snug and lined up with the other guides. Having said that, I completely understand the purpose for these 2 floating guides as they create a better congruency between the fishing line and rod when its bending. 
Reel, Line and Lure sizes to pair with these rods
I would recommending pairing these with a reel no smaller than a 2500 size and no larger than a 4000 model. As mentioned earlier in this review, I paired my spinning rod with a 2500 sized Shimano spinning reel. This worked good for me, but I believe a 3000 or 3500 would be a sweet spot for max casting distance and usage for this telescopic rod. 
I was testing the medium-heavy (MH) action model and was using 30# braid but these MH rods could easily handle much heavier line. In my opinion, these rods would be best suited for 30 lb – 80 lb braid or 8 lb – 17 lb monofilament or fluorocarbon. Keep in mind fishing line should be paired with the reel firstly before the rod, so make sure whatever line you choose it aligns with the reel specs.
The manufacturer recommends throwing lures 3/8 – 1/2 oz in size. These weight ranges make sense to me as I experimented with light and heavy baits. On the lighter end I tossed a 8 gram float with a small split shot and worm for Rainbows, on the heavier side I tossed a weighted Texas rig Senko, all of which casted very nicely.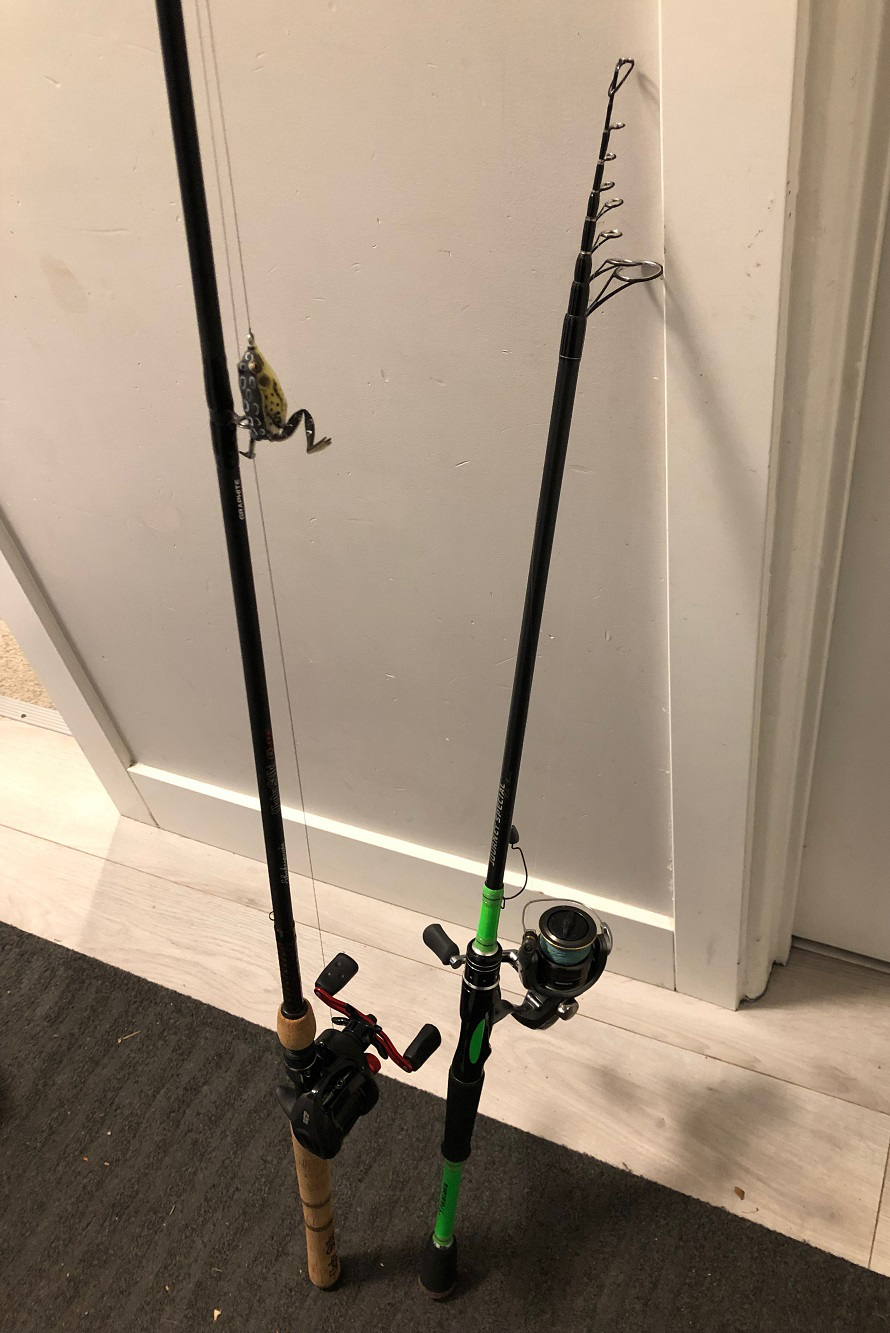 Image above: The rod on the left is a one-piece 7'1 MH Casting Shakespeare UglyStik. The rod on the right is the 7'1 MH Spinning Akataka Journey Special. I've extended the Akataka bottom rod blank (one immediately above rod handle) to show the width of the diameter of this blank which is the same size as the MH UglyStik. 
Journey Special Telescopic Rod Specifications
Here is a quick summary of the technical details of these telescopic rods:
These collapsible rods are made of high density 30 ton carbon fiber for great power
The rod is made up of 6 pieces (blanks) that are made of a corrosion resistant aluminum which gives it that lightweight feel
There are 8 guides made of stainless steel with ceramic inserts that keep the fishing line inline and balanced with the rod bend
The rod handle grips are made of EVA foam grip which is extremely durable and comfortable
The end of the handle has a combination of the EVA foam and a rubberized cork
Closed length of the rod is 24 inches
1 year warranty to cover any issues
Final Thoughts
Bang for you buck the Akataka telescopic rod is a decent rod to have in your tackle arsenal. Not only does this make a good primary rod but it's the perfect backup rod in case you ever run into any issues on the water. It stores into tiny places so it's not a hassle to have a backup. This rod impressed me so much that I've added it to my best telescopic rod tackle page which provides a lot more info on these types of rods their features and benefits.
If you have any questions on this rod or telescopic rods in general drop me a comment below or reach out to me directly on my Contact page. Cheers! Jesse