The most popular ice fishing reel types are: Inline and Spinning reels. There are other reels/setups like ice fishing tip ups and even baitcasters. Each of these different reels has their own benefits and uses, but for the purpose of this article I'm focusing on inline reels and their respective pros and cons.
I've found that most beginning ice anglers start with spinning reels because that's what they use to using on lakes, rivers, etc. However, I think inline reels can be used by beginners as well with a little time looking into them and better understanding their benefits in ice fishing. And that's what I'm hoping to outline in this article. Additionally, while walking through the inline reel, I'll also be reviewing the Piscifun ICX Frost reel in this category. 
What is an Inline Ice Reel?
I'm going to assume you know what an spinning reel is but don't want to assume you know what an inline ice reel is. Inline refers to how the line comes off the spool and how the spool spins in the direction of the rod tip. Perhaps an easier way to think of it is it's like a fly reel or centrepin reel where the round reel simply holds a simple drag system and spool is designed to release the line straight down (inline) the rod toward rod tip.
Inline reels are a simpler setup reel and don't require the multiple drag washers and gears to go with them like a spinning reel does. This is intentional and more suited for extremely cold weather as cooler temperatures can offer more issues with reels with more complicated hardware. This leads me to the pros and cons of the inline reel.
Pros of the Inline ice fishing reels
The main benefit of an inline reel is the line release from the spool as this reduces line twists and tangling.
Inline has a lower impact drop of your bait. Another way this I've heard this termed is "line control". It's easier to control the lure's dropping speed with an inline reel than a spinning reel. This is really important when you're targeting spooked fish or even using lighter gear.
Easier to engage your spool to let line out, the inline has a simple trigger whereas the spinning reel you need to open a metal wire bail to let line out.
Inline reels usually has a larger spool which can allow for deeper fishing or different ice fishing line options.
Inline often offers a smoother and sensitive drag system because of the way the spool is pointing inline with your rod.
Inline reels have less components than a spinning reel and are less likely to fail in extreme colder temperatures.
Inline reels are typically smaller in size than spinning reels. The handles are also closer to the rod to make holding the setup a little easier. Personally, I think smaller profile gear is better when your in cooler or windy conditions. This is totally subjective though.
Cons of Inline Reel vs Spinning Reel
Inline retrieval rate can be slower on these reels vs a spinning reel. For example, a typical inline gear ratio is around 2.7:1, whereas an average spinning reel will be quicker at 4.2:1. A faster line retrieval is most helpful when fighting a fish that's moving toward you and picking up that extra slack line is important.
Inline reels are take a little more time to get use to. As mentioned at the top most anglers will have some sort of familiarity with spinning reels so inline reels is an adjustment. The adjustment is not only in how to use but also how to put line on and manage them as well.
Inline reels don't have great casting abilities. Really, they are meant for dropping baits and not casting whereas a spinning reel can do both really well.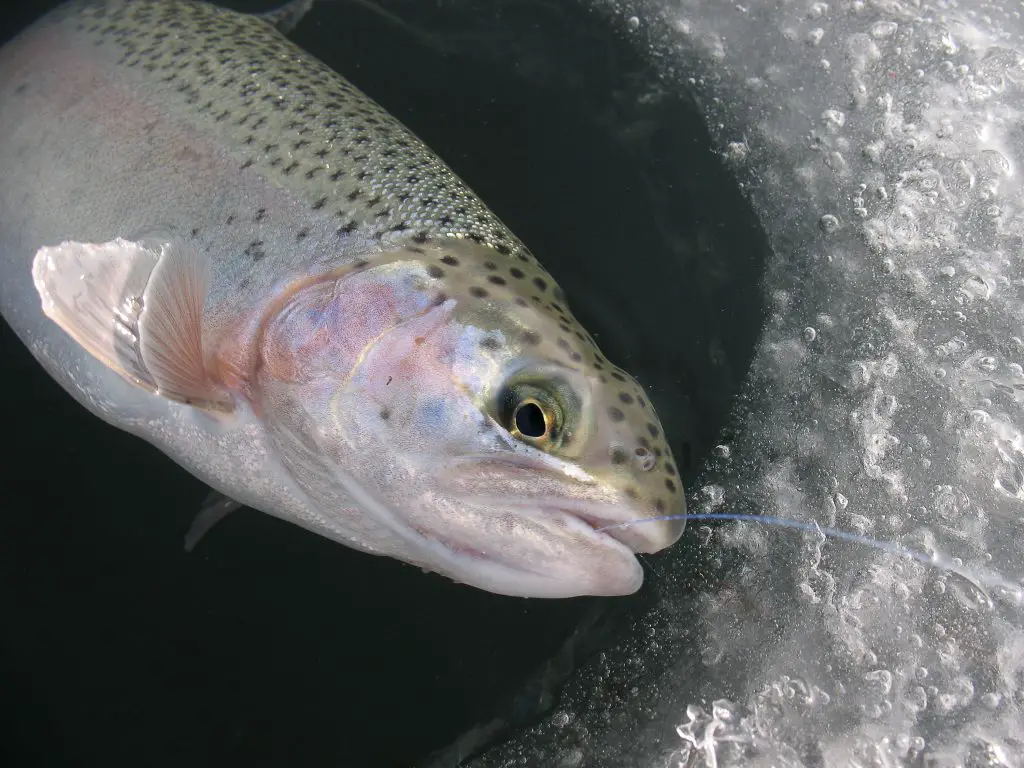 Piscifun ICX Frost Carbon Inline Reel
Piscifun is fishing gear company that's been around since 2013 and is based in the US. More recently it's gotten into the ice fishing world and has put out inline and spinning reels as well as ice shelters. I've picked up a bunch of different gear from these guys from fillet knives, ice shelter, tackle bag, line spooler and now an inline ice reel. I've always appreciated the bang for your buck with Piscifun. The quality-to-price is always there for me and the same is true with their ICX Frost inline reel. It reminds me in a number of ways of the very popular 13 Fishing Black Betty reel but with a slightly lower price tag. Here are some general specs of the reel.
Specs on the Inline Reel
Gear ration is 2.7:1, the max drag is 12 lbs. The inline weight is 6.6oz verses a common ice spinning reel is usually 8-10oz. Monofilament capacity is 4lbs at 213 yards. Spool diameter is 2.5 inches.
Looking to try an inline reel vs your current ice reel
If your an avid ice angler and haven't ever used an inline reel, I think this would be a great starter reel! The price tag isn't extending and the Piscifun holds up well on quality. I think you'll be really excited about the line control of these inline reels and how light and easy they are to manage. If you're fishing really ultralight gear I think these are another really good reel to experiment with in regards to sensitivity and dropping your micro jigs.
If you want to check out more information click the Piscifun button below. 
How to winterize your ice fishing reel
Proper winterization of your ice fishing reels is crucial to ensure they last for many seasons to come. The harsh winter weather can cause damage to the internal mechanisms of the reels, leading to corrosion and rust that can render them unusable. To avoid this, it's essential to take some steps to winterize your reels before storing them for the season. Here are some quick tips to keep your reel zinging:
Clean and dry the reels thoroughly to remove any grime, dirt and moisture.
After each ice season (and cleaning), apply a high-quality reel oil or lubricant to the internal components, paying close attention to the gears and drag system.
Store reels in a dry, cool place, away from direct sunlight and moisture (or extremely humid environments). Moisture is not your friend over time and cheaper components will rust or cause damage to internal components. If your in a humid location keep your reels in a container or bag with a desiccant packet to remove moisture.