Dogfish Shark Fishing off the Pier

Recently I've really enjoyed getting into Dogfish fishing off the pier! Fishing off the pier there are a bunch of anglers all tossing a line and waiting for a bite, while doing that the social aspect is great! I love meeting new people passionate about fishing and learning something new. Here is the details of my first successfully landed Dogfish from a pier.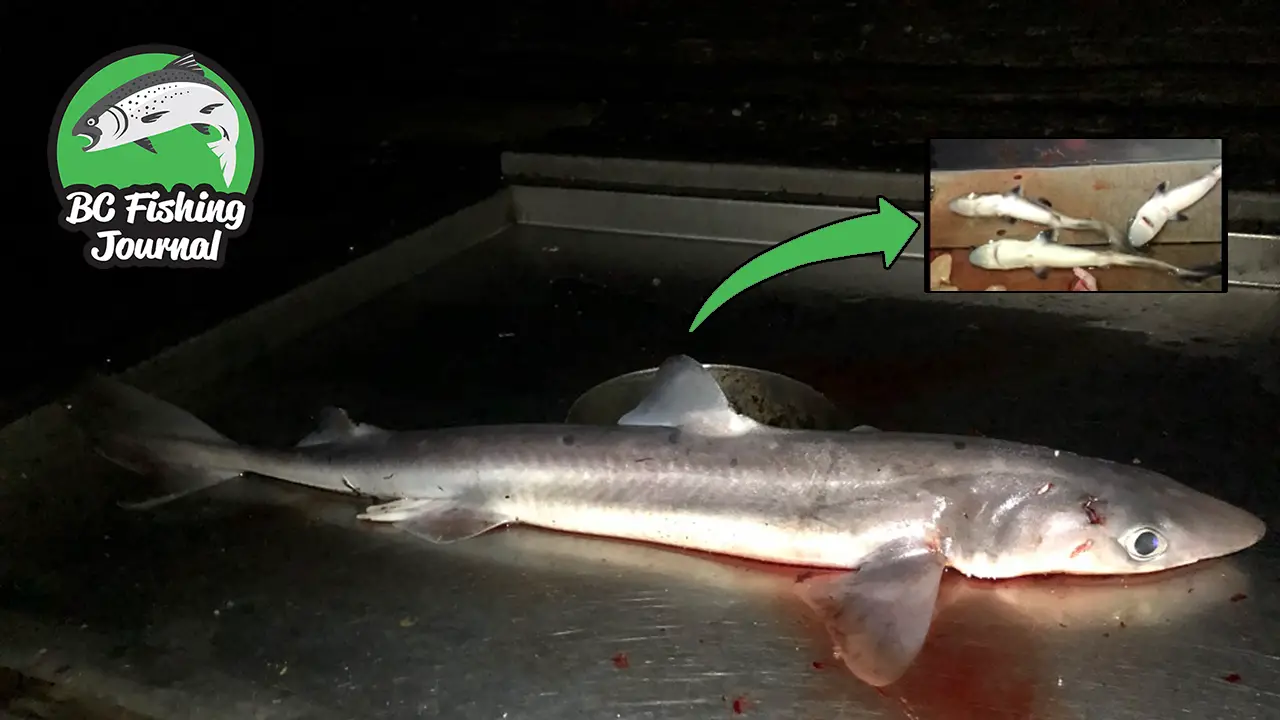 Fishing High Tide
I'm not an expert in this fishery, but when it comes to pier fishing I've seen my best results in the time between 2 hours before high tide and 2 hours after. As for the Dogfish, again I'm not an expert but I do know Sharks typically like to hunt/feed at night. Most of the Dogfish bites I've had were near last light or dark. All that said, if you can fish an incoming high tide where it peaks around last light you're probably going to get ideal fishing conditions.
Fishing Rod, Reel and Mainline
When fishing from the pier and beach I used a 10′ spinning rod and 5000 series spinning reel. A rod length between 8′-10′ is ideal. The important factor is casting distance, so whatever rod you use ensure it can launch the lure/baits out there. My mainline was 30# braid, with a 2 oz disc weight (the tide was incoming and not ripping so didn't need more than that).
Bottom Rig Setup
The diagram included here is the setup I commonly use for Dogfish. The biggest pro of this setup is the sliding weight on the mainline as the fish and your rod tip don't feel the weight as your rod tip is sensitive to the hook and bait. The biggest con to this setup is the bait is directly on the bottom, which opens it up to crabs picking at it. If your fishing a heavily populated crab area, you could use a pickerel rig setup which elevates your bait off the floor and out of reach for the crabs. 
If you want to see these other setups and diagrams check out the tip page: Bottom Fishing Rigs. 
Steel or Wire Leader and Circle Hook
For Dogfish or any toothy species you'll want a steel or strong leader. I like a 8″-12″ steel leader for Dogfish. The nice thing about these steel leaders is I can connect my hook directly to the snap that comes with it, so I don't have to tie a knot.
The hooks I like to use are 4/0-5/0 Circle Hooks. You don't need to go that big, but this allows me to put larger pieces of bait on my hook. You also avoid catching smaller bottom fish like Sculpin & Flounder. You could also use Octopus hooks as well, I'd recommend starting with at least 1/0-4/0 in size for Dogfish. That said, if you do want to catch the smaller species at the same time the smallest I'd go is a size 1 Octopus.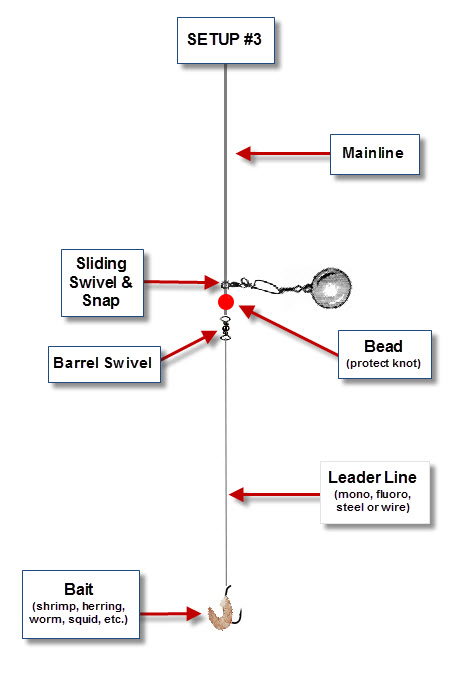 Spiny Dogfish Fishing from Pier includes Shark Babies
Fishing Tackle Used
Ugly Stik 7' Elite Spinning Rod, Two Piece Spinning Rod, 6-14lb Line Rating, Medium Rod Power, Fast Action, 1/4-5/8 oz. Lure Rating
Gamakatsu Octopus Circle Hook-6 Per Pack (Black, 1/0)
Bullet Weights DSI4-24 Disc Fishing Sinker (4-Pack), 4-Ounce
Power Pro Spectra Fiber Braided Fishing Line, Moss Green, 300YD/30LB
Ugly Stik 7' Elite Spinning Rod, Two Piece Spinning Rod, 6-14lb Line Rating, Medium Rod Power, Fast Action, 1/4-5/8 oz. Lure Rating
Gamakatsu Octopus Circle Hook-6 Per Pack (Black, 1/0)
Bullet Weights DSI4-24 Disc Fishing Sinker (4-Pack), 4-Ounce
Power Pro Spectra Fiber Braided Fishing Line, Moss Green, 300YD/30LB