It's July and we're in the middle of summer and the heat of the Salmon fishing season here on Vancouver Island. Here in Pacific Northwest you can target salmon all year round but the ideal fishing season is May to September. The hottest fishing is June-August where the salmon are fattening up and moving toward their spawning rivers. Here in the Nanaimo area the primary salmon species I'm targeting are Coho (Silver) and Chinook (King). This is journal is from a recent trip on my kayak targeting salmon and bottom fish.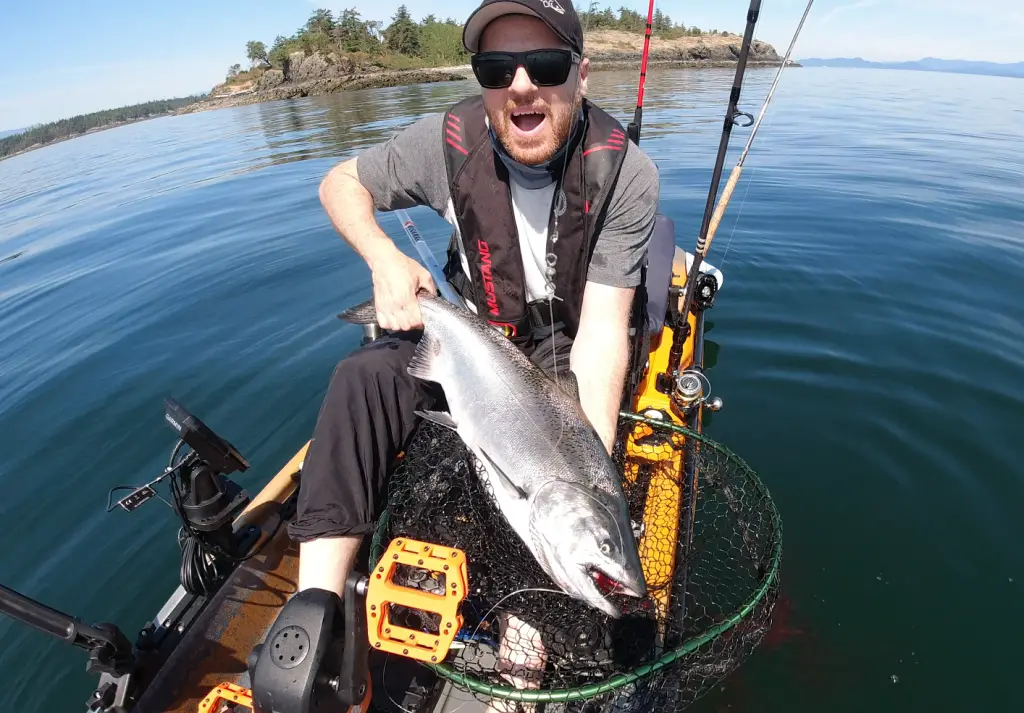 Typically my trips are planned fairly last minute completely based on low wind conditions (<= 10 kw/h). I love fishing first light and each trip is usually around 3-4 hours on the kayak. I'd fish all day if I could but I've got a family! Anyway, on this particular morning I launched at first light it was on a dropping tide (low tide – 0.9 meter at 10:15 am). The best fishing was around the tide change as I got into 3 quick chinook around 10:45 am – 11:45 am. 
Bottom Fishing Start
Before the late morning bite, I did get into some bottom fish. I caught a Copper Rockfish (15″) and really nice male Kelp Greenling (17″). I kept them both as I was love to make fish tacos with these guys! Both these guys I caught on a 2oz Lil Nib weighted jig. These jigs are great for all species as they mimic a injured or dying herring when dropping.
Vertical Jigging Technique
The vertical jigging technique involved getting the jig to the bottom and slowly work it back up to the surface by intermittent jigging and retrieving. You can experiment with different jigging options, but I typically like to lift my rod up 4-6 feet then retrieve while dropping my rod back to the water.
If you want more information on my rod and reel from this day, check out my other journal here. 
Low Slack Tide
After low slack tide I started targeting Salmon with my Lil Nib jig. I moved a little deeper but still fairly shallow 60-100 feet of water and used my fish finder to find bait balls and salmon moving through them. I used the same vertical jigging technique for these salmon that I do for bottom fish. However, I may do quick retrieval and longer rod lifts. For bottom fish, I do quick jerky lifts on the bottom, whereas for Salmon I'll do the larger rod lifts and allow a little more time for the jig fall. If you watch my video at the bottom of this post you'll see this in action.
Anyway, it wasn't long before I started getting into the Chinook / King Salmon. The best fishing was around 10:45 am – 11:45 am, so just over an hour after low tide. The Chinook were clearly feeding as I got into 3 of them fairly quickly. The first one was the largest and roughly 12-13 lbs (roughly 80 cms / 31″). The second and third were smaller but still a lot of fun. Fighting a fish on a jig is way more fun that trolling with an inline flasher. These Chinook take great runs running horizontal in the water column and diving back down a number of times. It's completely a different fight than Lingcod, Rockfish or Greenling which simply go down with head shakes, they don't do the long horizontal runs.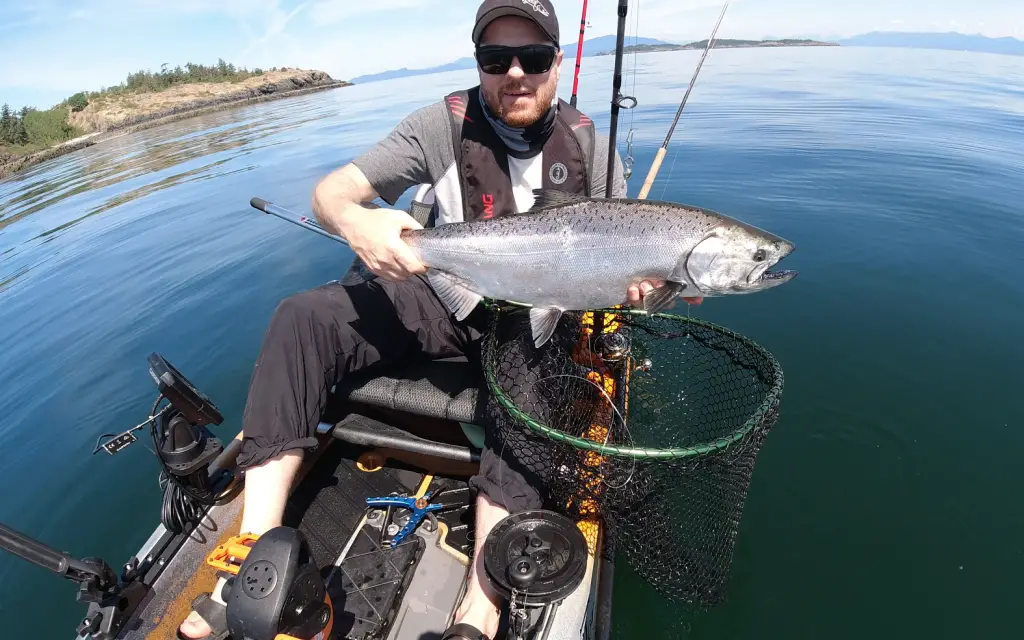 Video of this Journal
To see the short version of this trip via video, check out my YouTube video. And if you like this type of content I'd love if you subscribed to my channel, you can do that here: Subscribe to BC Fishing Journal channel.