It's the first week of April and my buddy Roy has a beautiful 24′ Kingfisher and calls for an early season fishing trip to Port Hardy. We got 4 guys on this trip, 2 are new friends that are long time Nanaimo boys and both have lots of water and fishing experience. We're looking to head to the north island and target Halibut and Lingcod. Here is a photo of the 4 of us in Nanaimo before we depart for Port Hardy.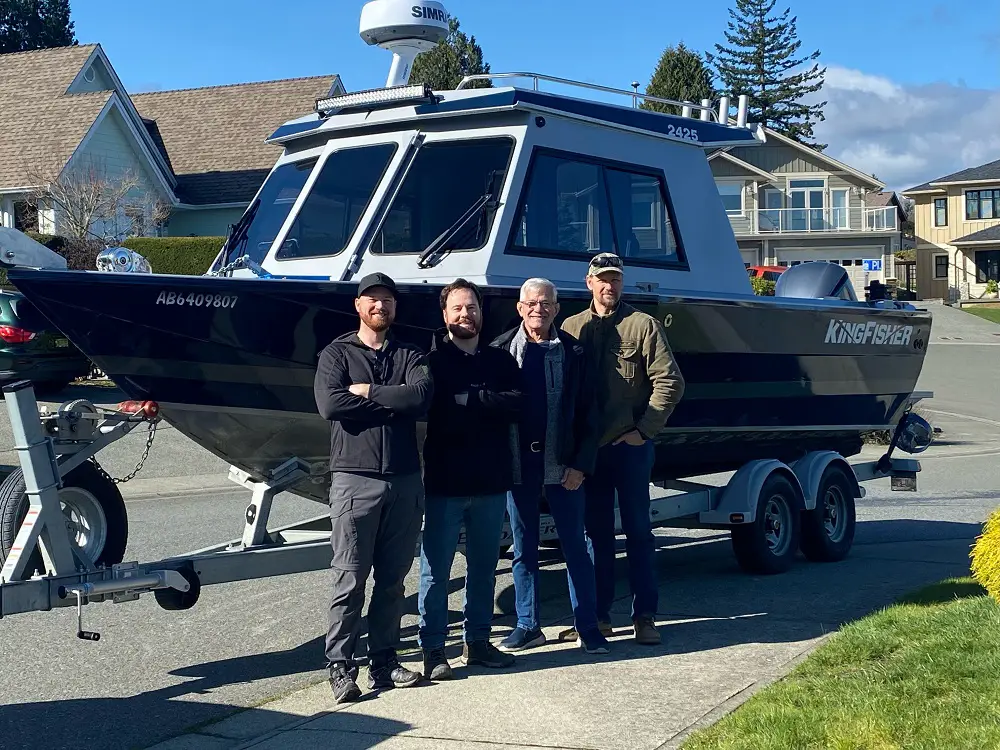 We arrived in Port Hardy Thursday late afternoon and eased into the Quarterdeck Hotel. The trip plan was to get out fishing 2.5 days, so we'd fish hard Friday and Saturday, then do a short half day on Sunday. Little did we know, our plan was not in the cards for this trip but I'm getting ahead of myself.
Nahwitti bar
The first day we headed out of Port Alberni bay and headed north west toward Hope Island and Cape Scott. After 45 minutes to an hour boat ride we got to the Nahwitti bar area. Nahwitti bar is a large sand section that ranges from roughly 60′ to 90′ of water and has great halibut fishing. It's a great place to anchor up and bottom fish by putting down some different baits like octopus, herring, salmon belly and squid to draw in the halibut.
Ideally fishing this area is best during a slack tide so the bait scent can draw in the halibut. Unfortunately, the tides weren't great for us when we fished this area, we fished it hard but didn't get any bites. Additionally we had some higher winds than anticipated so we didn't anchor up like we initially planned and instead started moving around and targeting underwater pinnacles for additional species.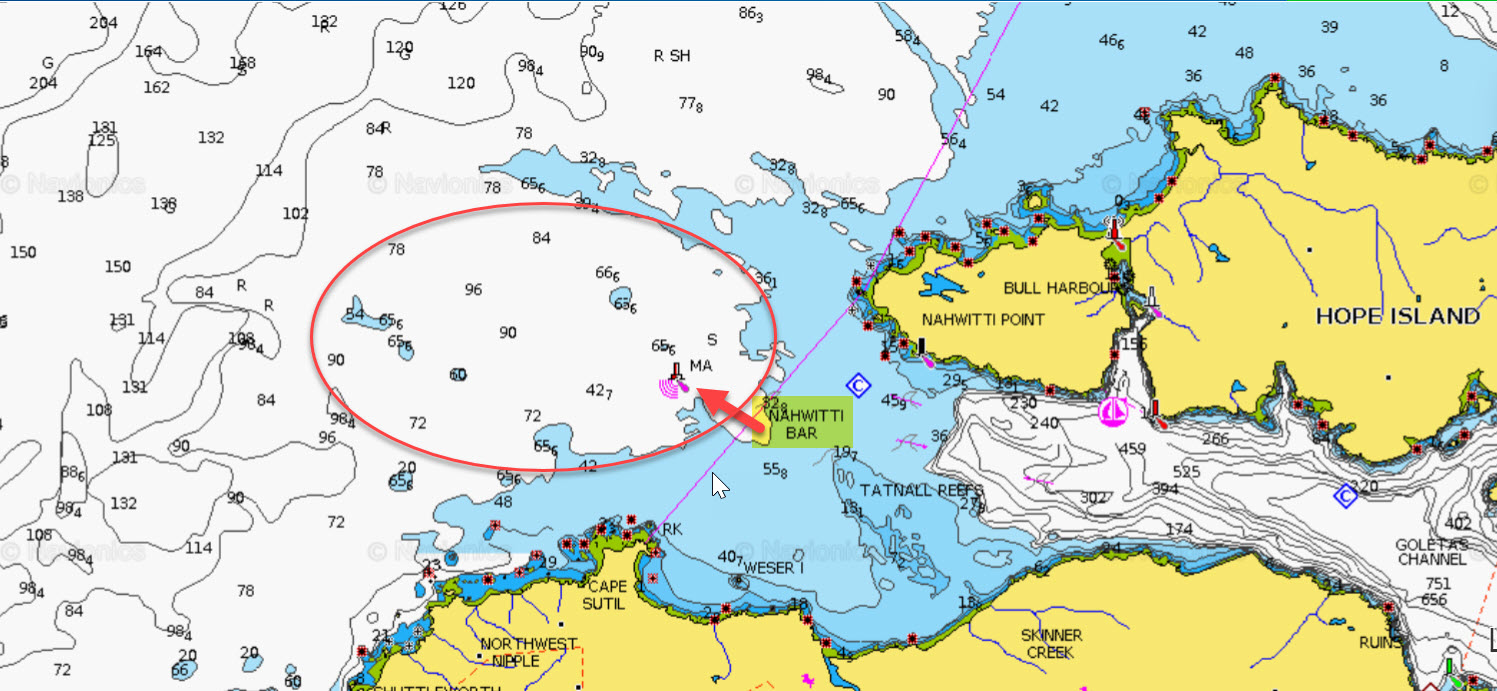 Yellow Eyes
We fished hard that first day and covered a ton of water. After Nahwitti bar, we worked our way back but on the north side of the islands within the Queen Charlotte Strait, fishing just off Pine Island we got into some Cabazon and Yellow Eye (also called "Red Snapper"). We kept the Cabazon but returned the Yellow Eye on the fish descender. There is zero retention for Yellow Eye's as they are protected species. We caught some mondo Yellow Eye's but didn't stay long to catch anymore as these were not the targeted species and didn't want to cause any unnecessary harm to these protected yellow eyes.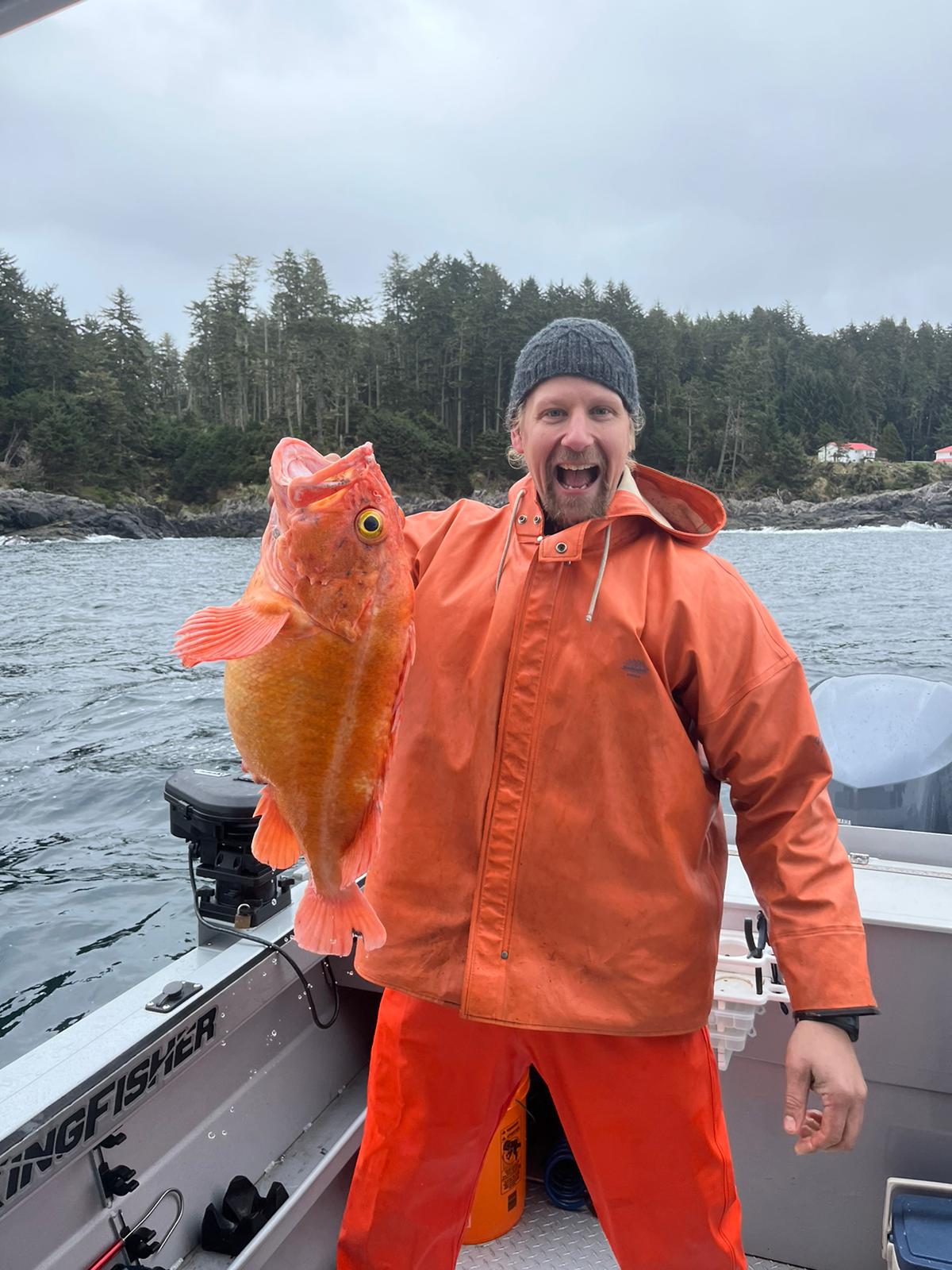 The first day we fished hard but didn't find our targeted species of halibut and lingcod. It was pretty surprising as we hit a lot of pinnacles and covered a lot of ground (see our general path below). But the fish just didn't seem to be there. I'm not an expert in this area, but it seems a little early in the season so perhaps our targeted species were not in yet.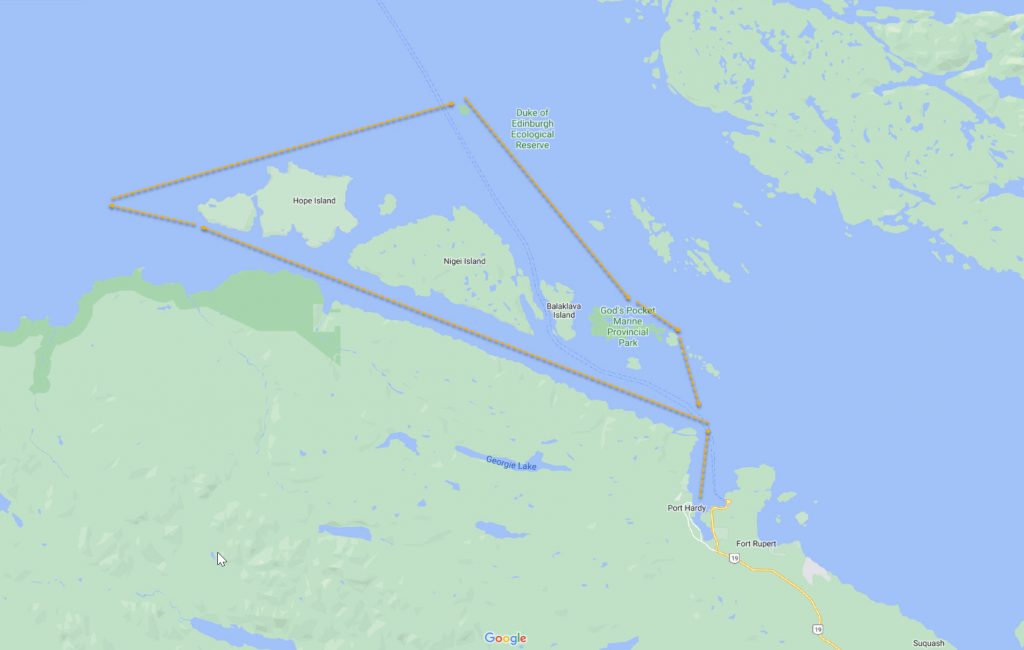 That first evening, we had a great meal from Sporty Bar & Grill (I recommend the fish tacos and seafood chowder) and came up with a solid plan for day 2. Day 2 plan was to cover a new piece of water entirely by heading directly north out of Port Hardy bay, across the strait toward the Marsh Bay area. We had some good family and local intel on legit halibut spots over there. Unfortunately, we didn't get to find out if the intel was true.
Day 2 Fishing Port Hardy
We got up and were on the water early making excellent time across the strait for the first tide change of the day. When we got to the other side we had poor fishing conditions as the pinnacles were too small to anchor on backtrolling wasn't working as well, so we decided to troll white glow hoochies across these pinnacles and were immediately into lots of rockfish. During this time the wind quickly picked up and made for less desirable fishing conditions so we decided to head back closer to Port Hardy and look for calmer inside waters.
It was at that time when we had an issue with the boat and lost steering. When moving control from the front steering to the helm we lost all steering completely, and somehow at the same time the auto pilot (auto helm) was triggered. Typically, this wouldn't be the worst thing but we were in some tighter waves and we were running into them and eating one after the other without a way to steer away from them (or at least properly manage them). With the little steering we were able to get, the auto pilot continued to center our 300 Yamaha outboard again making steering challenging.
"Mayday Mayday Mayday"
It was at this point we realized this was going to be a big problem and we can't navigate across the strait. We decided to call in a "pan-pan" for a tow and while doing that continued to eat a lot of waves over the bow. During the pan-pan call the bow got completely flooded and the cabin starting taking on a significant amount of water really fast. There's a storage container below the bow that we opened up and it was flooded with water as well. It was then that our pan called switched to "mayday-mayday-mayday" on channel 16.
After hearing Paul make the mayday call the seriousness of the situation really hit me. I can remember thinking of my wife and 2 boys at that point. I recalled a text message they sent to me the night before. It's wild the thoughts you can have in an instant when looking at your own mortality. We all had our life jackets on and discussed getting ready to swim. But right after the mayday call by an act of God, a wave turned the Kingfisher almost completely around back toward land (not close enough to swim too) and Roy punched the throttle as we figured we'd rip toward the rocks.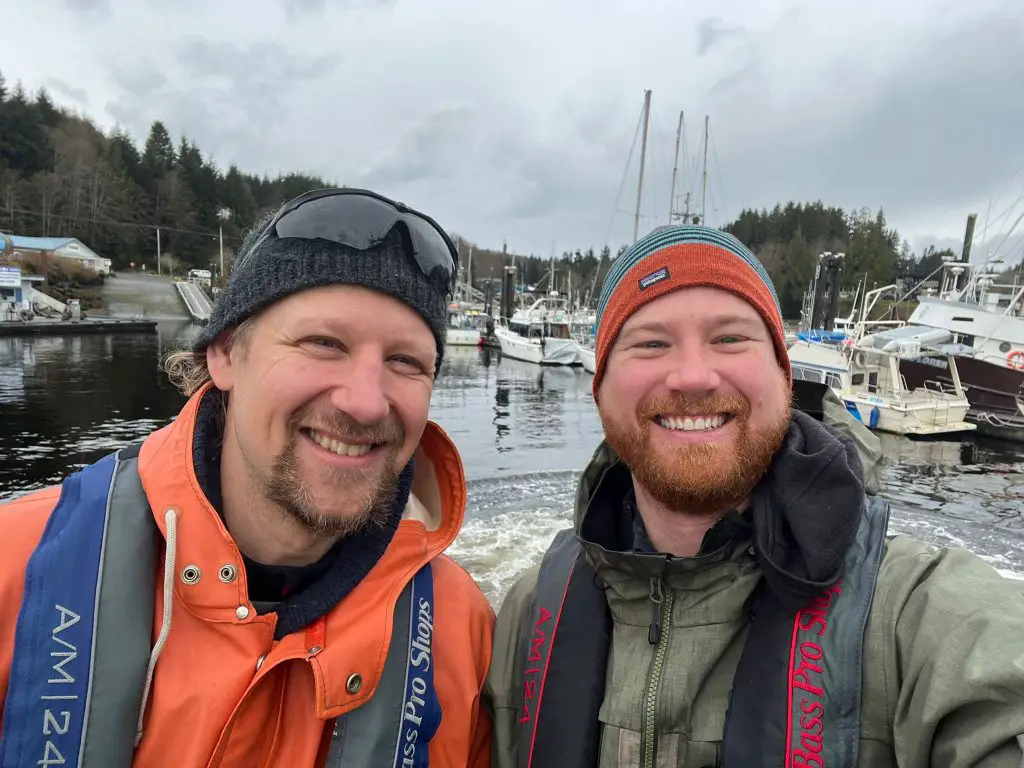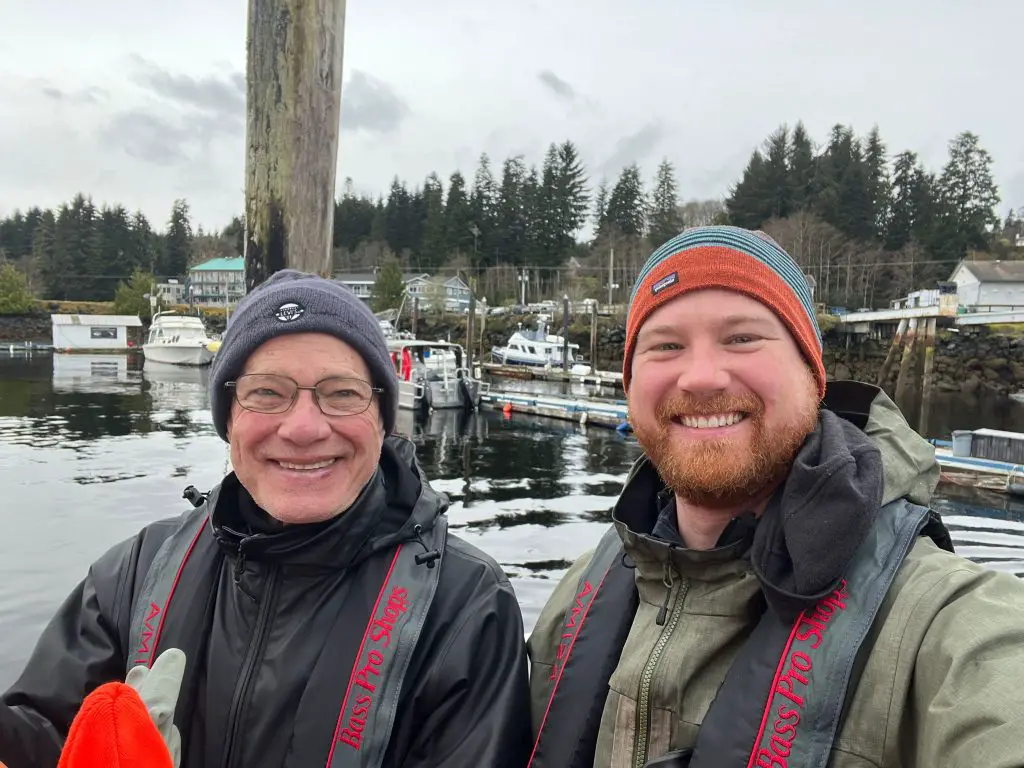 The throttle brought the bow up out of the water and created a rush of water to the back of the boat. That itself was also risky because if we over flooded the stern with the motors it would be all over for the Kingfisher. When the water did hit the back Paul and I were bailing out as quickly as possible. We each had a bucket (which by the way I'd recommend on any boat) and were tossing water and anything in our way overboard. There's a lower section of the stern that has the electrical lines and that compartment is pretty deep and it was flooded with water as well. The Kingfisher was sitting really low in the water but the bailing was working. We were not continuing to take on water as were were turned back toward land and not eating those waves anymore.
Marsh Bay Salmon Farm
While we were still bailing out the last of the water, the closest boat to us that responded to our mayday was one from the Marsh Bay Salmon farm. By some twist of irony (as I'm not a fan of salmon farms) they were first on site and were able to tow us into calmer waters and to a salmon farm dock so we could tie off.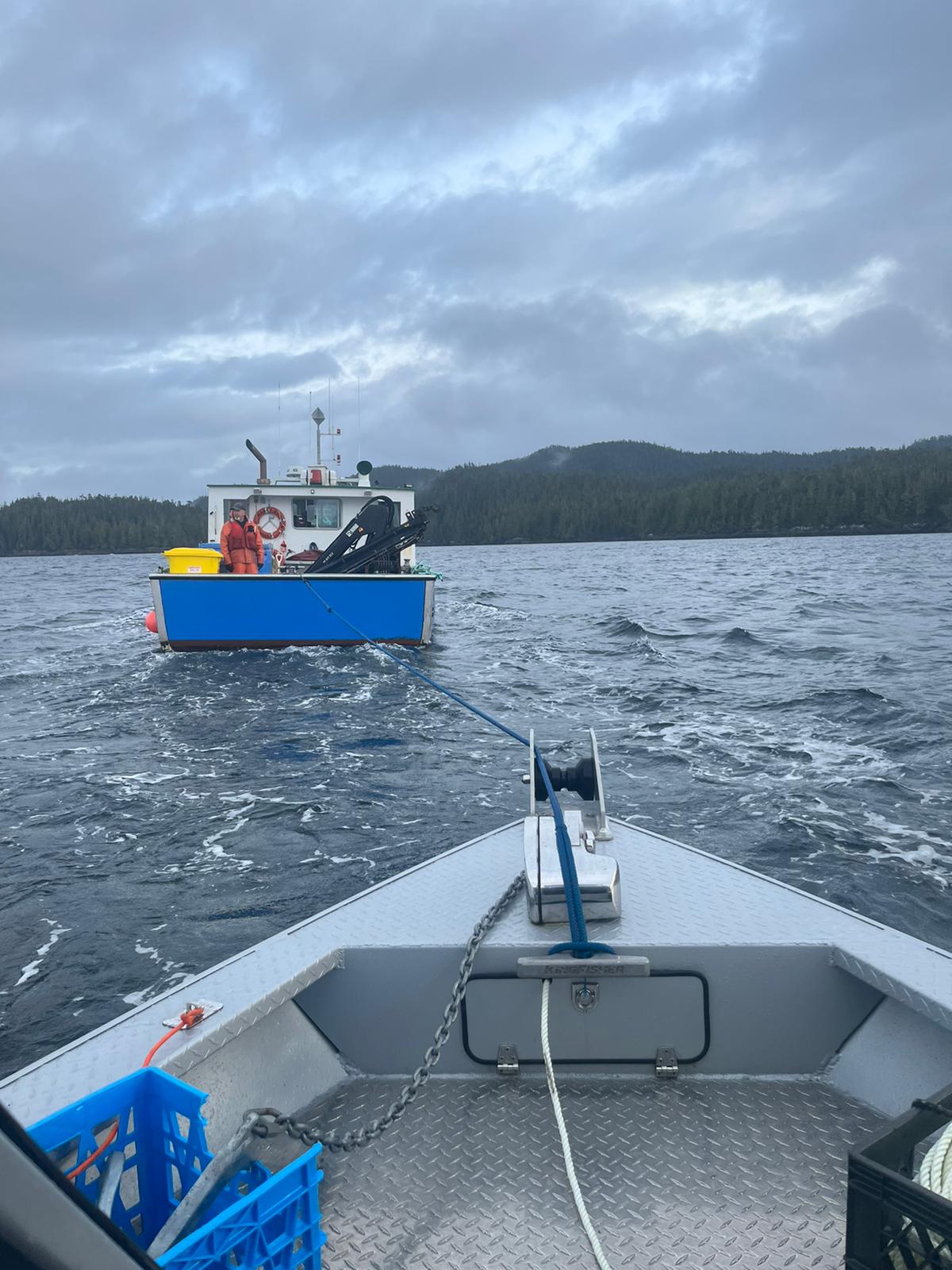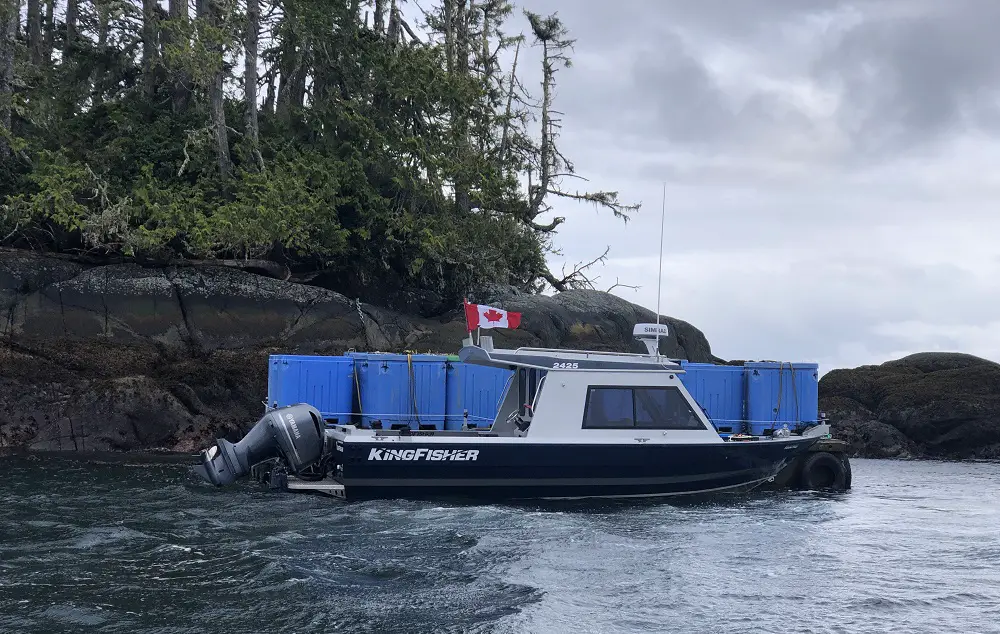 Once we got tied off on the tiny dock, the Coastguard arrived on site as well. The Coastguard Zodiac was the first too arrive followed shortly by the CCGS Cadboro Bay. We exchanged some information over the radio with Cadboro Bay and the Zodiac crew took us to board the big coast guard ship. The coast guard suggested we leave our boat tied to the dock and we got permission from the Salmon farm to do that. So shout out to Marsh Bay Salmon Farm and all their help. In hindsight leaving the boat tied off was not a good call as we should have requested that the coast guard tow it back to Port Hardy. But at this point we were just happy to be alive and headed back to town. So we figured we'd get a boat taxi to tow it back the next day.
The Canadian Coast Guard were great and dropped us off on the dock at Port Hardy. We walked back to our hotel where we then got together to process what had just happened. Discussing questions of what we could have done differently? What happened to the steering? How did the auto-pilot come on?
Everything happened so fast. You often hear this, but when your in these situations it's amazing how fast things can go wrong quickly. Our Kingfisher Escape 2425 was more than adequate to deal with the water we were in, but having a few minor things go wrong together and terrible timing/location and things went wrong fast! So it's true when people say be prepared for the worst.
We made the right decision to call a mayday even though we were able to right ourselves shortly after. If we didn't call mayday in that window of time and the bow did go down we would have been swimming and who knows what would have happened as we were too far from land to swim back.
Anyway, it certainly was a memorable trip. One that I'm sure we'll talk about for years to come. It hasn't deterred me from being on the water or fishing even this section of water in Port Hardy. This trip didn't provide much fish for our coolers but certainly produced some new friends of which I'm thankful for. And looking forward to future fishing trips with these guys.