It's the first week of July and we're doing a family vacation on the Sunshine Coast! It's my parents, my sister, bro-in-law & niece and our family. We rented a house for a week here just north of Sechelt in an area called Sandy Hook.
One fantastic surprise, we ended up being neighbors to the one and only Captain Quinn, one of my favorite fishing YouTubers. He was a legend, incredibly friendly and I only wished we had a chance to get out fishing together (perhaps for another journal). 
Anyway, this family vacation was not about fishing but I'll be darned if I didn't bring my fishing gear to jump at any opportunity that presented itself. Those times came when the kids and family were napping, so I grabbed my gear and headed to the closest water I could find. I didn't know the fishing locations here, so I headed to the closest water with a bottom rig and some shrimp (you can't go wrong). Here are the details from two short outings I had on Davis Bay and Sechelt Inlet.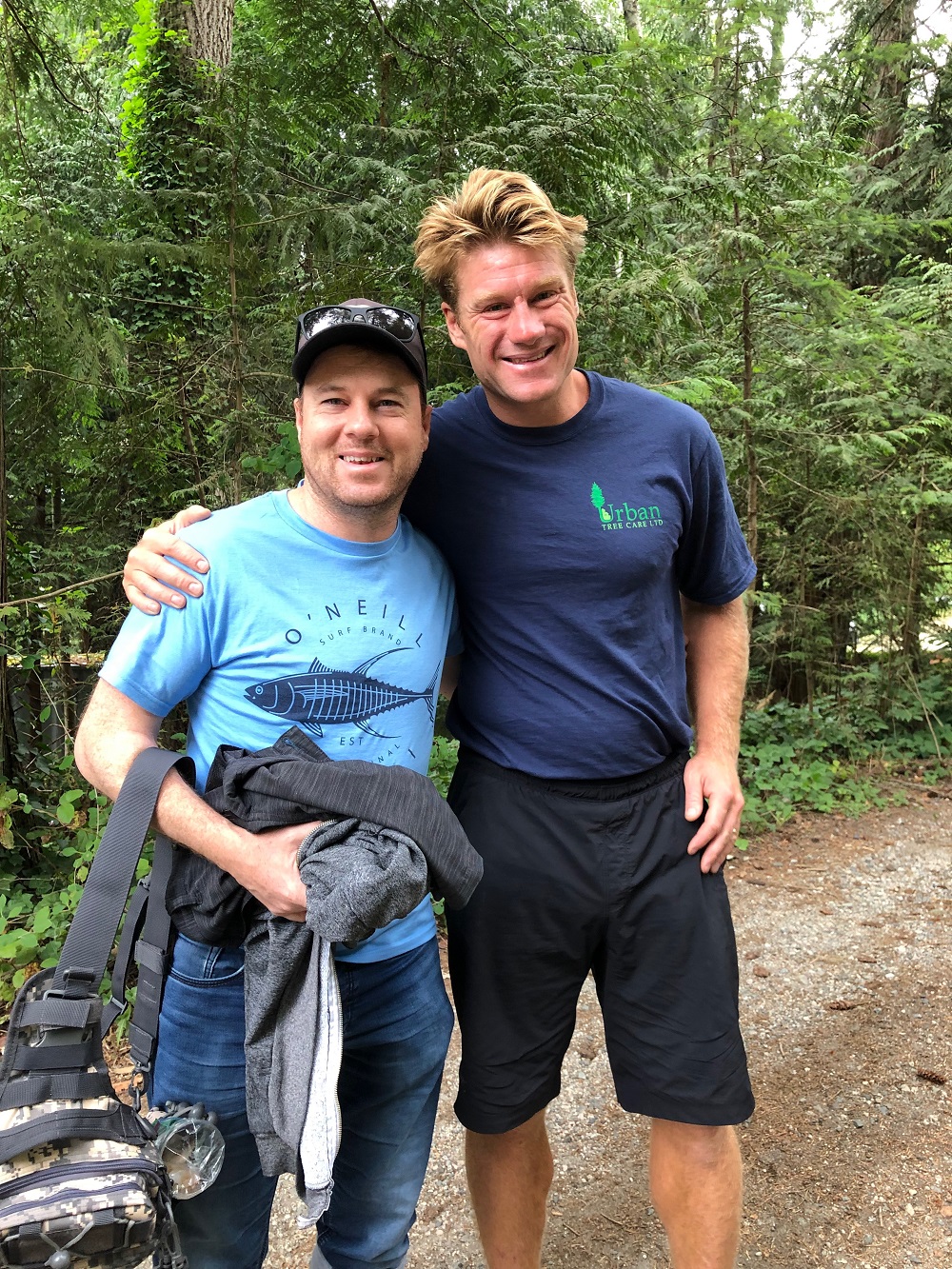 Me looking like an idiot next to Captain Quinn.
Davis Bay Beach Fishing on Sunshine Coast
The first outing I headed just east of Sechelt to Davis Bay beside Mission Point Park where the creek dumps into the ocean. It was at low tide so I was able to walk out for awhile on the beach. With my 10′ beach rod and spinning reel I launched out a bottom rig with a 2 oz weight, size 2 Octopus hook and piece of raw prawn.
Almost every cast was a fish! I ended up catching monster Buffalo Scuplin's. I did some research and found out that Buffalo Sculpin's I was finding were easily trophy sizes. The last one I caught, see the video on this journal was a giant. It had beautiful orange markings and was likely pregnant to be that large. I released all the Scuplin's with care as I was only planning on keeping Flounder.
Sechelt Inlet Fishing with a Bottom Rig
The family was asleep and I had a limited window of time so I literally headed to the beach closest to me. This beach was a 2-3 minute drive from our place, and I went with the same game plan as I have in the past, launching a bottom rig with a raw prawns. 
It wasn't long until I hooked into a few small Sculpin's and one big White Spotted Greenling. This was easily the largest greenling I've ever caught so I decided to keep it for the dinner plate. I've never eaten greenling before, but I've heard they're quite good. I was determined find out!
Eating the White Spotted Greenling
I didn't do anything special with this fish. I filleted it and fried it butter to get a sense of the meat. The texture of the meat was the most surprising, it was tougher and didn't have the same typical fish texture. It's hard to explain but I'd describe it as a hybrid between chicken and fish. The meat itself was pretty good tasting, the texture just through me off a little bit. I'd love to try this fish deep fried with a beer batter. 
Anyway, it was another successful (and extremely short) trip. You've got to love the Sunshine Coast. Whether in the inlet or on the beach it's packed with life! I love being out there, the people, culture/vibe, and so much more makes it a great place to vacation. This is in our backyard and I'd recommend it as a top notch place to vacation.