iWader GT-Stretch S1 Fishing Wader Review
Are you doing some research on fishing waders? I know there are a lot of options out there with a significant gap in the price points. I currently own 4 pairs of waders that I use for a variety of fishing scenarios, typically dependent upon weather and fresh vs. salt water. Recently I've come across a set of GT-Stretch S1 waders from iWader. In this post I'll provide an honest full review of how they've worked out for me on my local rivers.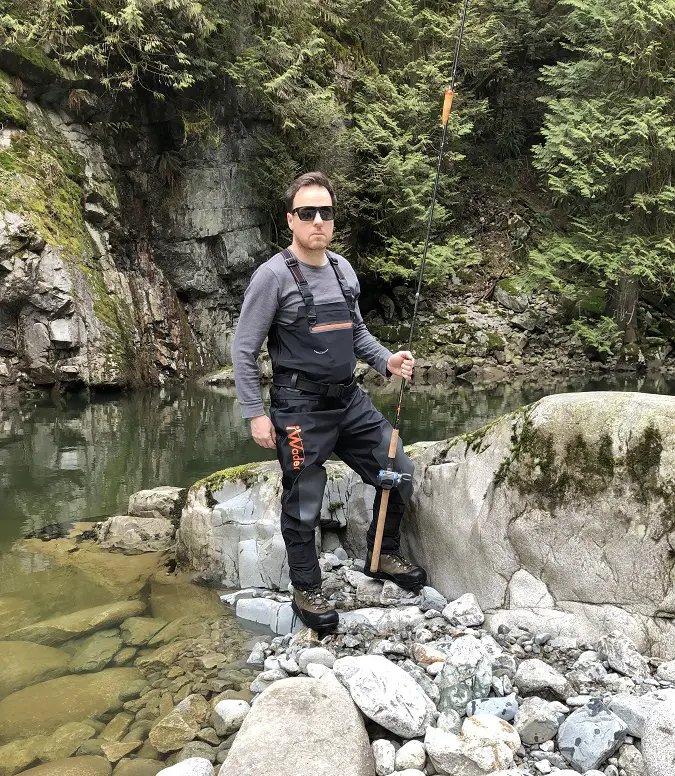 My Favorite Features of the S1 Chest Waders
Tough, breathable and waterproof material are some of the key features to have with your waders. Here is what I've found in the S1 stretchable waders thus far…
Durable and quality material
One of the most frustrating things is having leaking waders or waders that continually develop holes. I've had waders that are an ongoing "patch job". Meaning, I'm continually having to add patches to my waders to the point of which I often just throw them out (or if warranty allows, send them back to the manufacturer). The point here is don't look for the cheapest pair of waders on the market as you'll often get a cheap material causing nothing but frustration. The GT-Stretch material of the S1 wader has held up very well as I've hiked into river canyons, through the bush and across a number of rocks and haven't had any issues.
Stretchable
These waders are really interesting to me as they have the look and feel of Gore-Tex material but also have a little stretch in them. It's almost like Gore-Tex and neoprene had a baby and produced the GT-Stretch material. The stretch and give in the wader provides more comfort throughout the day. This is especially true and helpful when I've been hiking and climbing along the river. 
Breathable
When you're hiking and putting on the river mileage or simply out in the heat you don't want to be trapped in a set of waders that doesn't breath. Your legs will sweat and the trapped body heat will make for a miserable experience. That said, there are some exceptions if you're fishing in extreme cold weather/water conditions, having thicker neoprene waders that don't breath may be a better choice. This is not typical though, and for the most part you want something breathable!
Price
This is one of the best features as I personally haven't seen quality waders like this at this lower price point. It's cliche but true, these are the best bang for your buck waders that I've come across. If price point is one of the most decisive features for you, I'd definitely recommend you check the S1 waders out.
Additional Wader Features
These aren't the top features but are certainly expected ones and some pleasant surprises as well.
Reinforced gravel guards (gaiters)
One thing I noticed right away was the added protection and thicker material used around the shins of the waders. This is the area where waders will take most of their abuse as it's often in the water, dealing with gravel or rubbing against rocks/branches. Additionally, built into this section are the gaiters (or gravel guard) that have a corrosion-free metal hook to clip to the boot laces. This entire reinforced section is well thought out and is certainly a great feature for extending the life of these waders and the boots.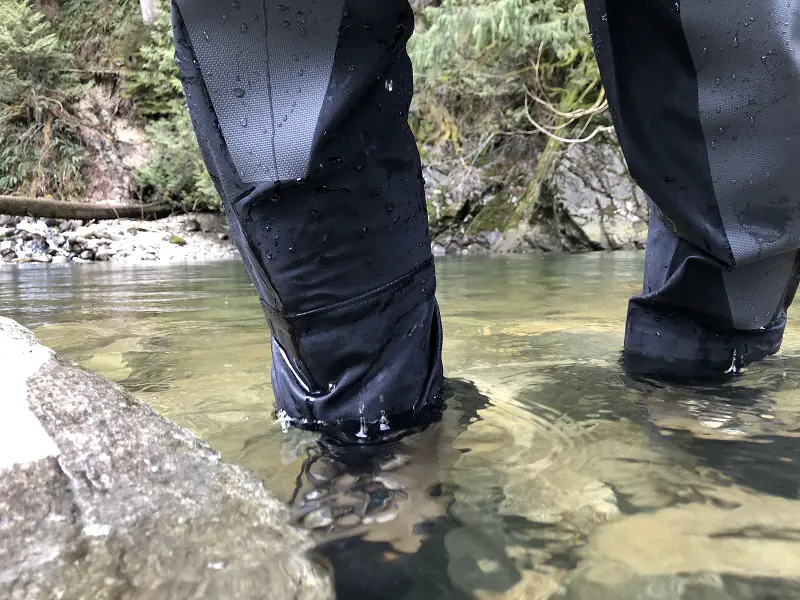 Neoprene booties
These booties have a slightly thicker diameter (3.5mm) of material than the rest of the waders (3mm) in order to keep your feet warm. One feature on the booties that impressed me was the sticky traction of the orange text decals on the bottom. At first I didn't think much of this, but the more I've been using them I'm noticing way less slipping of my feet inside my wading boot. The decals provide a little more traction making the boot feel more secure. Honestly, it's not something I think about when buying waders but it's certainly a feature I noticed!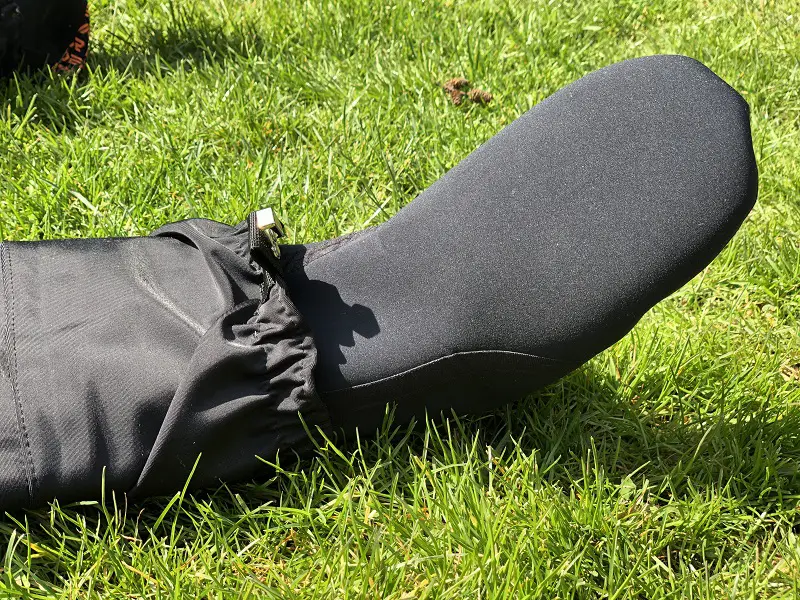 Attention to detail on wader belt and loops
I'm getting nitty-gritty here, but look at the customized belt loops that hold the wader belt. Branded loops that fitted perfectly for the belt size so it doesn't ride up and down. One thing I would like to see different on the belt is to have a slightly longer patch of soft Velcro the belt could attach to for the guys who really want to cinch up their belt tight or have a smaller waist. Or having a belt that's nylon material vs. neoprene. 
Long knee padding 
This is a common feature for quality waders, you have to have some reinforcement material on the knees as we are often kneeling down to tie our rigs or staying low to properly land our fish. The S1 has a long strip of knee protection to ensure it's the point of contact when kneeling down to the ground.
My least favorite feature
I said this was going to be an honest review and so far I'd say these waders are doing extremely well! That said, my least favorite feature of these waders is the large logo on the pant leg. I'm not a fan of any art, logos or decals on my waders. I would prefer to have the iWader logo much smaller and placed below the chest zipper. Of course this is strictly a personal preference, like the old adage… "to each their own". 
The Benefits of Wearing Waders
In a wader review I feel like I must address why waders are important for a river/stream angler. The most obvious answer is allowing you to stay dry as you walk along or across different water systems (usually rivers and streams). Being able to cross sections of water will save you time vs. trying to hike around a section of water. 
Keeping dry will make for a much more comfortable fishing day. This is particularly true for those anglers fishing in the rain. I live in the Pacific Northwest and one of my favorite times to fish in the Fall where it often dumps rain. So having waders is mandatory to keep me dry while I'm fishing all day in the rain. 
Lastly, a reason often not considered but having waders is important to the well being of the fish you're catching and releasing. What I mean by that is when wearing waders you can get into the water when you're landing a fish and this enables you to use proper landing and releasing practices. For example, keeping the fish in the water at all times (so it can breath and not risk it flopping/hitting rocks on land). These proper fish landing techniques are so important to use on sensitive or protected fish and will greatly decrease the mortality rate after being released.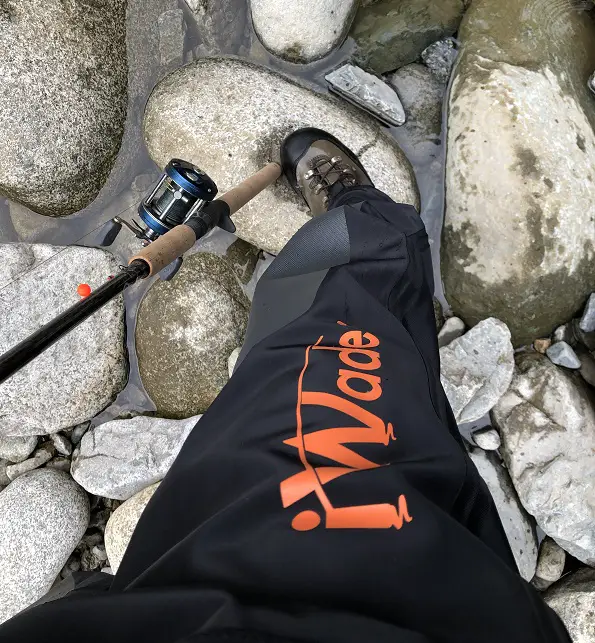 Final thoughts on the S1 Waders
Whether you are looking for a set of waders to walk through still water or are hiking along/through moving water I think you'll really appreciate the comfort of the elasticity and breath-ability of these waders. They've checked off a lot of the wading requirement boxes I look for when fishing my local Pacific NW waters.  
All in all, I've been really impressed and will say it one last time but for the price point I don't think you'll find another wader at this quality level, and if you think you have please let me know on the contact page.
If you'd like to find out more information or buy these waders see the iWader GT-Stretch S1 page. Also you'll get 15% off if you use the Promo Code: BCFISHING15. 
I appreciate you taking the time to check out my page and this review. If you have any questions firI respond to every email. Cheers! Jesse