Great Ultralight Spinning Reel & Setup for Trout and Bass
This article discusses my ultralight spinning combo that I love to use on trout and bass in my local lakes and ponds. I cover some of the challenges of ultralight fishing tackle that you might not have thought of. And I detail my go-to trout fishing setup as well.
First off, you might be asking, "what is an ultralight fishing setup"? The term "Ultralight" is used for the smallest and lightest spinning reels. These reels will have everything dialed down for small presentations (lures) and paired with lighter rods and fishing lines. A typical light or ultralight spinning reel will be small so that's its usually the size of (or smaller) than your fist. However, just because the setup is ultralight doesn't mean this gear can't handle large fish!
Example Ultralight Spinning Reel Setups
The spinning reels themselves will be incredibly light, usually around 6oz – 8oz. These smaller reels can be easily used and casted all day and also are a great reel size for young kids. The reels are typically rated for 4-8 lbs monofilament or 10-15 lbs braid fishing lines. The rods can vary, but usually range from 5'6 to 7′ long and have a very ultra-light to medium power rating.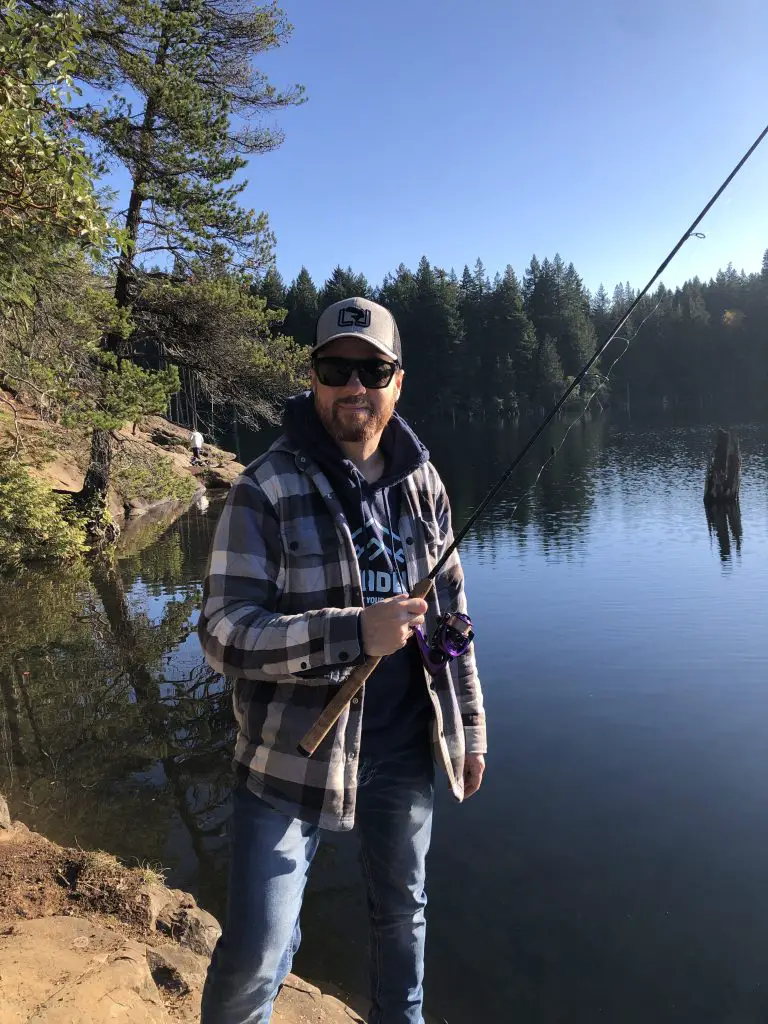 Piscifun Ultralight Spinning Reel
In the Fall and Spring, my sons and I love to target Trout and bass in our local lakes here in the Pacific Northwest. For my boys a lighter and smaller spinning setup is important for helping to train them how to cast and manage their line. The reel we've been using is the Piscifun Carbon Prism spinning reel. It's been a great reel for lakes and ponds, I've paired the reel with a 7′ medium weight spinning rod. I've spooled it with 6lb monofilament maxima ultragreen line.
I use this combo for many types of fishing whether it be float (bobber) fishing, tossing a spinner or spoon and fishing off the bottom fishing (inline weight with a light leader and piece of PowerBait so it floats of the bottom).
This reel has been a perfect fit for a number of fishing scenarios for me. First off, it's been great to teach my sons how to cast a spinning reel. They've done very well with weight and sizing. Secondly, its a fun light reel for fishing multi-species like trout and bass. I like that its on the larger end of the ultralight reels, as I'm often fishing different species at the same time. In my local lakes, I will be switching between rainbow trout large and smallmouth bass quite frequently. This reel is a great pairing for all these fish!  
Ultralight Gear is Tough to Manage
As mentioned above, the Piscifun reel is on the larger side of the ultralight reels, but still falls into that lighter category. I find reels that are too small are VERY CHALLENGING to manage. The super light line like 4lb mono easily gets wrapped on rod eyelets, twisted with the bobber or terminal gear. This is why I prefer the upper end of the ultralight gear and typically spool my lighter gear with 6lb to 8lb monofilament line. If your fishing with kids, I would stay away from super light gear, it quickly becomes a mess.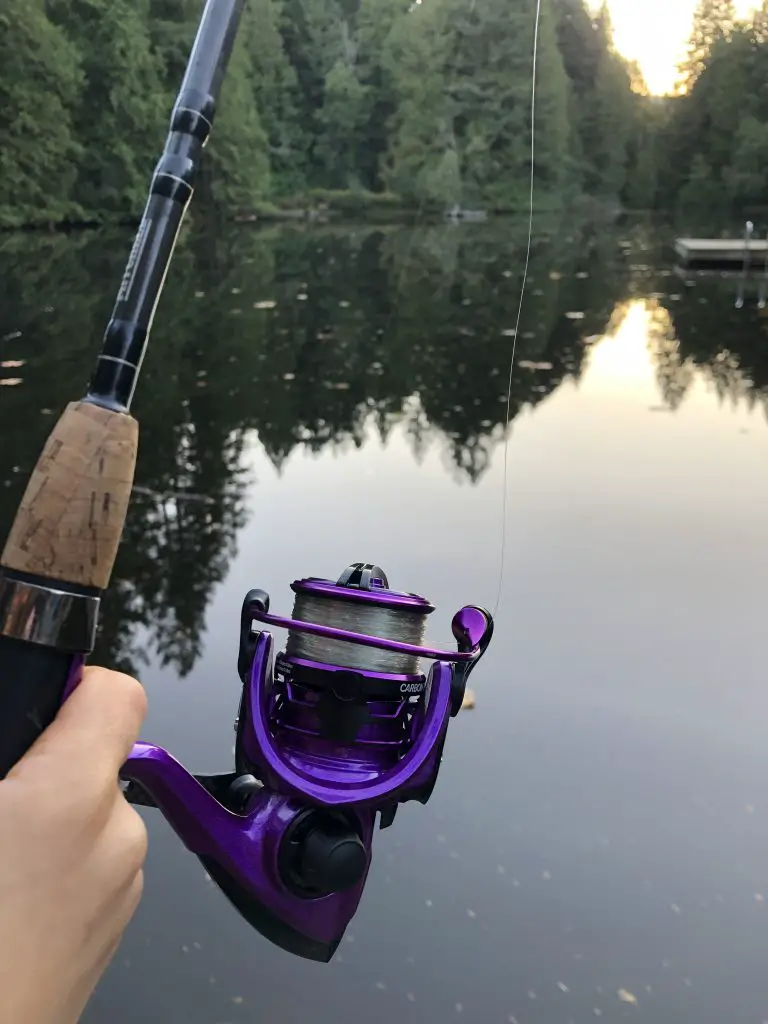 Trout Float Fishing Setup
This is a classic float fishing setup that I love to use for trout, small pan fish, or even bass. As mentioned above, I'm using a an ultralight spinning reel by Piscifun the Carbon Prism spooled up with 6lb monofilament on a 7′ medium spinning rod. Here is the rest of the setup, also pictured in the photo.
Slip Float
From top to bottom, I'm using a 8 gram slip float that can be moved up and down the line to control how deep your fishing. Floats can come in a variety of sizes, 8 grams is one the lowest end but is perfect for detecting those very small fish bites.
Split Shot Weight
Below the float, I have a split shot weight, this weight ensure the float sits upright in the water. The split shot (or weight) should be matched to the float weight rating. In this particular case I'm using a split shot(s) that weights 4-8 grams.
Hook
I like to use small Octopus hooks sizes 2, 4, 6 or 8 (the larger the number the smaller the hook). There are many types of bait hooks to use, but I've always liked the Octopus myself. Typically for trout, I like to use a size 4. Regardless, find a size that's not too large for the species you are targeting.
Bait
In this photo I'm using Berkley Gulp Corn. This bait is great for Trout and small pan fish. If your targeting bass try a worm, leech or something like that. The important part of this bait is that it sinks. You don't want a floating bait with this setup as it defeats the purpose of the float setup. Floating bait should be used with bottom rigs. Anyway, I put on 2 kernels of this corn bait onto a size 6 hook, for smaller hooks like size 8 you might only use 1 kernel.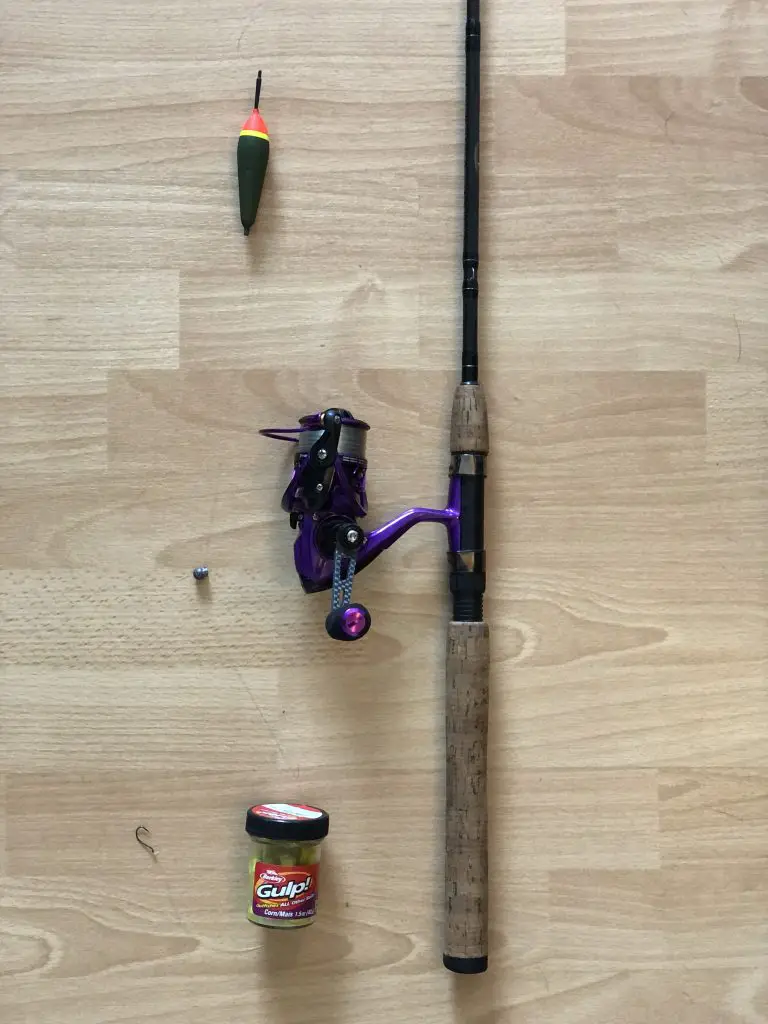 Trout fishing with a Piscifun Carbon Prism Ultralight Reel and Float Setup