Top 6 Bass Baits
There are so many different ways to fish for bass. Because they are a fairly aggressive species, there are a lot of different ploys and strategies that can be used. In turn, the market has supplied a plethora of lures and tackle that can help get the job done. 
Today, we will be breaking down some of the best areas of baits that can elevate your fishing experience. The presentations used to catch bass sit along a fairly wide spectrum, so knowing what the options are is key. Here are the top six bass baits!
1. Jigs 
One of the best presentations to throw in front of a bass's face is a jig. Now, there are a number of jig types, and we will break those down. But, in a general sense, jigs provide a natural, finesse approach to bass fishing.
Jigs are weighted hooks that are usually outfitted with skirts and complemented by trailers. All in all, it is used to imitate a bug, crawfish, or other creature in the water.
The types of jigs include:
   

Swim Jig

   

Finesse jig

   

Hair jig

   

Bladder jig

   

Football jig
 There are even more, but these cover the basics. As you can see, jigs take up a big chunk of the bass lure industry. This is because of the great results that they bring along. Some great ways to use jigs is throwing it over ledges, flipping structure, and targeting points. Overall, jigs are very versatile and worth investing in. It is a fantastic presentation that can be used to turn a fishing trip around.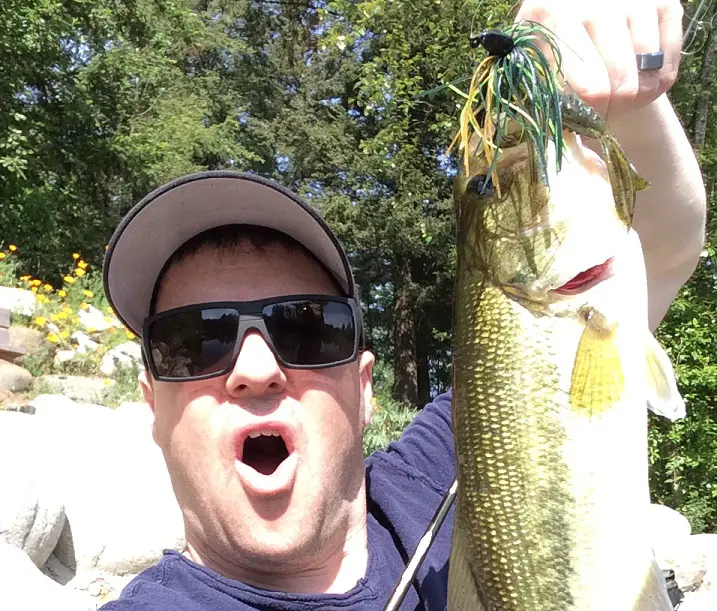 2. Crankbaits
On the other end of the bass lure spectrum is the crankbait. A crankbait is a hard, moving bait that is great in many situations. With jigs, you use them with some patience and finesse. Crankbaits are all about power, in most cases.
One popular way to use a crankbait is by burning it. This is when you essentially reel in as fast as you can and try to trigger a reaction bite by the bass.
This strategy will not work in all situations, so finding a rhythm and cadence that works with both you and the fish is key. That is one of the biggest selling points of a crankbait. There really aren't any add-ons, but they can be used in a number of situations and paces to get results.
Crankbaits come in two main types: billed and lipless.
A billed crankbait has a plastic bill on the front that drives it deep into the water column. A lipless crankbait has a slightly different shape and has no bill on the front. Both are great lures to have on deck when the bass want to be aggressive and strike something moving.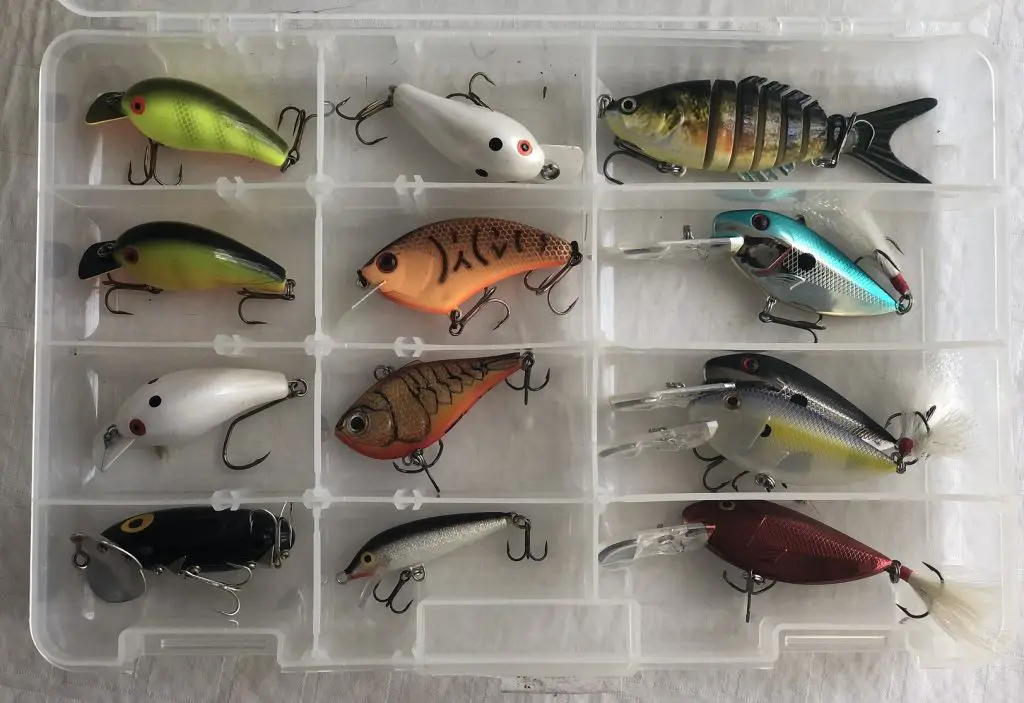 3. Swimbaits
Swimbaits, similarly to crankbaits, come in two main styles, and then they can be broken down even further. The two main types are soft and hard.
Soft swimbaits are fantastic lures that can be applied to swim jigs, jig heads, and spinnerbaits. The most common type of plastic swimbait is the paddle tail. The tail adds some incredible action that is rarely replicated with other soft plastics.
Hard swimbaits are often far more expensive and have a bit of a cult following. Especially in the Japanese fishing scene, hand-crafted swimbaits are made to identically replicate baitfish that bass love to munch on. These range from $10 to over $500 depending on the type, quality, and a number of other factors. One of my favorite hard swimbaits is the baby Bull Shad Swimbait, see the next photo for an example.
These both can be broken down much further, but the generalities are the same. Swimbaits are really fun to use and can be thrown to target the big, trophy bass.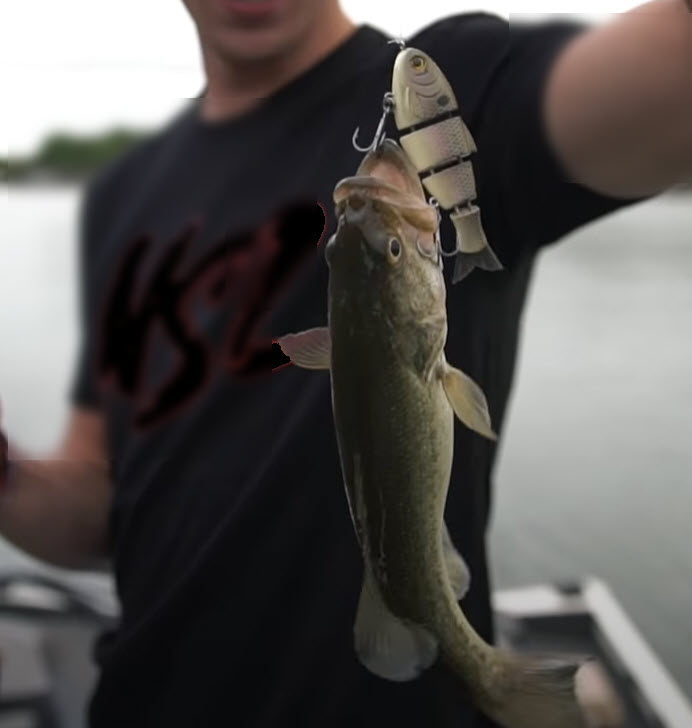 4. Topwater
One of the most fun ways to catch bass is with topwater lures. There is nothing more exhilarating than watching the fish breach the surface and destroy the bait. When you can actually visualize what is happening, your experience is taken up a notch.
As the industry agreed with that notion, the market for topwater lures has supplied us with a ton of great options. Some excellent topwater lures include:
   

Frogs

   

Poppers

   

Buzzbaits

   

Whopper Ploppers

   

Tons of other innovations
These lures are incredible in the dawn and dusk time slots when the water is calm and the bass are feeding. There are many other times that topwater lures can be used, so it is a fantastic idea to have a few on deck just in case.
Fishing the various topwater lures does require a bit of technique, so learning how to best present those baits is part of the job. For example, there is walking the frog where you can find a cadence and rhythm to the presentation. This helps the bass feel more apt to take a bite. All of these will come with a bit of practice, but that is part of the fun.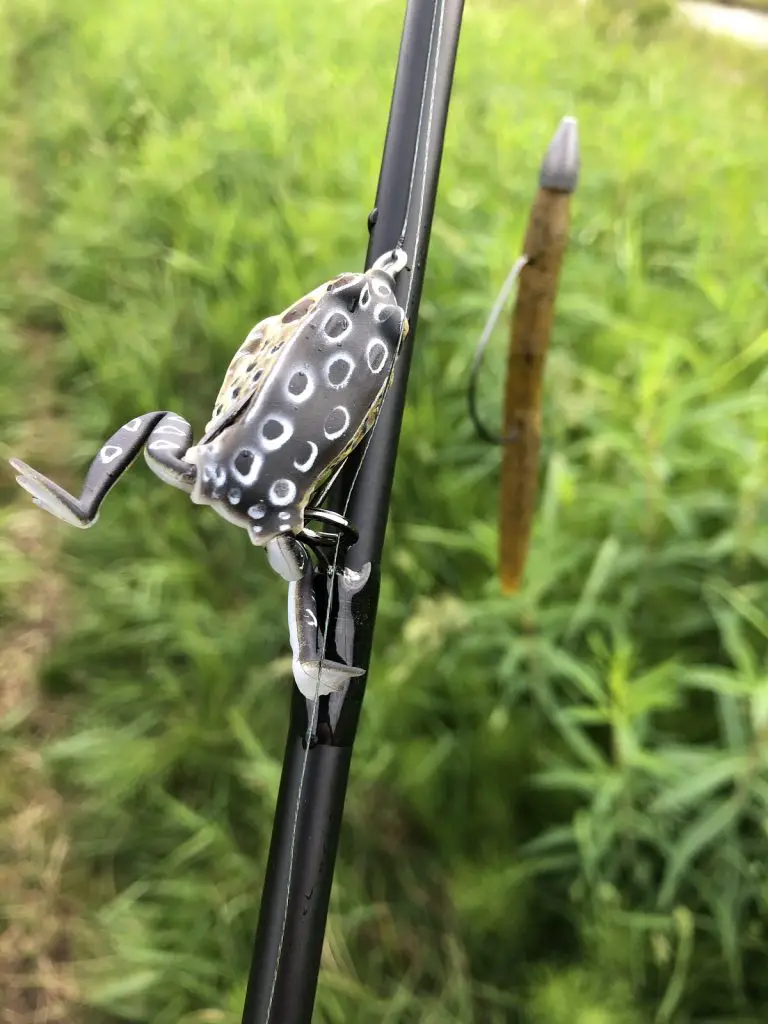 5. Crawfish
In this case, we are not talking about living and breathing crawfish. We are talking about plastic craws that are made to imitate the actual animals.
Craws deserve a category of their own because of how fruitful their presence can be when fishing for bass. Although they come in an array of varieties and styles from competing companies, the essence of the craw stays the same. They usually have a skinny body, appendages off the sides, and two big claws near the head.
This design is made to closely imitate real crawfish. The part that sticks out the most is the set of claws. These chompers are what the bass will see and decide to strike.
Craws are fantastic on the back of a jig, but they are also awesome on their own. You can use a shaky head or Texas rig to display the craw the way it was intended.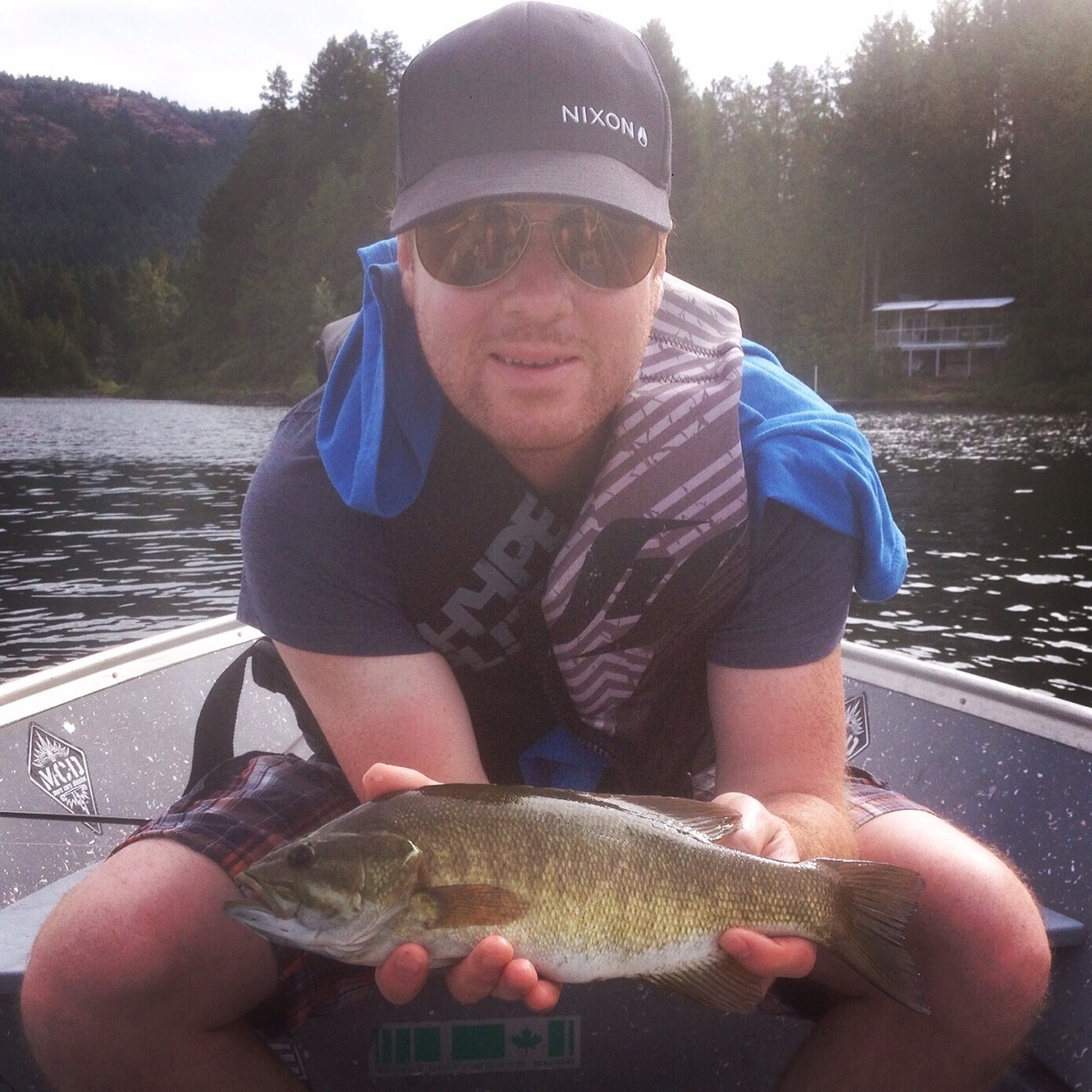 6. Worms
Last but not least are the plastic worms, one of my favorite lures to fish bass and many other species. Plastic worms come in so many designs these days: Senko's, stick baits, straight/short/long/curly/paddle/ribbon tails to name a few. Plastic worms are a versatile bait as they can be rigged on single worm hook, wacky rigged, slid on your jig heads, Ned rigs or any other weighted hook you choose. They also come in a variety of colors to suit the water color. For example, I like to run a blue/black color in darker or muddy water and the green pumpkin or natural colors in clearer water.
The plastic worm is often fished (or used) as a "finesse bait". Meaning it's not loud or aggressive in the water but performs best when you use it's design to create action on the drop of the lure. The drop is meant to mimic a worm or leech falling or swimming along the bottom of the water column. A popular way to fish worms is to simply toss them and allow them to sink to the bottom and then slowly retrieve them in with the occasional rod jerk to create a little action on the lure. Common setups with worms are the Carolina Rig or Texas Rig.
For rigging tips for these worms, check out the video below. And if you want more fishing tips be sure to check out my YouTube channel.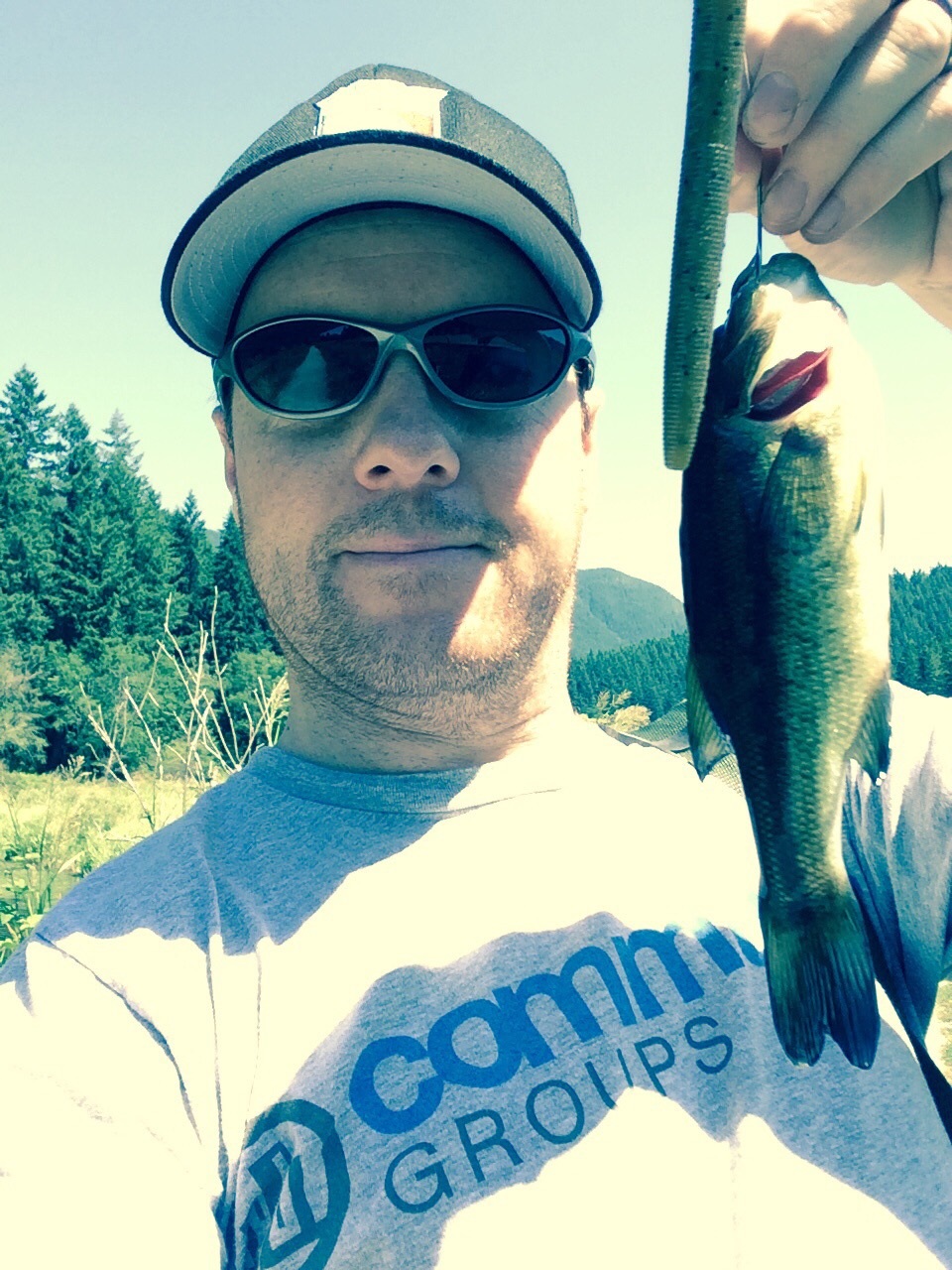 Giant Largemouth Bass caught on a Senko 😃
Wrap Up on the Best Bass Baits 
Above are my favorite and dare I say the six best bass baits! Each one has specific uses and features that make them special. As you progress through your fishing journey, you will see how you can implement each one of these categories into your strategy. If you've found this article helpful be sure to share it with your friends/family. Thanks for checking out my site, and Good Luck out there! Jesse
Additional Fishing Journals