How to Catch Walleye – Kawartha Gold  Ontario Fishing
The Kawartha Lakes water system in Southern Ontario is a multi-species angler's paradise. Fishing on any one of these lakes will put you on everything from slab crappies to tank muskies. There's always gold in paradise, and the Kawarthas are jam packed with them. Like the bass opener, the walleye opener draws large crowds of anglers to the Kawarthas. The long queue at the boat ramp translates to pods of anglers drifting along the Otonabee River. It's a special time of year for a special fish.
Like most freshwater game fish, there are a bunch of different ways to boat a spring walleye. I would say that most anglers in the Kawarthas will fish walleye along weed edges. There are many different places to find walleye in the Kawarthas, like along mud/rock/sand transition zones, or in deep river holes, and even on offshore rock humps. During the spring, however, walleye and weeds go hand in hand.
Type of Weeds to find Walleye
One of the first weeds to grow in the spring is milfoil. There are mainly two species of milfoil found in Kawartha Lakes, one of which (Eurasian) is invasive. Both species will begin growing in the spring and will reach the water's surface by summer. Seen as a nuisance by boaters due to their canopy-like growth on the water's surface, these weeds provide cover and oxygen. Baitfish are drawn to the food and protection it provides, and the walleyes are not far behind. Bass, pike, and various panfish can also be found in these weeds, they are a fish magnet! On the lakes I fish, milfoil can be found growing anywhere between 4-13 feet of water (FOW).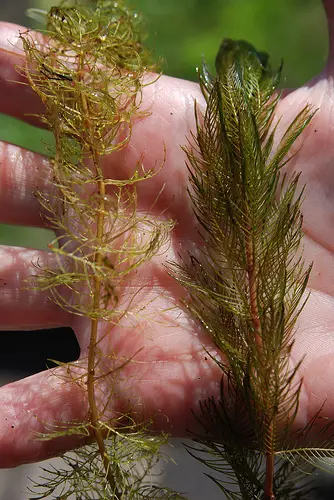 Another walleye friendly weed that starts growing in spring is the family of cabbage weeds. There are several varieties of cabbage such as large leaf, clasping leaf and floating leaf to name a few. Walleyes in the Kawarthas seem to be interested in both clasping leaf and large leaf pondweed. In many places you will find both pondweed and milfoil occupying the same space. Cabbage weeds will grow in similar depth ranges as milfoil and become great walleye draws in the summer.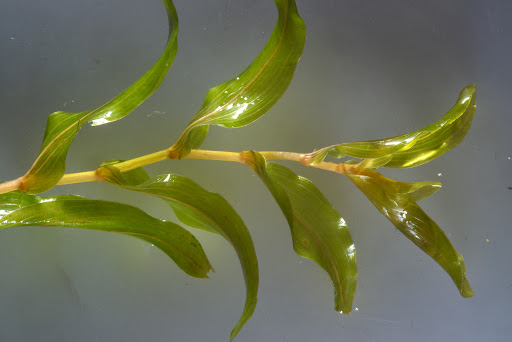 Walleye near the Algae
The Chara is a year-round walleye magnet. It is a type of algae that grows on sandy bottoms. These algae will grow in water as deep as 15 feet of water and even deeper if the lake is clear. They will grow in mats predominantly, but finding edges and pockets are not uncommon. Baitfish, craws and perch can also be found among the chara, which is one of the reasons walleyes love it so much. The other interesting draw for walleyes is the chara's ability to hold onto eggs, making them excellent spots for spawning walleyes.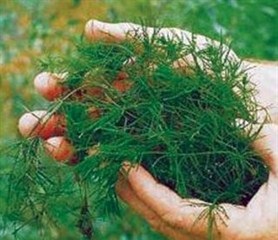 Techniques and Gear Recommendations for Walleye
Now for the fun part, being focused on weedy walleye means I'll focus on common techniques used by anglers to fish the weeds. Bucktail jigs a.k.a. hair jigs are a staple walleye lure found in every angler's tackle box. Local bait shops will carry a vast array of bucktails with different weights in a multitude of different colors. Ripping a jig is a common term here because it's one of the best ways to fish in and around the weeds without getting hung up too often.
The method is simple, using your eyes, or side imaging, look for weed edges that drop off into deeper water. I find that weed edges in 8-12 feet of water are the most productive. Using your trolling motor, work your boat along the weed edge. Make short pitches into pockets along the weed edge as well as underhand casting parallel to the weed edge. Let your jig hit bottom before giving it a short snap up, let it hit bottom again and repeat until your bait has reached your boat. Reel up any extra slack before snapping. If your jig leaves the pocket and enters the thicker part of the weed bed, don't reel your bait out. Instead, you should give your jig a harder snap to prevent getting hung up on weeds. The walleye won't shy away from the commotion and will follow close behind. They will either hit your bait on the fall or pick it up off bottom. Either way, set that hook immediately and start reeling.
Walleye Rod
I like to use a 7' medium power, fast/extra fast action spinning rod with Hi-Viz 10lb braid and 8lb fluorocarbon leader. I prefer braided line simply because it's the best at cutting through weeds. Most days I'll tie on a 1/4oz. hair jig but won't hesitate to go lighter or heavier depending on wind and water conditions.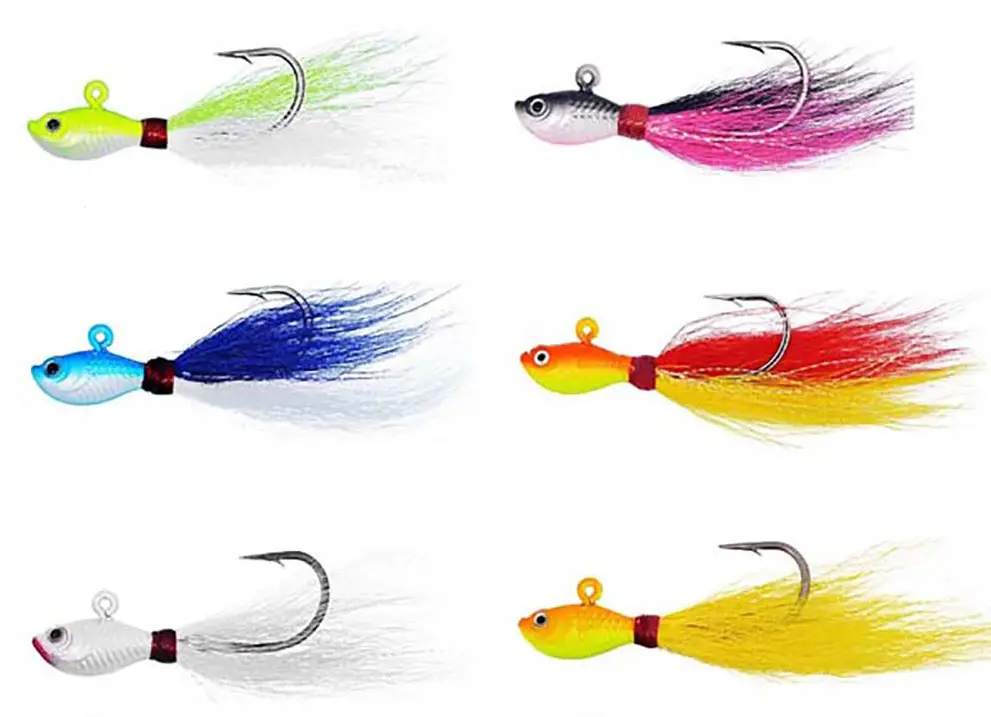 Similar to bucktails are the classic jig and minnow (live or plastic.) The location and method to fish are pretty much the same, except less snappy jigging and more hoppy jigging. It's a subtle difference, but better for days when fish aren't as aggressive. I'll also use the same jig hook and a twister tail grub or swimbait to quickly cover water and catch any walleyes that are higher up in the water column. My go-to combo for years has been a 1/4oz VMC Neon Mooneye Jig paired with a 3" Berkley Gulp Minnow.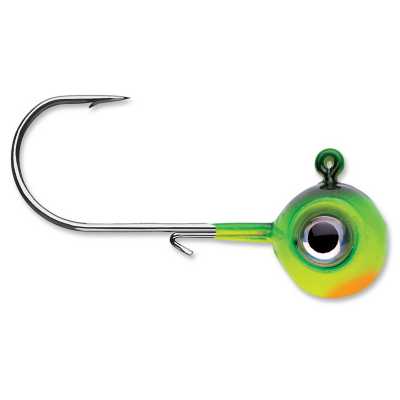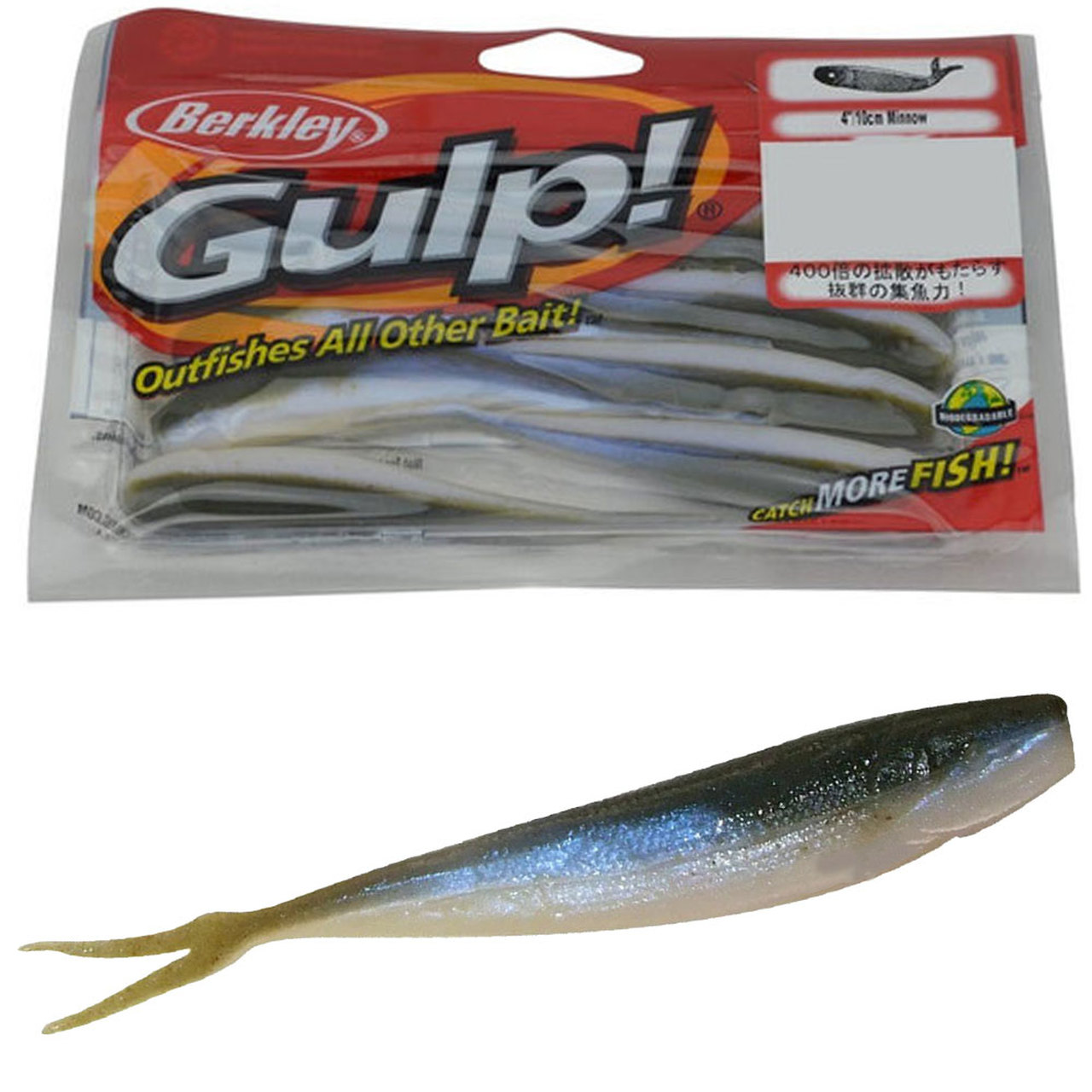 I would like to add that the jig and minnow method is also great when slowly drifting down a river. The trick is to choose the right weighted jig to match the speed of your drift. The goal being that you're vertical jigging under your boat and can watch with your fish finder.
Crawler Harness & Crankbaits
Two efficient methods for weed edge walleye employs the use of crankbaits, and the trusty crawler harness. Both techniques require good boat control and the ability to hug the weed line as close as possible. When the weeds aren't as thick or as tall, you can get away with trolling your crankbaits and crawler harnesses across the tops of the weeds.
The choice of rods is a little more forgiving, but a medium action will suffice. Spinning or baitcasting also comes down to personal preference, but I personally prefer a baitcasting set up as it is easier to let out the right amount of line, especially with a line counter. Trolling speed is dependent on the fish's mood, but for crawler harnesses, 1-1.8 mph is normal. For crankbaits, 1.8-2.2mph will work.
Crawler harnesses come in many colors, and they're relatively cheap, so feel free to experiment. I like to tie my crawler harness to a 3-way swivel so that I can add a short leader and weight to the bottom swivel to control the depth that the crawler harness reaches. In the Kawarthas, square bill crankbaits that mimic sunfish, and banana crankbaits that mimic perch and large minnows are always a safe bet. Observe the depth you're seeing most of the sunfish and perch, and choose a crankbait that dives to the appropriate depth.  I once caught a walleye that burped up both sunfish and small perch, so I switched to a similar sized perch pattern plastic and the bites came quicker and with higher frequency. I landed 15 fish in 2 hours and lost a few along the way.