Early Capilano River Coho, No Bait Required
I've starting fishing at the Capilano River recently for the first time. I've been told there are Coho Salmon starting to come into the system. I've never caught a Coho Salmon before, so really didn't know what I was doing. I and everyone around me was fishing Roe under a float, and with a few skunked trips under my belt I figured I needed to change it up. I decided to start tossing metal and left the roe at home. It didn't take long for me to start connecting and figuring out these Coho. The ticket was simply using small spinners & spoons in all different sorts of colors, the most productive being Copper, or copper with an orange stripe. Now I rarely bring roe to Capilano when I'm out fishing.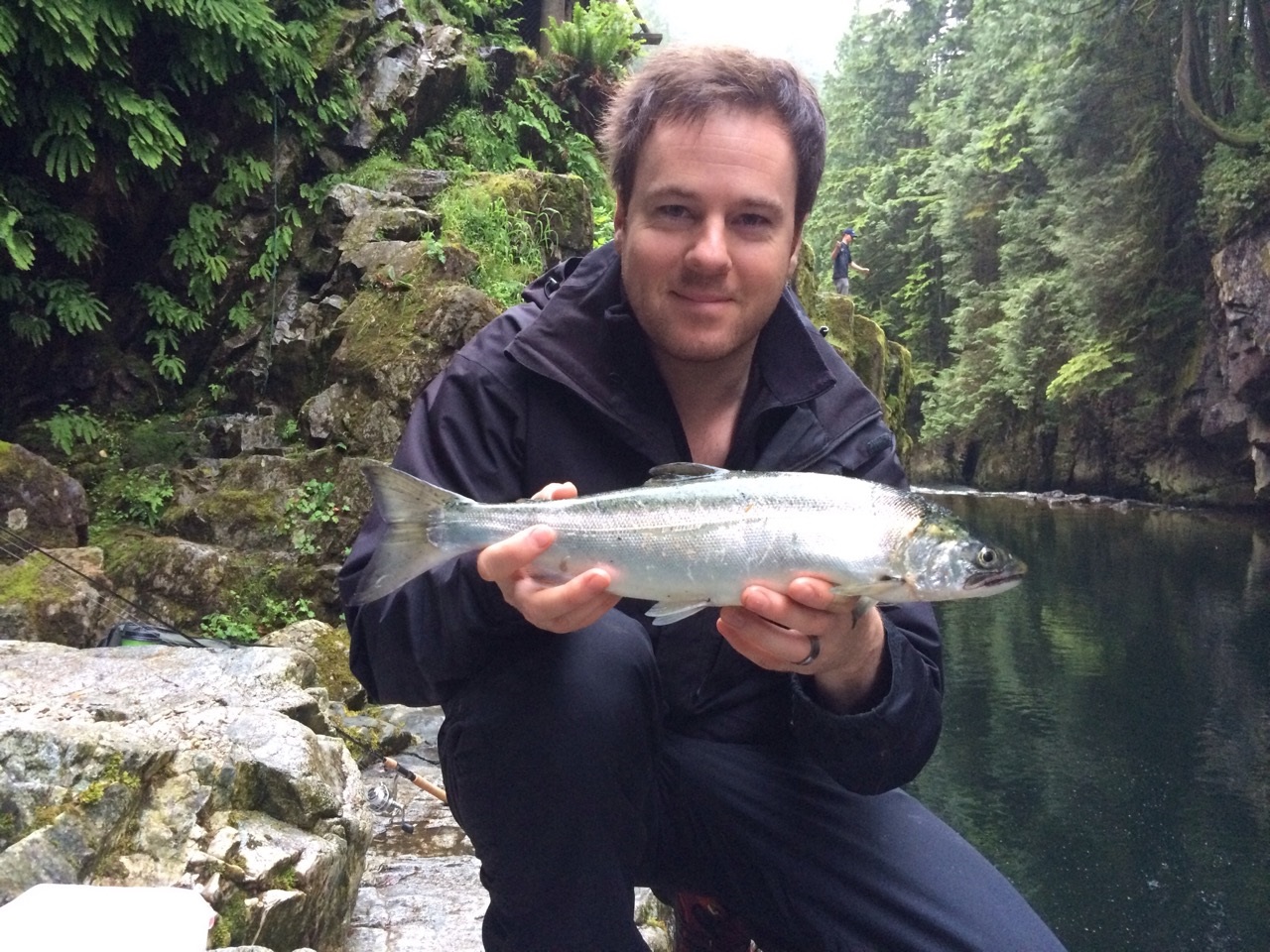 How to Catch Coho in the River
Fishing cured roe under a float is one of the most popular way to target Coho Salmon. However, one of my favorite ways to target Coho is by using  Spinners. In fact, both casting and drifting Spinners & Spoons I've found to be effective.
Based on the water clarity determines the size of spinner or spoon I throw. The clearer the water conditions the smaller the lure size. For the Capilano river I like to use a size 2, 3 or 4 sized Vibrax Blue Fox.
As for my rod and reel, the Coho in this river are not large so a small spinning setup suffices. That said, I'll often bring my big salmon drift rod for a backup or float fishing spoons or spinners (and sometimes roe bags). But as mentioned, I love to toss the metal for these fish and recommend 6′-8′ foot spinning rod and spinning in about a 1500-2500 size. I like to use a very low mainline as not to spook these highly pressured fish, that's usually a 8-10 lbs mono or fluorocarbon line. Lastly, I like to use a fluorocarbon leader (6 lb – 8 lb).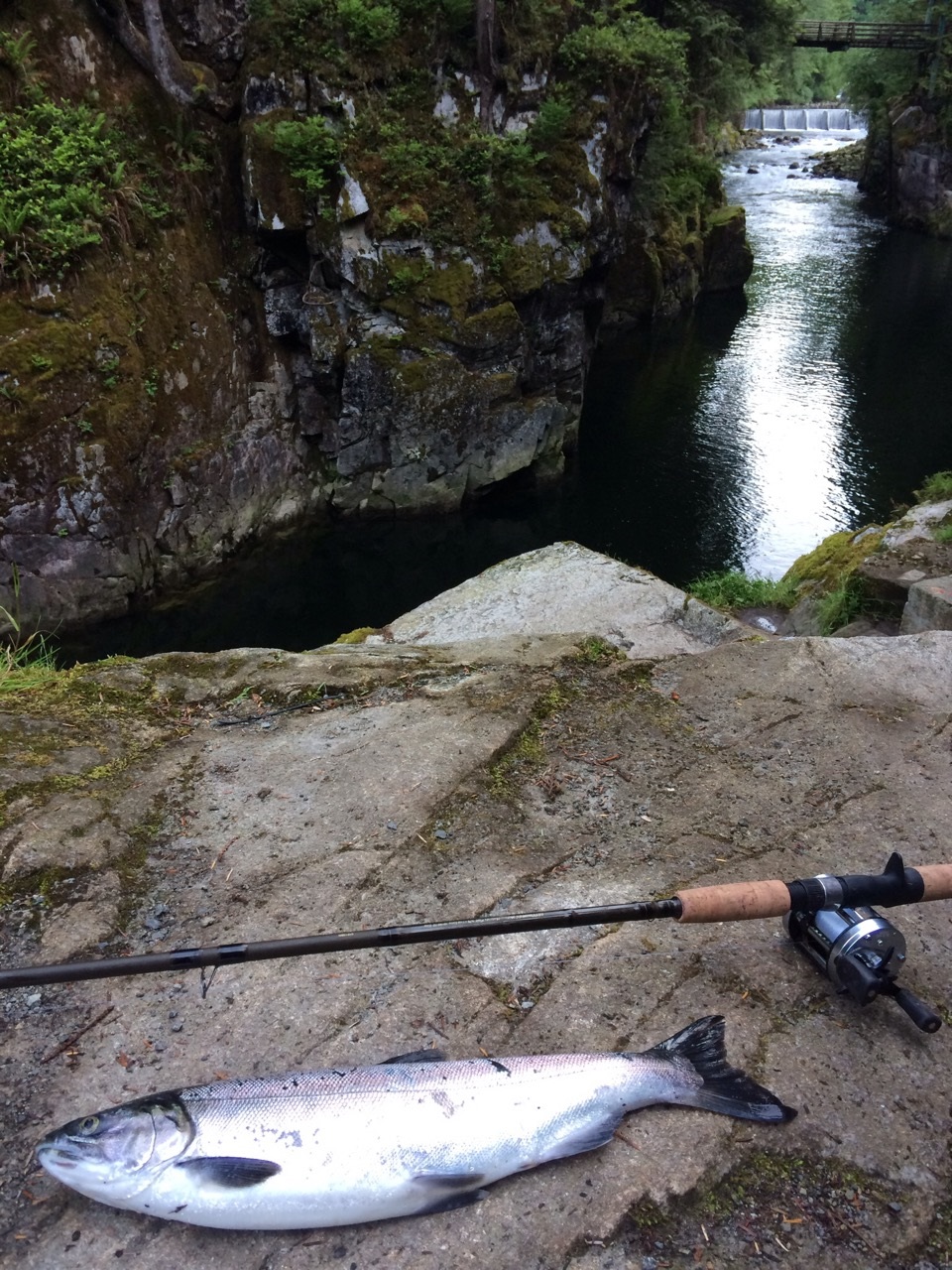 Recommended Coho Salmon Gear
Shakespeare Ugly Stik 7' Elite Spinning Rod, Two Piece Spinning Rod, 6-14lb Line Rating, Medium Rod Power, Fast Action, 1/4-5/8 oz. Lure Rating
Pflueger President XT Spinning Reel, Size 30 Fishing Reel, Right/Left Handle Position, Aluminum Spool, Front Drag System
Seaguar Invizx Fluorocarbon Fishing Line 200yd 10 LB
Seaguar Blue Label 100% Fluorocarbon Leader (DSF) 25yd 20lb, Clear
Blue Fox Classic Vibrax 03 Plated 1/4 (Gold/Gold, Size- 2.63)
Blue Fox 60-10-900IC Blue Fox Tri-Pack Contains 3 Each #1 Plain Super Vibrax, 42743
Shakespeare Ugly Stik 7' Elite Spinning Rod, Two Piece Spinning Rod, 6-14lb Line Rating, Medium Rod Power, Fast Action, 1/4-5/8 oz. Lure Rating
Pflueger President XT Spinning Reel, Size 30 Fishing Reel, Right/Left Handle Position, Aluminum Spool, Front Drag System
Seaguar Invizx Fluorocarbon Fishing Line 200yd 10 LB
Seaguar Blue Label 100% Fluorocarbon Leader (DSF) 25yd 20lb, Clear
Blue Fox Classic Vibrax 03 Plated 1/4 (Gold/Gold, Size- 2.63)
Blue Fox 60-10-900IC Blue Fox Tri-Pack Contains 3 Each #1 Plain Super Vibrax, 42743