Catching my first River Chinooks!
Up until this point I've caught Chinooks in salt water charters a number of times. This was a special trip as I caught my first large Chinook in the Chilliwack River. Up until this point I'd spent a lot of time researching online and reading about Chinook Salmon in the Chilliwack River but had not had a lot of opportunities to actually get out on the water. So when I finally did get the opportunity to get out on the river all the research and planning paid off.
It was shortly after sunrise in the upper section of the river where I caught my first river Chinook. As you can in the photo it wasn't a dime bright by any stretch of the imagination but to me she was a beaut! I caught her on procured roe. Look at my smile… that's the smile of an angler who's put a plan together and it actually working out. I love it when fishing preparation pairs up with results. It doesn't always work out this way, but when it does, it is so rewarding! I'm sure you anglers can appreciate that.
A few weeks later I had another chance to get back on the river (mid October) for a second outing, and was able to get into a Jack Chinook. The Jack was caught on a pink Bent Rod Jig under a float. Since that first success Fall season I've continue to return to that river and target these beasts of the river. In fact, if you want to jump ahead years later, here is a video my YouTube Channel of a Chinook trip.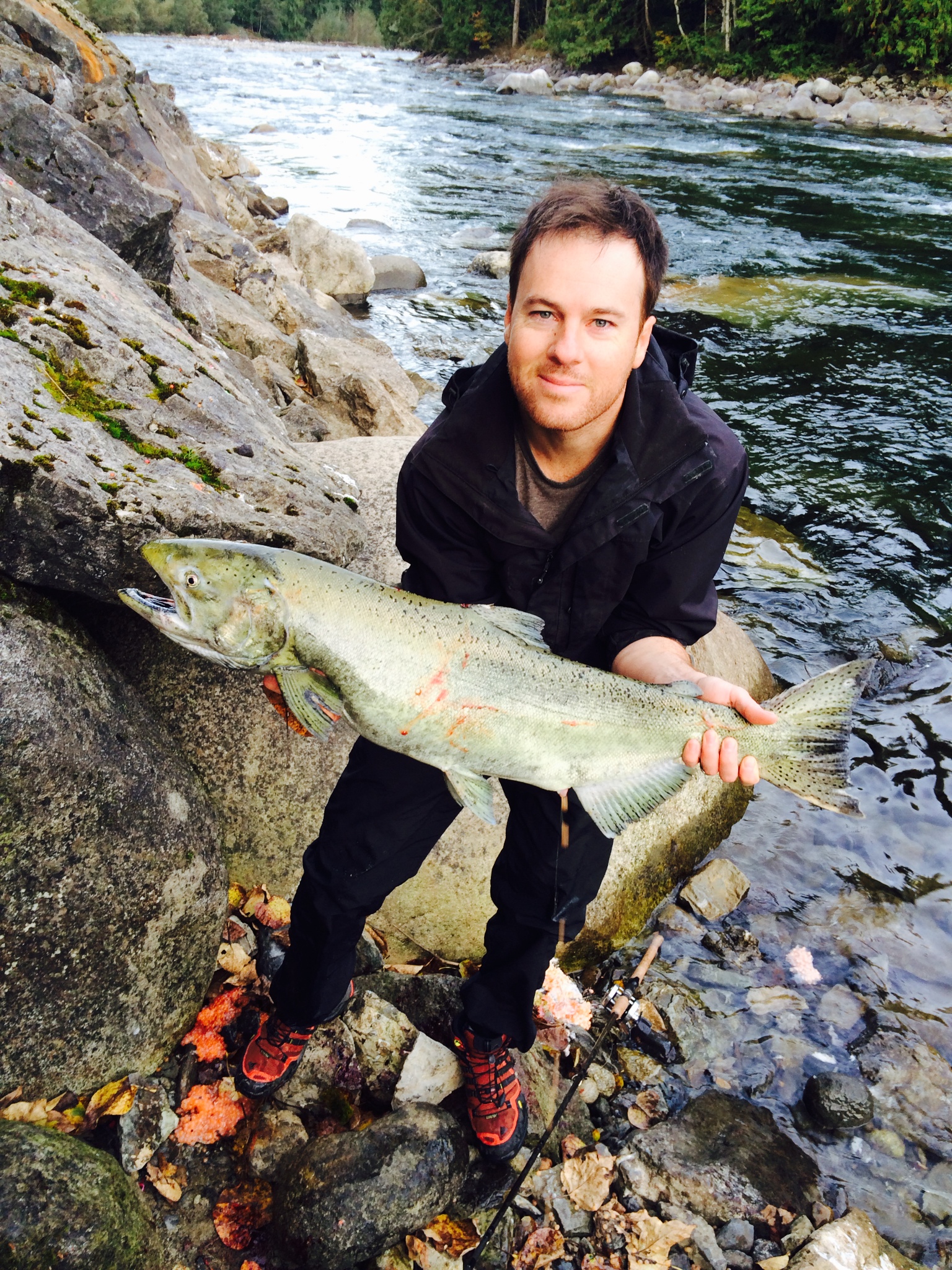 Gear Used
I was using my salmon drift rod/reel combo (10'6 Shimano Convergence rod & 6500 C3 Abu Garcia Bait Caster reel), paired up with 20 lb mainline and 15 lb leader line.
I drift fished procured roe that I picked up from Berry's Bait and Tackle Store. Big globs of pink procured roe.
For the Jack Chinook, I caught him drifting a Bent Rod Pink jig with no bait.
Weather Conditions on River
Water Conditions: Medium to Clear water conditions, the visibility was greater than 4 feet.
Temperature: It as a chilly Fall morning, with an air temperature around 5 degrees Celsius (although by the water it felt colder).