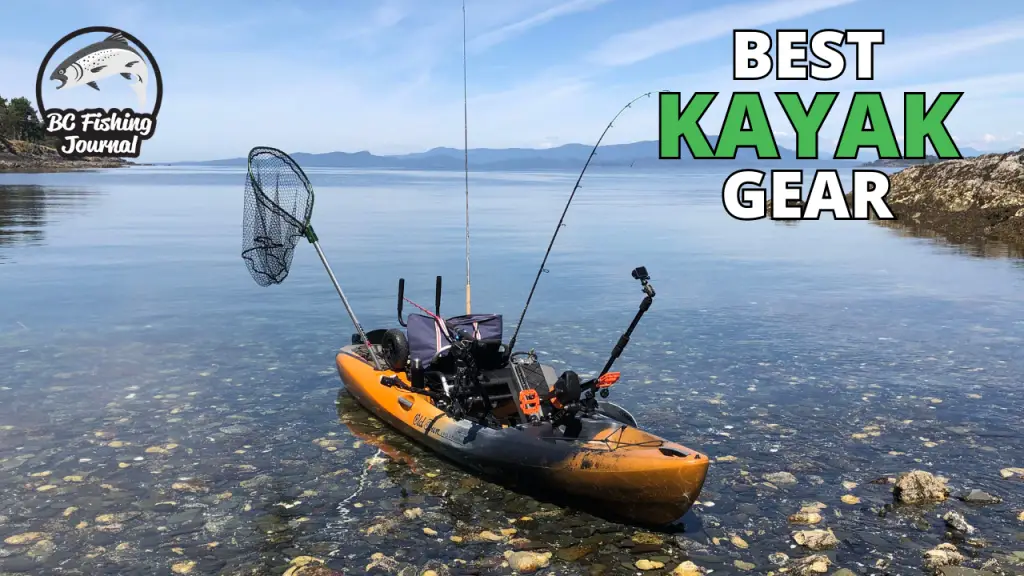 Best Kayak Gear? Pretty strong title eh, well this is not a Old Town vs. Hobie article. This article is more focused on the accessories of the kayak.
I run a Old Town Salty 120 PDL kayak and cover the mandatory and non-mandatory accessories for fishing in the ocean. This gear and setup may not be for everyone as all ocean fishing scenarios are not equal, but I'll provide all the details of what I've found works best for myself and why it works. Also on the bottom of this article, I've included some videos from my YouTube channel showing how I put this kayak gear to use in catching Salmon, Lingcod, Rockfish, Greenling and lots of other species here in the Pacific Northwest. 
Best Kayak Accessories
Wow, Kayak accessories can be a slippery slope! Don't worry, you don't need all these. I highly recommend you get out on your local water and slowly integrate some of these accessories into your arsenal based on what works for you. Don't go crazy and buy them all up front!
And again, these accessories on this table are not exhaustive of what I use on my kayak. In fact, I've swapped out a few of these for better styles which I'll outline in more detail below. As part of that, I'll also argue which accessories are MUST HAVES and optional.
Fish Finder Electronics
Electronics is one of the most important accessories on my kayak. This in parallel with my cell phone are the 2 most important accessories. The phone can act as a safety thing as well (if you have connection) and also you can run great fishing apps like Navionics to help you find the fishing locations and structure on your phone.
The Fish finder's best attribute is showing my exact depth. This is so important when I'm trolling or even searching for structure that will hold fish. I would feel blind without my electronics on my kayak.
Now I understand these electronics can be super expensive, but you don't need to spend thousands of dollars. On my kayak I use the entry level Garmin Fish Finder the Striker 4. It cost me $150 CAD and it works like a charm! It does more than what I need it to do.
Battery
With the fish finder, you'll need a battery to power it. I personally really like the Dakota Lithium 12V 10Ah battery, it's low weight super small and will power your electronics for your longest days on the water. On a kayak, size and weight is important so whatever battery you choose, I recommend it be small.
I store my battery in the waterproof compartment under my seat within the hull (see 1st & 2nd photos below). It's kept in place with a piece strong Velcro on the bottom of the battery. The velcro hasn't failed me yet, and it's a great way to add/remove the battery from the kayak while ensure it stays in place when on the water.
The wiring from the battery to the fish finder, I used a "Hobie Thru-Hull wiring kit". The thru-hull kits are a bit overpriced IMO but worth it as you don't want to risk getting water/moisture in the dry section of my kayak. This is the only drilling or hole I have in my kayak. See 3rd photo below.
Transducer Mount and Wiring
There are typically 2 ways you can go with the transducer; complicated or simple. Complicated usually means placing the transducer on the bottom of your kayak which also involves some drilling and wiring through your hull. The simpler approach is to use some sort of transducer arm that hangs over your kayak. My kayak comes with a transducer connector piece on the bottom of the kayak BUT I chose the simpler approach because I car top my kayak and it definitely gets a lot of contact with ground. So I didn't want to damage the transducer and didn't want to drill additional holes into the front of my kayak for wiring.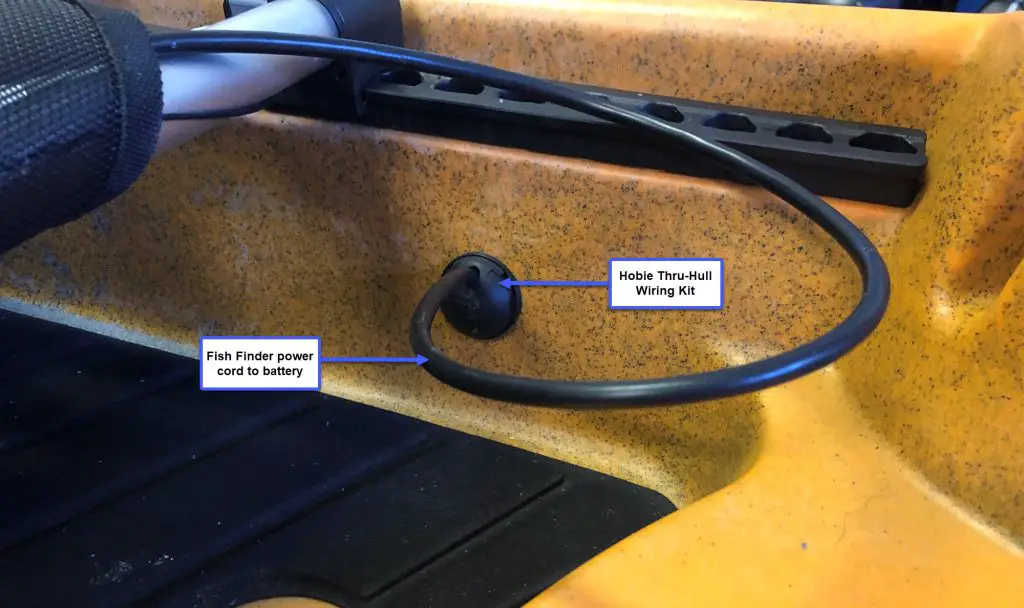 PFD or Lifejacket and other Safety Accessories
I think this goes without saying, but your PDF will be the most important piece of gear. And because of that, you should invest in a quality PFD or lifejacket that fits you correctly and is rated for your water. The cool thing is today they are making some really comfortable PFD's that are designed for Kayaker's and anglers spending multiple hours in seated position. Additionally, it has compartments or connectors to hold your pliers, whistle, VHF radio, knife, etc. So the lifejacket acts as more than a simple life preserver.
The PDF I use is a NRS Chinook PDF. As mentioned it has compartments for all the extra safety gear I need. It's got a space on the back that doesn't make sitting awkward or sweaty. The back is breathable so it's very comfortable to have on all day.
Whatever one you choose, definitely try it out for a few days and see how you like it when wearing for hours at a time. You really want something safe and comfortable. Here you'll likely have to spend anywhere from $100-$200 CAD.
Since we're on the topic of safety gear. These are not mandatory but I think they are worth mentioning. A whistle to get other boaters attention is an easy addition. They're cheap and easy to attach to your PFD. If your fishing further away from shore, I always carry a VHF Radio that enables me to communicate with the coast guard or neighboring boats if I'm getting swept away (or run into any mobility issues on the ocean).
Safety Knife
This tool is not only for cutting lines, bleeding fish but more so for safety purposes. If you ever find yourself or parts of your kayak that get tangled in braid or marine lines, a knife for swift action can be really important. I've heard horror stories of guys drowning because they've been caught up in awkward lines or strange situations. When you go diving a safety knife is mandatory, and it should be considered the same for kayakers.
Placement of the knife is subjective, but most anglers have it close to their chest for quick access. A lot of the PFD's will have a connector to store your safety knife. I know some guys also clip them around their ankle or leg.
Kayak Cart
This isn't mandatory, but if your doing a lot of car topping like myself and don't want to be dragging it along the shore a cart is key. This is especially true if you're getting the kayak to the water solo. There are some expensive carts out there, but I've found a middle range price point in the Pelican Kayak Cart. I've used it to carry my kayak up rocky beaches and through some pretty gnarly terrain.
If you do get a cart, get one that easily stores on your kayak when you're on the water. With the Old Town Salty it has drain holes in the back that also act as a cart holder as well. Most cart arms can be adjusted to align with the drain holes or perhaps even connectors on your gear boxes. I hope that makes sense, but if not have a closer look at my kayak in the water and you should be able to see 2 arms sticking out in the back, that's the cart.
Kayak Crate and Storage
The kayak crate is essentially your fishing tacklebox system on the back of your kayak. These are not mandatory but can be very helpful to be a single place to keep all your gear. I've seen so many different types of crate systems out there that are pretty expensive. An example of a higher end would be the Wilderness Systems Kayak Crate and the cheaper end would be a 13″x13″ milk crate with your own DIY setup. I've got a hybrid of these setups, as I use a 13″x13″ milk crate in the back with a soft Plano Kayak crate inside the milk crate. I've also screwed on a few PVC pipes onto my milk crate to provide additional rod holders, so I really like the flexibility and DIY milk crate approach.
Kayak storage is really subjective as it depends on the type of fishing you're doing. For me, I don't bring a ton but have some heavy weights (cannon balls and jigs) that I don't want rolling around so the milk crate system is important.
Kayak Paddle
I don't have a lot to recommend or offer on the paddles other than say make sure it's comfortable for you. I will say this though, a paddle is mandatory. Even if you have a pedal drive or electric motor that powers your kayak, you need this as a backup. This is especially important for Ocean kayakers, you'll always need a 2nd power source to ensure you don't get swept out. Typically each kayak will have some sort of clasp or holder for the paddle to be strapped to the kayak.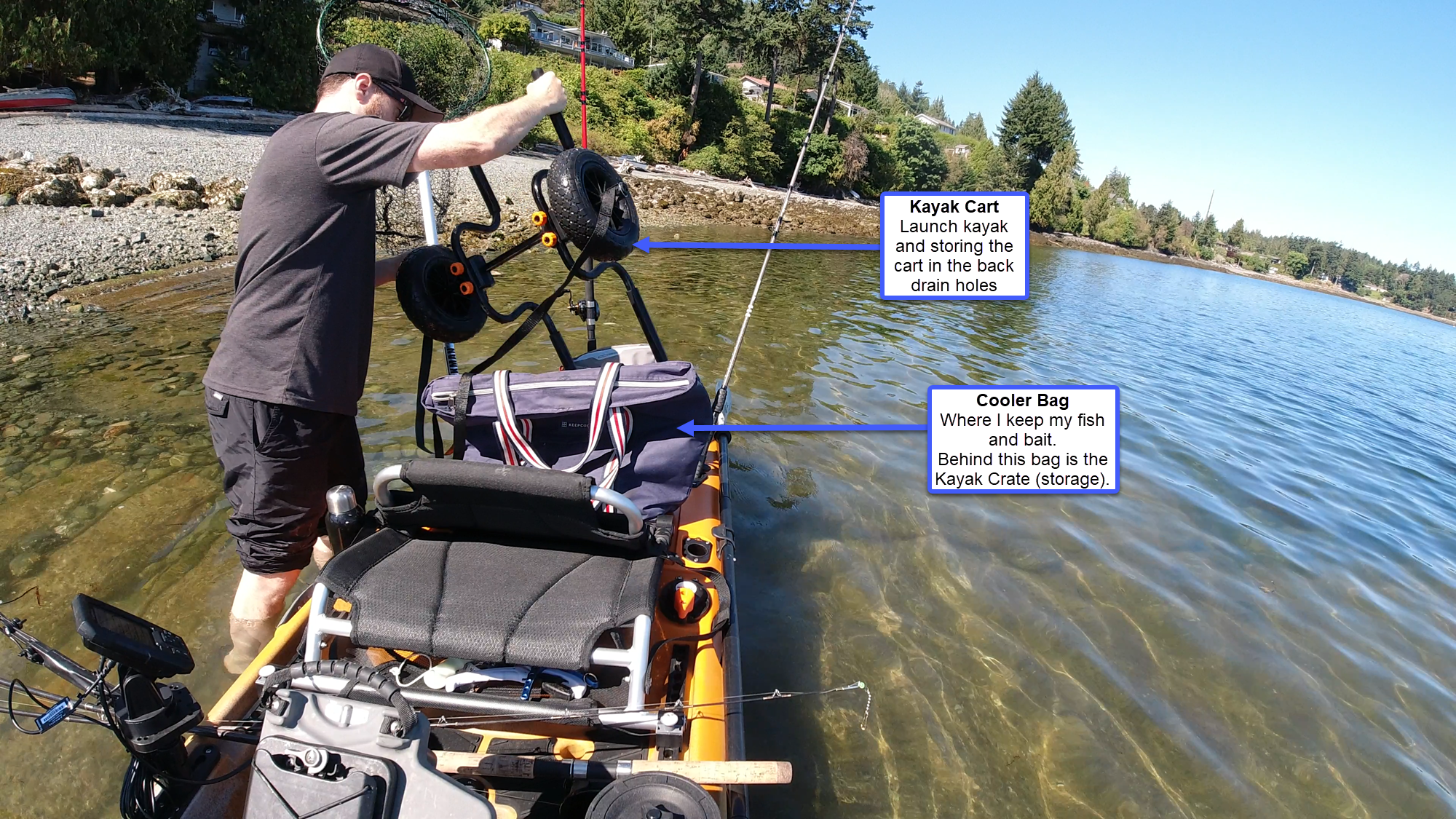 Kayak Track Accessories
These are accessories that are connected to the universal kayak track(s). Most of the higher end kayaks will have at least 2 tracks, one located on each side of the kayak within arms reach. There are a lot of great brands that offer their own track accessories (Scotty, Ram, Railblaza, YakAttack, etc). I personally use primarily Scotty, and I'm not here to argue one brand over the other but more on the type of accessories and why they're helpful.
Track Mounts
These are the foundational connectors that connect a kayak track to your accessory. If you're attaching a camera arm or transducer arm, these don't need a concrete solid mount. BUT if your connecting a downrigger or rod holder (and arm) you'll need a firm connection to your kayak. The best track mounts are ones that have two connection points to the track mount as it spreads out the torque on the mount. One great example is the Scotty 343 locking gunnel mount (see image below). I have 2 of these on my kayak (one on each side). The other mounts I have are for simpler accessories like my fish finder mount and camera arm.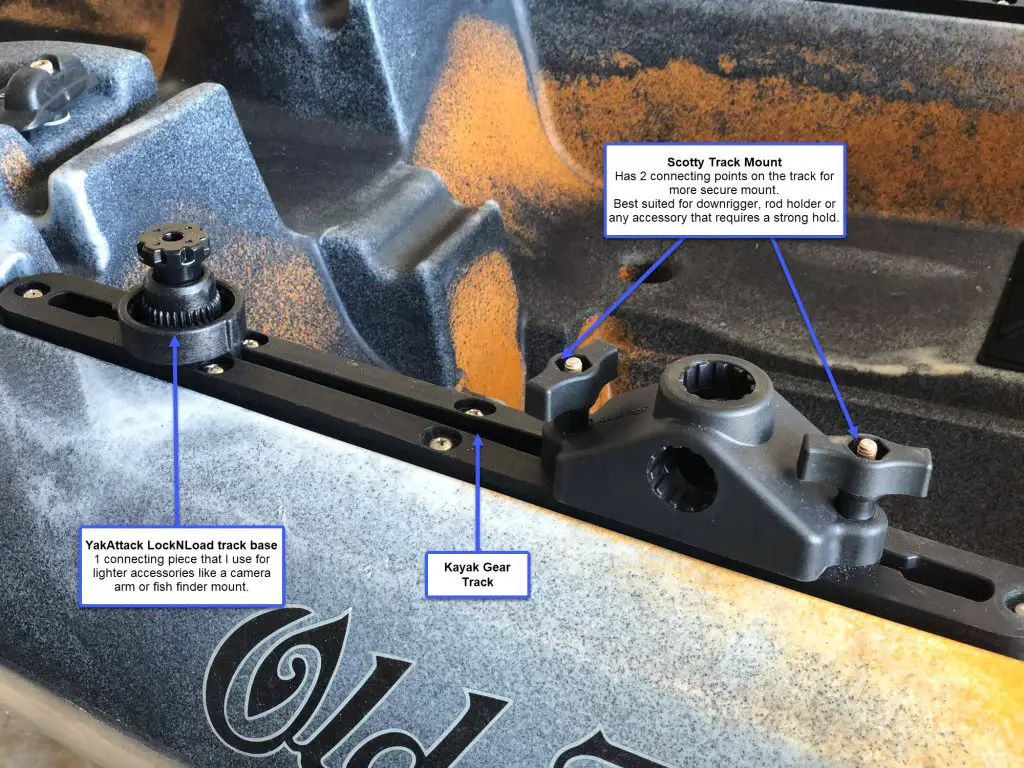 Fish Finder Mount
If you're running a fish finder you'll likely have it mounted on the kayak track. These mounts are specific to your fish finder size so you'll have to do some research to find out what mount will fit your finder. That said, there are some universal mounts that mount any brand and size of fish finder. Typically the universal mounts are super high end, so if your running an expensive fish finder I'd recommend finding a mount that's specific to the brand/sizing.
Rod Holders
Typically your kayak will have rod holders built directly into the kayak itself, but I also like to have a rod holder on an arm that extends up from the gear track (see "Scotty Arm Extender" in diagram up top). This puts the and feel at my chest level and I can point the rod in the direction I want (particularly for trolling).
There are a bunch of rod holders types available. I personally like the universal rod holders that fit all rod diameters. The one I use is the Scotty Universal Rod holder. If you're fishing lakes or smaller trout rods, you may want to downsize the rod holder and get the reversible rod holder. Reversible means you can change the rod holder for a spinning rod to a casting rod.
Camera Holder and Arm
Obviously this is not mandatory, but as I love to create YouTube videos and taking photos of my fishing trips I needed a good camera arm and holder. So on my kayak gear track I bought a higher end camera boom arm YakAttack PanFish Pro™ Camera Mount. You can see the arm sticking and camera sticking out the front on the top image of this article.
You don't need to have the camera boom/holder on the gear track as there are many options to connect a camera to a kayak. It really depends on the perspective you want. I just included this section as it's something I've found a lot joy in having on my trips.
See my camera perspective in action, check out my video included at the bottom of this article.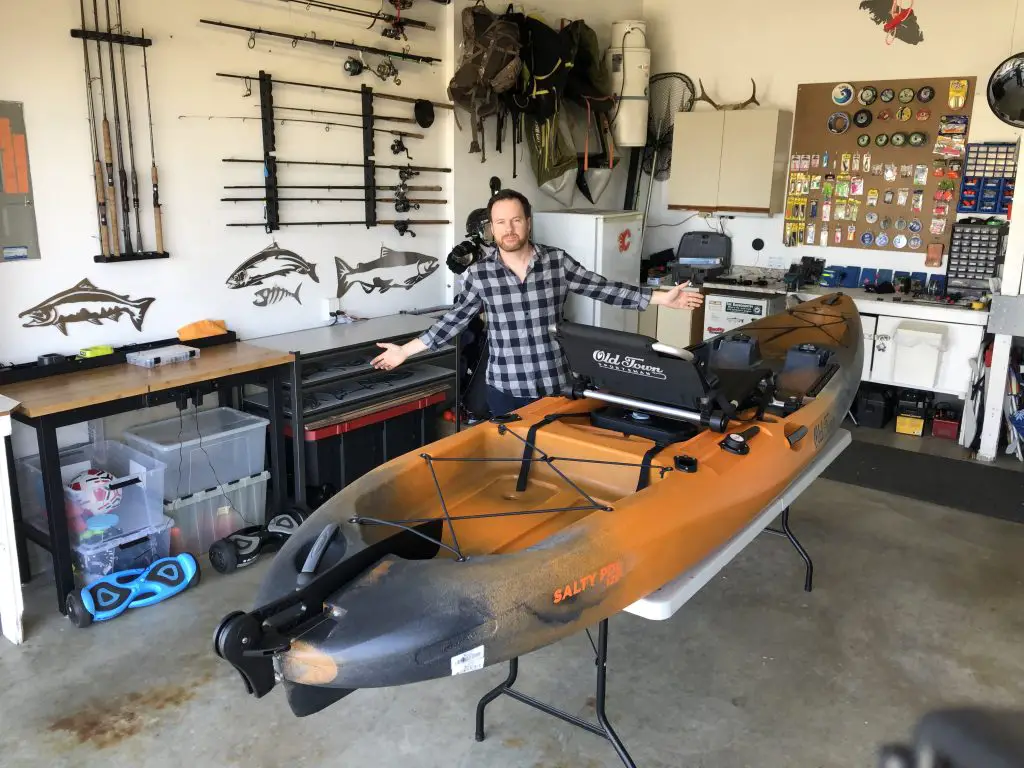 I missed a lot of accessories…
Kayak Transportation and Storage
I haven't covered all the kayak accessories in this article particularly around transportation, like roof racks, tie-down straps, or load assists, bungee cords, extra prop & hardware, etc. Kayak cleaning/maintenance and storage gear.
Kayak Fishing Gear
In this article I didn't include a ton of important Fishing Gear… Think of accessories like Pliers, Fish Bonker, Fish Lipper, Fish chains, Bumper Board (ruler), Fishing net, Downriggers and their accessories, gear lanyards, electric trolling motor additions, anchor systems, yadda yadda yadda. This article would be way too long for me to include all the fishing gear. Regardless I hope this article was helpful, if you have any questions feel free to email me at: [email protected]. Cheers! Jesse
My Video Setup & YouTube Video
I use a YakAttack camera boom and holder with a DJI Osmo camera to film my YouTube videos. Here is a video of me fishing for Salmon and bottom fish in the Pacific Northwest.
Recommended Accessories mentioned above
If you want to check out any of the accessories I use, here are some links to find them online.
Scotty 0343-BK Locking Gunnel Track Mount
Scotty 289 R-5 Universal Rod Holder - No Mount, Black
Scotty 141 Kayak/SUP Transducer Mounting Arm with Gear-Head Black, Medium
Scotty #429 Extended Gear Head Adapter , BLACK
Scotty 0343-BK Locking Gunnel Track Mount
Scotty 289 R-5 Universal Rod Holder - No Mount, Black
Scotty 141 Kayak/SUP Transducer Mounting Arm with Gear-Head Black, Medium
Scotty #429 Extended Gear Head Adapter , BLACK
Pelican Canoe Kayak and SUP Transport Cart Sport Deluxe Cart for Canoe, Kayak & SUP - Adjustable Width - 2 Height Positions - Airless Tires - Heavy Dutty and Resistant - Easy to Assemble - PS1984-00
Dakota Lithium - Power Box with 12V 10Ah LiFePO4 Battery Included - 11 Year USA Warranty 2000+ Deep Cycle Battery Box with DC and USB Ports - Water/Shock Resistant - Camping, Off Grid, Marine, Kayak
Garmin 010-01550-00 Striker 4 with Transducer, 3.5" GPS Fishfinder with Chirp
NRS Chinook Fishing Kayak Lifejacket (PFD)-Charcoal-L/XL
Pelican Canoe Kayak and SUP Transport Cart Sport Deluxe Cart for Canoe, Kayak & SUP - Adjustable Width - 2 Height Positions - Airless Tires - Heavy Dutty and Resistant - Easy to Assemble - PS1984-00
Dakota Lithium - Power Box with 12V 10Ah LiFePO4 Battery Included - 11 Year USA Warranty 2000+ Deep Cycle Battery Box with DC and USB Ports - Water/Shock Resistant - Camping, Off Grid, Marine, Kayak
Garmin 010-01550-00 Striker 4 with Transducer, 3.5" GPS Fishfinder with Chirp
NRS Chinook Fishing Kayak Lifejacket (PFD)-Charcoal-L/XL