Best Fishing Pliers for the Money | Tackle Guide
You may have heard that pliers are one of the most important tools for a fisherman. I completely agree as I'm constantly using my pliers when fishing. However, not all fishing pliers are created equal. Different water types and species require different functions and quality. In this article I'll outline the different uses for fishing pliers and my recommendations for all these applications.
Components of Fishing Pliers
In the following sections below I've defined the qualities to look at when choosing a monofilament line. It's important to note that depending on the type of fishing you're doing some of these qualities may be more important than others. For example, jigging in deeper water you'll want a line with low stretch for the best sensitivity and hook sets. Whereas if you're throwing a topwater or crankbait you may want a line with high stretch to provide a little give/delay in the hookset.
Line Cutters (a must for Braid)
This is what I use my pliers for the most, cutting mainlines, leaders and tag ends. You'll want to have line cutters that effective and easily cut braided line and any other heavier duty line or wire effectively. You don't want different cutters for different types of fishing line (it's frustrating).
The line cutter material should be one of the higher end and hard (high Rockwell scale) materials on the pliers. This is to ensure the cutter blades stay sharp and don't rust. For example, materials like high carbon stainless steel or tungsten.
The location of the line cutters can be either on top of the jaws or the lower end of the jaws (see components diagram, includes both placements). For me I prefer the cutters on the top, but may lose a little leverage with placement. It's completely a preference thing.
Uses for Fishing Pliers
A good set of fishing pliers are a "jack of all trades", so this list is certainly not exhaustive, but here are the more common uses:
Removing hooks from the fish's mouth or body (maybe yourself, yikes!)
Cutting fishing lines
Removing barbs from hooks (crimping the barb)
Cutting, bending or replacing hooks
Gripping, cutting, opening, closing and working with terminal tackle (split rings, swivels, hollow core lead weights, split shots, etc)
Cutting bait
Holding fish (only recommend this for fish you're retaining, and do NOT recommend this usage for proper catch/release practices)
Reel and rod adjustments
And a million more…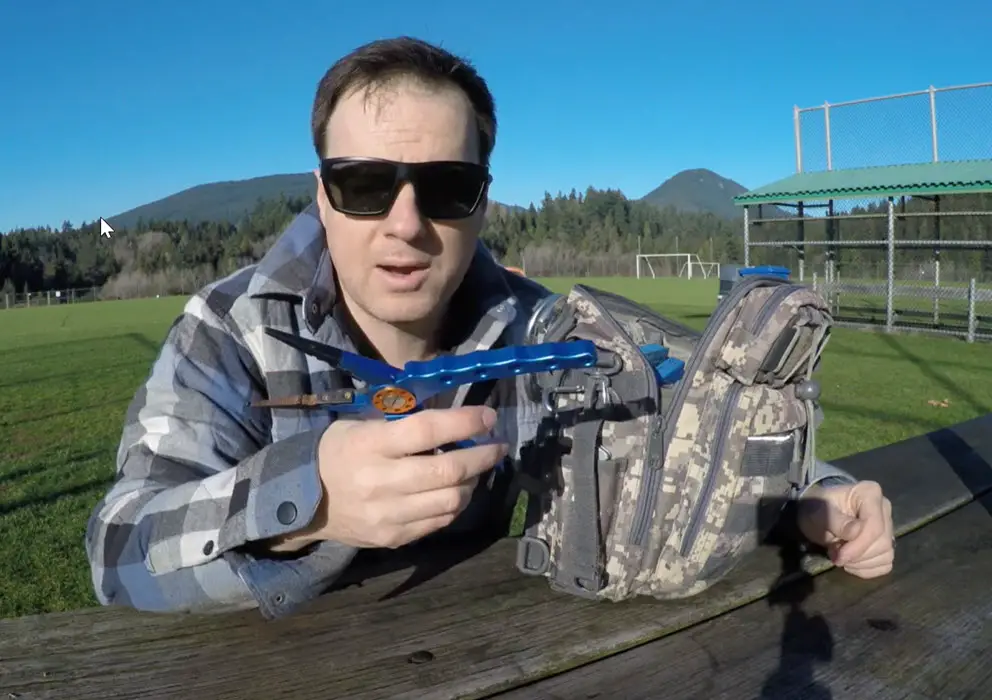 Jaws / Nose
Fishing pliers are unique to the typical needle noose or standard pliers, as they have dynamic jaws offering different grip and crimping sizes. With both shallow and deep "teeth" on the jaws they provide the right fit for a variety of hooks, wires, rings, etc.
Jaws too like the line cutters typically have a higher end material than the handles. I like to think of the jaws as the "workhorse" of the pliers, as they take on the most torque and tougher functions of the tool. That said, the jaws should be made of a hard material (high Rockwell scale rating) that withstands rust, for example a high end stainless steel.
Handles / Grips
Here you want something comfortable and lightweight, this component makes up a large quantity of the pliers. As mentioned above most manufacturers use some type of high end aluminum to keep it as lightweight and strong as possible.
Additionally, some pliers won't have the molded finger grips but instead a rubber or plastic covering for grip. It really comes down to personal preference here, for me I prefer pliers without the extra rubber/plastic on the handles as it usually hardens and doesn't offer much grip over time.
Split Rings
The split rings section of your pliers is the nose of the jaws section. It almost looks like the kype of a Coho/Silver Salmon. This addition is not mandatory but is certainly a nice addition to your pliers, especially if you often work with smaller terminal tackle components. An example would be working with split rings to change out hooks or making your own spinners or blades, these are frustrating/tough to work with only your fingers.
Lanyards and Sheath
Lanyards are the nylon rope, rubber rope, or wire that connects the pliers to you. There are dozens of ways in which lanyards can be attached to your clothes, waders or vest. A sheath is a holder for the pliers like an hand gun holster, these are typically connected to your belt at your waist.
Both of these are optional, however, for me the lanyard is incredibly helpful as I connect it to my waders pockets. For me, I'm often fishing in the river, so my tackle and tools need to be easy to grab, so I like to have my pliers available around my waist area.
Additionally, lanyards are a must for those who have higher end (aka. More expensive) fishing pliers. This is especially true if you're often fishing in a boat where pliers can easily be dropped into the water. There are so many fishing scenarios to articulate the usefulness of lanyards, but again it's optional depending on how you're using them.
What Length should you get?
The average fishing pliers is around 7" in length. The full length is broken down into 2 sections: the handle and the nose (jaws). If you're fishing for fish species with long (deep) mouths with sharp teeth (e.g. Barracuda, Northern Pike) you'll need a longer nose section. Typically, saltwater anglers should have longer pliers as fish sizes (and mouths) are larger. The big idea is to ensure the pliers nose/jaws are long enough to ensure they are in the mouth and never your fingers!
Storage and Rust Management Tips for Fishing Pliers
Stainless steel will rust when left exposed to elements or without proper care. Here are few tips to avoid this and keep your pliers functioning at their best:
After the first time you and use pliers give them a quick wipe/clean with light oil
Store pliers in a dry environment
After saltwater usage be sure to rinse and wipe off with fresh water, then dry. Also, if you're continually using in saltwater conditions would recommend more frequent wipe downs with light oil.
If corrosion/rust has started to form, use a steel brush to wipe off. For any remaining smaller rust sections use a solvent (e.g. WD-40).
The Top Rated Fishing Pliers | Tackle Recommendation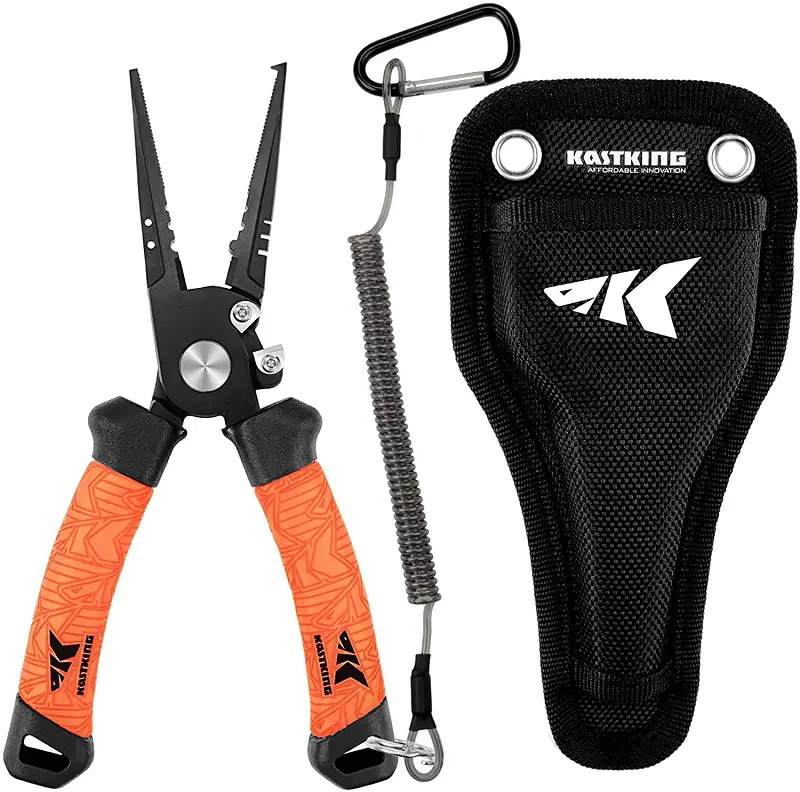 KastKing has continued to put out great quality fishing gear at an affordable price. And that's why I like them! These pliers are one of the best rated pliers in this price point and come in 2 sizes: 7.5″ and 8.5″. 
The pliers are made of stainless steel metal and Teflon coating so they are protected in saltwater scenarios. There is carbide cutters for those quick line cuts (including braid). Like most fishing pliers these days, they have the multi-functioning jaws to work with hooks, o-rings, and anything else small you need to grip. Big fan of these pliers!  
Pros
Carbide side cutters
Very sharp and strong cutters (all lines and even wire)
Saltwater approved
Cons
Lower quality case & carabiner
Piscifun fishing pliers has two lengths to choose from and is one of the lightest pliers out there. The light weight is because of the anti-corrosion aluminum handles. They have a very sharp tungsten cutter that easily goes through all types of fishing line including braid. These cutters are also replaceable if they're ever damaged or dull over time. Piscifun comes with a sheath and lanyard for quick access. All in all, these are very affordable pliers for the quality of the materials used in these pliers.
Pros
Replaceable tungsten cutters
Spring loaded handles
Titanium-coated steel jaws
Multiple size options
Saltwater approved
Cons
Lower quality sheath & carbine
First off, these are NOT pliers but small and incredibly strong line cutters. I use fishing pliers most often for cutting line so I had to include this product on this list.
I first saw these Boomerang snips on a Northwest fishing show, all the guides were using them and they looked very helpful. The snips are a small 3" tool with a 36" retractable tether. The tiny blade is incredibly efficient at cutting all types of line (mono, fluoro and braid), I'd say it's one of the best braid cutters I've used.
They have 5 different models (Original, LED, Big, Long & Super) that have different options, things like longer blade sizes, a LED light, etc). I'm often fishing in low light conditions (before first light) so any of the U/V LED models are ideal for me.
I highly recommend this tool for any angler, even as an addition to fishing pliers.
Pros
Small and light in size
Retractable tether for quick access
U/V LED light options
Great line cutters for all types of line
Saltwater approved
Cons
Doesn't have
Ensure proper storage and management as they have had reviews of rusting quickly
Booms has put out a quality set of fishing pliers at affordable price point. The grips are made from NC-machined aluminum for lightweight and corrosion resistance. The spring loaded handles enable you to open and close with one hand. The steel wire lanyard is very strong and can hold more weight than any other pliers lanyards on this list. Lastly, I really like how Booms stands behind their product in guaranteeing any broken component to be replaced.
Pros
Spring loaded handles
Strong steel wire coil lanyard
Great warrantee as manufacturer fully guarantee broken piece replacement
Saltwater approved
Cons
They don't lock
Larger handles, so if you have smaller hands may not be as easy to hold
The Entsport pliers are one of the longer pliers (longer than 7"). The handles are corrosion resistant aluminum, stainless steel jaws for strength and tungsten steel blade. The handles are spring loaded so are always in open position.
This is a quality tool with a low quality attachment, referring to the carabiner and case are a strange addition as feel cheaper. But this is a minor issue and can be easily solved with another higher quality carabiner.
Pros
Long pliers length
Spring loaded handles
Saltwater approved
Cons
Lower quality carabiner connecting pliers to sheath
No closed locking option
Higher End Fishing Pliers
As mentioned earlier, there are higher end pliers that are designed for a specific angler. This angler would use them very often, year round and typically in saltwater applications, like a fishing guide. As a fishing guide, you're using tackle and tools exponentially more as you're accommodating multiple anglers each trip, it's these types of applications where investing in a higher end set of fishing pliers is mandatory.
To be more specific, a guide who is often catching and releasing larger fish like marlin's, sharks, Goliath groupers, etc will require a higher end set of fishing pliers to continually pull those larger hooks often. An appropriate set of fishing pliers is not only important for the safety of the anglers but also for the proper and careful release of the fish as well.
If you're looking for these types of higher end pliers, here are some top quality fishing pliers.
Conclusion
For me my fishing pliers are the most useful and used tool on the river, ocean or lake and so I own a number of them. For the best "bang for your buck" set of pliers, I'd recommend the KastKing Speed Demon Pliers these are well priced and include all the best features in fishing pliers. 
As already stated in the review above, I'm a big fan of the functionality of the Boomerang SNIP's. The multiple models and LED light options have made this little line clipper a very useful tool for me. That said, these are not an actual set of pliers as they're strictly for line cutting so keep that in mind when you're making your decisions.
I hope this was helpful, let me know if you have any questions about fishing pliers. Check out my contact us page or leave a comment at the bottom of the page. Tight Lines! Jesse
My name is Jesse, I've been obsessed about fishing since I was a toddler trying to catch fish with my minnow net in any type of water. Today I have a passion to promote fishing in an educational, fun and respectful format.