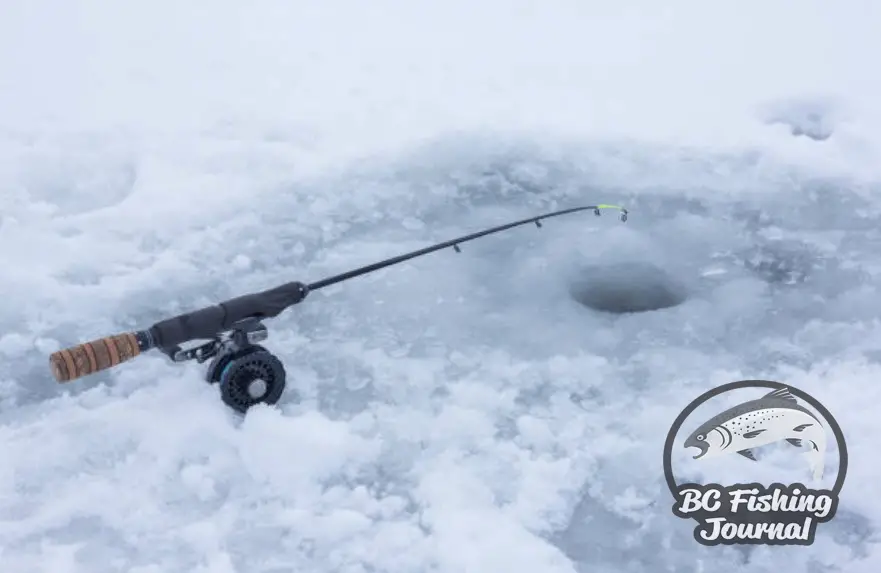 Best Ice Fishing Rods and Tip Ups
There are so many types of ice fishing rods and ice trap mechanisms out there, it can sometimes be a overwhelming to on where to start.
Well that's what this article is all about as I'm looking to clear up some of the confusion on the types of rods, lengths, tip ups and more. I'm also looking at questions to consider when buying an ice rod like what length should I get? Can I use my open water rod? Or what rod is best for specific fish species? And many more!
I've also included a section on Tip Ups (near the bottom) where I outline the different types of tip ups and how they're great gear addition in order to be fishing multiple holes at once. 
Lastly, I'll provide my top recommendations on both ice fishing rods and tips ups and why I like them. I hope it helps!
Ice Fishing Rod Technology has Improved
Ice rods technology has greatly improved over the past 5 years. A part of this driver is the popularity and interest in the sport so manufacturers have started to develop these fast action tips paired with some serious backbone rods. These rods now mimic an open water rod weight and action (but of course a fraction of the size)!
What Rod Length should I get?
Ice rods lengths typically span from 18" to 48". The most common is around 24" to 30" long. So why do we need a shorter ice rod vs. my open rod? Here are some important reasons to have an ice rod:
You can't properly fish over the hole (see down) when fighting the fish

Longer rods won't fit or fish well when you're in a fishing shelter/hut

Longer rods don't have the lighter sensitivity required for lethargic winter fish bites (fish are much less active and aggressive in the winter)
You should pick a rod length based on the size of the fish you're targeting (e.g. shorter rod for panfish, longer for pike, lakers, etc). If you're looking to target panfish and larger sports fish with the same rod, I'd recommend a length of 30" but ensuring you have a medium or medium-heavy action.
I also like to align rod length with the size of the lures/jigs I'm using. A simple way to think of it, the smaller the lure/bait the smaller the rod and vice versa. For example, fishing micro-jigs on a shorter small palm rod is much more effective than a longer (heavier) rod as you won't have the same sensitivity in the longer rod.
Lastly, a big part of the rod length decision is the "fun factor"! Here's an example to clarify, imagine using a long 40" medium-heavy rod fishing for Crappies or Perch, there won't be much fight in the fish. You'd be able to "horse" the fish in very easily. Instead I'd prefer a 18" to 24" rod with an ultra-light weight. It may sound silly, but the fight is a very important part of the ice fishing experience for me.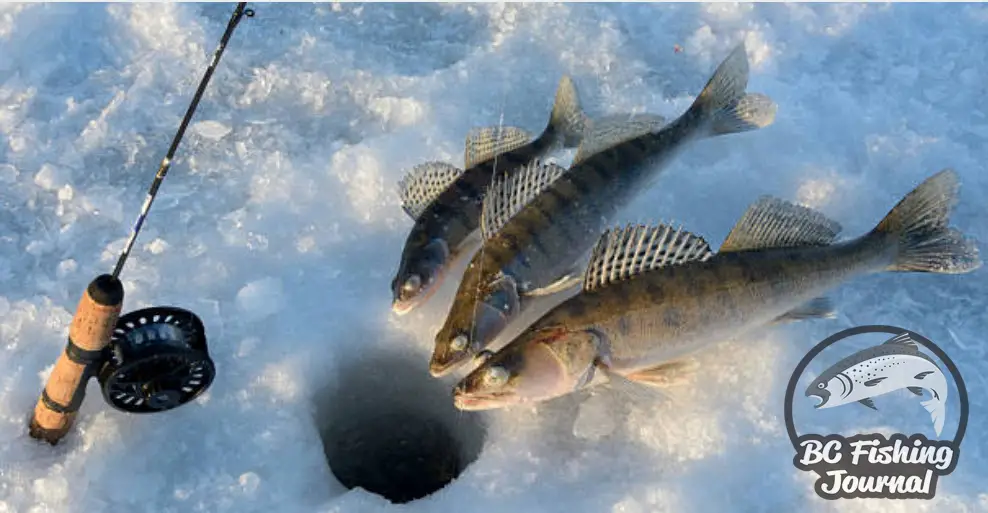 What Weight or Power of Rod should I have?
The weight of an ice rod is essentially the strength or backbone of the rod. The heavier the rating the stronger the rod is. Additionally, the rod weight often has a correlation with the rod diameter. Meaning, the heavier the rating the wider the diameter along the lower section (blanks connected to the handle) of the rod.
Common ice rods weights are:
Ultra-Light

Medium-Light

Medium

Medium-Heavy
The most common weight is the medium action as it typically suits most species and ice fishing applications. If you're new to ice fishing and not sure what weight to get, I'd highly recommend you start with a medium rod. Again, with the technology with fast action tips available on most of the new rods and a medium power rating you'll be good to go!
Ice Fishing Rod Guides
If you're ice fishing outside, NOT within a shelter or hut, I'd recommend using a rod with larger rod guides. These larger guides are better suited for outdoor exposure as they won't freeze up as easily. Less ice build up on your guides will reduce the ice fishing line "stickiness", meaning you're not losing line sensitivity and moves smoothly off/on the fishing reel.
Seasoned Ice Anglers often have Multiple Rods
Most seasoned ice anglers have at least 2-3 rods. In my experience, it's not uncommon to see a 4-gallon pail full of small ice rods and tip-ups. This is typical in ice fishing as anglers are often fishing multiple holes at once (be sure to check your regulations for what you're allowed). And when you're fishing in extremely cold temperatures crap happens and it's not uncommon to break/damage rods, so backups are mandatory (especially on remote fishing trips). Lastly, these rods are small and easy to store/transport along with you.
Best Ice Fishing Rods – Tackle Recommendations
The St. Croix have 3 rod lengths: 27", 30" & 36" and in 3 weights: Medium, Medium-Light & Medium-Heavy which is great in covering most jigging through the ice. These rods are purposefully designed for fishing any micro to large jigs or spoons. The solid carbon blanks offer great control and sensitivity with the even the smallest lines and micro lures.
The flexible tip of the rod has a red color which is a nice addition as it highlights any of the smallest rod movements. This is really helpful in detecting the most subtle bites from those lethargic winter fish or panfish.
Lastly, St. Croix produces reliable sticks! These ice rods produce a great "whippy" bend and backbone. These features provide a great rod to managing most ice fishing species you'll encounter. I'm a big fan!
Pros
Designed specifically for jigging

Incredible sensitivity with low profile guides along the entire rod

Highly flexible and visible red tip for detecting subtle bites

Comfortable carbon handles and grip

St. Croix rod strength is always excellent
Cons
Higher cost relative to other ice rods (but ice rods are well priced vs. casting rods)
One of my favorite things about the Fenwick Aetos series is the range of ice rod options they have in length, weight, and action. They have 4 different lengths (between 18" to 30") and weight from ultra-light to medium-heavy. This diversity in length, weight and action is much like what you find in open water rods.
The broad rod options will work great for almost all ice fishing species and applications. If you're fishing medium to larger fish like Northern Pike, big Lake Trout, Burbots, etc these longer heavier action ice rods are fantastic.
There are two tips fast and extra fast to increase hook sets and give that high sensitivity. It has the Fuji Skeleton reel seat which provides a good handle grip as well as the firm reel connection to the rod.
Pros
Many rod options: length, weight & action

Great handle grip (dry or wet)

Diverse options for all ice fish species
Here is the heavy hitter of ice rods in this tackle guide list. It contains many of the same features as the Aetos, my favorite being the rod options around length, weight/power and action (lengths between 25" to 42" and ultra-light to medium-heavy power ratings). With so many options this rod mimics an open water rod, it's almost like a mini open water rod (if that's even a thing).
Similar to Aetos it has the comfortable grip handle in both wet and dry conditions. Additionally, it has the reel seat to connect your favorite small spinning reel versus taping up a reel to the handle.
Pros
Multiple rod lengths

Multiple rod weights/strengths & actions

Comfortable handle grip

Strong rods for all fish sizes (best for medium to larger fish)
Cons
Less sensitivity for smaller fish species
These are rods come in a medium & medium-light action perfect for the panfish to medium sized fish. Even with the lighter action these rods have some backbone and offer a solid feel with solid cork handle. The entire rod is very lightweight as it's made of graphite.
The price point in relation to rod quality is quite good. If you're starting out in ice fishing and on a tighter budget this is a great option. Additionally, it could be a fantastic secondary (or backup) rod for your buddies or kids.
Pros
Strong backbone

Great price to quality ice rod
Cons
No heavier action options (e.g. medium-heavy)
What is an Ice Fishing Tip Up?
An tip-up is a mechanical fish trap that suspends the line and bait (usually a minnow on a hook) below the ice. The tip-up acts as a trap in that when the fish bites there is mechanical trigger that raises a flag or indicator. The biggest benefit of a tip-up is it allows you to fish a hole without attending it. Meaning you can be fishing multiple holes at once!
What are the Types of Tip Ups?
Similar to ice fishing rods, tip ups technology has changed quite a bit in the past few years. Here are the most common types in the table below.
Type
Quick Description
Pros
Classic Hardwood Tip-up
Basic old school tip-up with the stable vertical footing with a basic spool for the line and crank to reel in the fish.
- Cheap and light-weight
- The approach is so basic you can make yourself
Round base (pro-thermal) Tip-up
These look like round manholes covering the ice holes. They typically are made with insulating materials to reduce freezing components.
- Setup is not exposed to wind/air so prevents freezing components
- Hole is covered so no light to spook the fish
- Small round shape so easy to transport and carry
Automated Jigging Tip-up
These typically look like the standard classic tip-ups but with the electrical component that provides a continual jigging action to your line and bait. It essentially mimics the up/down jigging action you'd apply but instead powered by some batteries!
- Provides a jigging action to the bait you're using
Windlass Tip-up
This is V-shaped tip-up frame, that works the same way as the automated jigging tip-up (see above), except the jigging action is not powered by a battery but instead a paddle that's moved by the wind. The paddle moves with even the slightest amount of wind.
- Sporadic jigging action given to the bait
- No batteries or electrical components needed
Dead stick (a Rod Tip-up)
This is not a standard tip-up as it's more of a rod holder. This holds the rod stable over the hole so not to be sitting on the ice.
- Incredibly basic and should be a a mandatory backup
- Keeps your rod & reel off the ice so it doesn't freeze
How an Automated Jigging Tip-up Works
Here is a quick Youtube video showing how the automated tip up provides a jigging action on the bait.
Additional Ice Fishing Tackle
Conclusion
My favorite ice fishing rod is the St. Croix Avid Jigging Series rod. St. Croix are renowned for making great rods, and I've always been a fan. The fight experience that these rods offer for any sized fish is incredible and the dependable quality make this an easy favorite for me.
Do you have a favorite ice rod or tip up that isn't mentioned on this post? Let me know in the comments below, or on contact us page. Tight Lines! Jesse
My name is Jesse, I've been obsessed about fishing since I was a toddler trying to catch fish with my minnow net in any type of water. Today I have a passion to promote fishing in an educational, fun and respectful format.