5 Best Ultralight Spinning Reels
I think you'll agree that there is an endless list (dare I say Ocean depth) of options for saltwater spinning reels out there. With so many, what are the best salt spinning reels for the money? Whether buying your first saltwater spinning reel or looking to expand your tackle inventory with a better quality reel this article outlines the important features to look when buying a saltwater reel. I'll also cover some helpful tips on how to properly clean your reels to ensure they perform and last much longer and lastly provide reviews of the top 5 saltwater spinning reels for the money.
Top 5 Ultralight Spinning Reels
What Is An Ultralight Spinning Reel?
As the name implies, an ultralight spinning reel is a smaller sized spinning reel. Ultralight spinning reels are not a type of reel itself but are the smallest model/size of a spinning reel. Typically, ultralight reels are within the sizing of 1000, 1500, 2000 & 2500 (or 10 – 25). These numbers are common model numbers that are given to represent the size of the spinning reel. The smaller the model number the smaller the reel, an average sized spinning reel model is likely between 2500 to 3500 sizes (in freshwater fishing). The model sizes can be get to be giant 6000, 8000+, etc for saltwater spinning reels… you get the point.
Benefits of an Ultralight Spinning Reel
The main advantage of a ultralight reel is the smaller fishing gear options you have in the lighter terminal gear. Basically it allows you to fish tiny gear. As the ultralight gear allows the lightest (and most invisible) fishing lines and for the smallest hooks and baits/lures. And smaller gear is important for these general areas:
Targeting smaller fish species (e.g panfish like Crappie, Bluegill, etc)
Finicky or spooked fish, are less likely to bite larger presentations
Ultra clear water conditions require smaller baits for some species like Trout. Clearer water presentations allow the fish to see everything so typically you'll want to throw smaller presentations/lures (this isn't a hard fast rule, but is a good practice).
Most importantly, having a frickin' blast catching smaller fish on lighter gear makes the fish feel like giants!
One other great benefit of ultralight gear is the weight. Who hasn't had some wrist stiffness, or even pain, after a long day or weekend of fishing? You'll be able to fish an ultralight setup all day long with no problems. They're also great for kids and getting them into fishing and being able to actually get a sense of the fight even from smaller fish species.
The biggest limitation of these ultralight reels is the lighter line they are restricted to. Ultralight lines are typically spooled up with 2#, 4# or 6# line and won't function with anything larger than 8# (recommended fishing line # specifications will be written on the reel). Therefore, if you hook into a giant when fishing lighter gear you have to be much more careful in how you play the fish.
If you want more info on How To Choose An Ultralight Spinning Reel, check out the bottom of this post.
Top 5 Ultralight Spinning Reels
So, now you know what to look for in an ultralight spinning reel. Now do you want to see which ones we like? Here are our top five recommended reels out today.
Here is another light one, at 6.2 ounces. Due to its short crank handle, the 5.2:1 gear ratio only pulls 20.2" of line onto the spool every crank. I like that kind of retrieval rate for fishing in winter and early spring, when the sunfish and small perch are a bit sluggish. It's also good for slowly bouncing jigs off of a lakebed to get those bigger bluegills that like to hang out near the bottom. This reel size works best with a 2 to 6-pound test line. The small spool will hold only 80 yards of 6-pound mono, but it'll handle 200 yards of 2-pound test with no problem. Its six pounds of drag is all you'll need. One outstanding feature of this reel is the bearing count. There are seven of them. That makes for a really smooth retrieve. We didn't have reels like this when I was a kid, fishing for bream at the millpond by my house.
Pros
Smooth cranking
Light
Sweet value
Less tangles and reduced line twist
Cons
There have been various durability issues, particularly with the gear system
Penn's Fierce Live Liner line's notable feature is the switch that allows live bait to easily take line. This premium line of reels has size offerings from 1000 to 8000. The ultralights are 1000, 2000, 2500 and 3000. They are all well built, with full metal construction and aluminum bail. They have five bearings, four balls and a roller, for super smooth cranking. The best representative of the line is the 2500. With a 6.5:1 gear ratio, you'll pull 33 inches of line with each crank of the handle. You won't wear your wrists out during a full day of quick retrieves. Honestly, that's what sold me on ultralights in the first place. I'm no spring chicken anymore, so reels with this smoothness and quick retrieve are tops in my book.
Pros
Excellent for quick retrievals
Awesomely smooth cranking
Release lever for live bait
Cons
ll classes in this line are on the heavy end of the ultralight spectrum, with the 2500 weighing in at almost 12-½ oz
Okuma's Ceymar C-10 is best paired with a 4 to 6-pound test. With that setup, you can really feel those trout, bluegill and crappies hit the bait. It only weighs a hair over six ounces, thanks to its graphite body. That's what I call an ultralight. The drag system uses oiled felt pads instead of steel or an alloy, and maxes out at five pounds. There's no real advantage to the felt, honestly, except that it will never rust. I like that the spool is made of machined aluminum, instead of plastic. The rotor system is specially designed to keep water out of the inner workings to prevent corrosion. This reel is built to last. Like many spinning reels today, it has an instant anti-reverse bearing system. That keeps heavier fish from pulling too much line and helps you make quick hook sets.. This is best for slower retrieves, with a gear ratio of 5:1. Each turn of the crank pulls 21 inches of line.
Pros
Light
Durable
Great value
Cons
Low gear ratio
Not quite as smooth as other similar reels
It's pretty amazing that this one weighs in at only 8.1 ounces, considering all the metal involved. But no backing is needed on the spool because it has a rubber gasket. That saves time and frustration when changing lines. The nine pounds of drag seems a bit excessive, considering you only get a max of 105 yards of 6-pound test on the spool. You can go with thicker mono or braid if you don't mind the lower capacity. One thing I like is the markings on the spool that tell you how much line you have. That's great for when you only want a short line, like when you are swapping mono out on the bank often. The 5.2:1 gear ratio will give you 22 inches of line per crank. That's pretty slow, but still a bit quicker than Okuma's Ceymar ultralight.
Pros
Tough
Soft-touch knob is very comfortable
Less line slip
Cons
Spool can loosen over time
There's been reports of the gear mechanism becoming noisy over time
This carbon fiber reel comes in at just over 5-½ ounces. It's built for comfort. But that doesn't mean that it sacrifices durability. It's made to last for many years. The first thing I noticed about it is the thin coating over the whole reel. It's there to keep water out of the gear and spool systems. You can even use it for small saltwater fish. The gear ratio is 6:1, and you'll wind 31 inches of line per crank. That's great for quick retrievals, like you usually want with small spinnerbaits. And with seven bearings, cranking this thing is as smooth as silk. Shimano has definitely strived to maintain their reputation for quality, durability and value when they designed and built this reel. It's impressive even to a seasoned angler like me.
Pros
Light
Smooth
Durable
Good for saltwater
How To Choose An Ultralight Spinning Reel
When choosing an ultralight spinning reel I'd recommend looking at these factors:
Model size / Class
Line capacity
The weight of the reel
Gear ratio
Drag range
Model / Class Sizes
Model sizes or class are detailed as a number, often in the thousands. But some reel makers do away with one or more of the zeros to make it simpler. For example, one brand's 3500 is the same class as another 350 or 35. But what does it mean? It's just the size of the reel, with smaller numbers being smaller reels. Smaller reels typically are best for thinner mono and braid, since they will hold less line. They usually have lower range drag as well. Big saltwater reels run up to 30000, but ultralights spinning reels generally hover in the 1000-3500 range. 1000-class reels are best for taking really small fish, like bream and sunnies, on 2 or 4-pound test. Larger fish, like trout, can be targeted with 2000-class reels equipped with 4 to 6-pound test. Bass and larger trout species are best dealt with using 3000 or 3500-class reels and 8 to 10-pound test.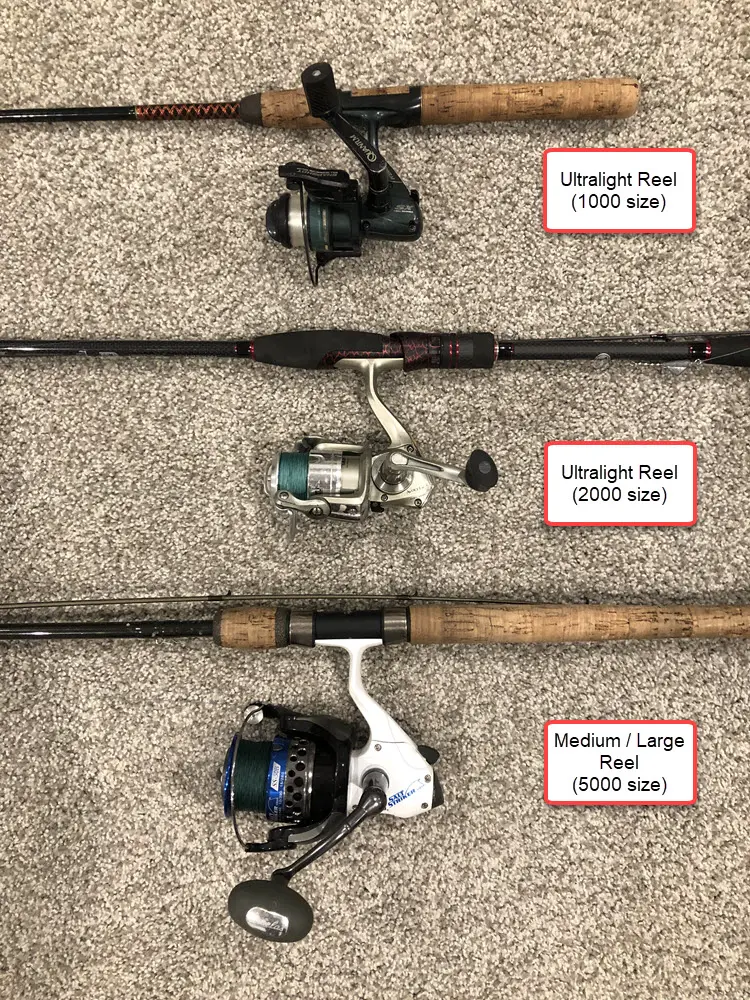 Line Capacity
This depends on the design of the spool. There are actually small reels that hold more line than larger reels, because their spools have a smaller-diameter core. Of course, all reels will hold more thinner line than they will thicker line. Think about the fish you like to catch, check what size of line you need to catch them and see how much of that line the reel you're thinking about will hold.
Weight
Ultralight reels are typically the smallest model size of the reel and that said are the lightest. But manufacturers also make use of lightweight alloys to save weight. If you want the lightest available, say about five ounces, you're going to end up with a small reel with a low line capacity. But look around. Balance the weight with the other features below to find your ideal reel.
Gear Ratio
The difference in size of the two main gears inside the reel determines how quickly the line is retrieved, given the same size crank handle and a similar number of turns. It's expressed as a ratio, such as 6.5:1. The number to the left of the colon tells you how many times the bail turns around the spool with each complete crank of the handle. In our example, 6.5:1, the bail will wrap around the spool six and a half times each time you turn the crank. Higher ratios make for faster line retrievals, which is good for lures that have to be retrieved quickly. Likewise, reels with lower gear ratios are good for lures and spinners that are presented best with slow retrievals.
Drag Range
Your drag should be set at 25 percent of your lines test or a little higher. So, you should set your drag at two pounds if you're using 8-pound test. The drag range of a good ultralight spinning reel should go from almost zilch to at least four pounds. That will allow you to increase the drag to almost 50 percent of your line's breaking point, even if you're using the heaviest line recommended for an ultralight spinning reel.
Will An Ultralight Spinning Reel Be Enough For You?
We've talked a lot about the pros of ultralight spinning reels so far, but they're not for everyone. They're best when included in an arsenal of rod and reel combos. Then again, a good ultralight combo can be the only one you need if you only go after lighter fish, like small trout. You may not even have to buy a rod for your new ultralight spinner. Most five to seven-foot rods are perfect for them. Even if you only occasionally go after smaller game fish, you'll be missing out if you don't consider an ultralight combo. The longer time you spend on the boat or bank, the more you'll love them.
Conclusion
If you've read any of my other reel reviews, you'll know that I'm a Pflueger fan. And that's no different for the ultralight reels either, the bang for your buck it's difficult to beat a Plueger reel so that's why I've given the top spot to the Pflueger President Spinning Reel (20X reel size). If you do want to higher end ultralight reel the Shimano Stradic is the way to go.
Thanks for taking the time to read this post. If you have any questions in regards to the gear above, please don't hesitate to contact us. Tight Lines! Jesse
My name is Jesse, I've been obsessed about fishing since I was a toddler trying to catch fish with my minnow net in any type of water. Today I have a passion to promote fishing in an educational, fun and respectful format.
More on Jesse